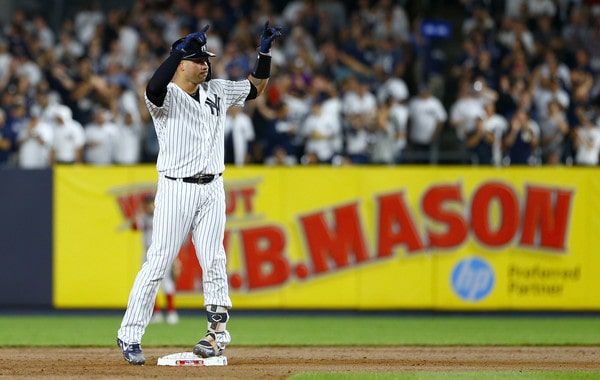 MLB general managers are forever opportunists. Whenever they see the slightest advantage or the slightest shift in leverage, they'll pounce. It is not surprising then that, following his miserable 2018 season, Gary Sanchez is already drawing trade inquires. Brian Cashman admitted as much during a recent radio interview.
"We know what he's capable of doing," said Cashman on Michael Kay's show (video link). "And I'm already getting phone calls to be honest from clubs trying to knock on our door to see if he's available. And he's not … He will be our catcher."
One one hand, Cashman has to say that. Even if the Yankees are open to trading Sanchez, they have to act like they aren't to maintain negotiating leverage. On the other hand, Cashman wouldn't be doing his job if he didn't at least listen to trade offers for any player, including Sanchez and Aaron Judge and Luis Severino and everyone else.
To say a large portion of the fan base soured on Sanchez this summer would be an understatement. Gary authored a weak .186/.291/.406 (89 wRC+) batting line with 18 homers in 374 plate appearances, and he went from 16 passed balls (and 53 wild pitches) in 881 innings last year to 18 passed balls (and 45 wild pitches) in 653 innings this year. Yuck.
"A tough year," Sanchez said to Randy Miller earlier this month. "A lot of ups and downs throughout the whole season. To me, not a good year based on my standards. Now we have to look forward to the offseason and work on all the things I want to improve for next year."
I totally understand being frustrating with Sanchez. I feel the same way. But trading him this winter is crazy to me. I mean, I'd trade Gary for Mike Trout and a few other dudes, but realistically, I see no trade that makes sense. (I'll believe the Mets will trade Jacob deGrom to the Yankees when I see it.) Just consider what the Yankees have here:
Sanchez is still only 25 and he's under team control through 2022.
Since arriving for good in August 2016, Sanchez leads all catchers in wRC+ (126 wRC+) and is tied with Yasmani Grandal for the homer lead with 58. (Grandal has 202 more plate appearances.)
Since the start of the 2016 season, Sanchez is at +10 runs (DRS) or +5.4 runs (FRAA) defensively overall. So, pick the metric you trust, and there you go.
Baseball Prospectus' pitch-framing stat has Sanchez at +11.7 runs since Opening Day 2016.
Did I mention he's only 25? And that he's under team control through 2022? Because Sanchez is only 25 and under team control through 2022. Think how terrible Gary was at the plate this year, and then consider he still leads all catchers in homers and wRC+ since August 2016. He was that far ahead of the pack. The gap between him and everyone else was enormous.
Of course Sanchez needs to improve his blocking — "That's going to be a priority," he said to Miller — but everything else he brings to the table defensively is really good. Framing, throwing, game-calling, it all works. And we know what Sanchez has the potential to do at the plate. We watched it all last year. Gary can still change a game every time he steps in the batter's box …
… and the number of catchers who can do that is very small. The solution to Sanchez's incredibly disappointing 2018 season is not to trade him. The solution is continuing to have patience, and working with him to get better. Development is not linear. There are bumps in the road along the way and this season was a very big bump for Gary. No doubt about it.
Actions speak louder than words and, in the most important games of the season, the Yankees wanted Sanchez behind the plate. They didn't want Miguel Andujar at third base, they consider his glove too much of a liability, but they wanted Sanchez behind the plate. They believe in him and they believe in his talent because they've already seen him produce at a star level. It's in there. Now they have to figure out how to bring it back.