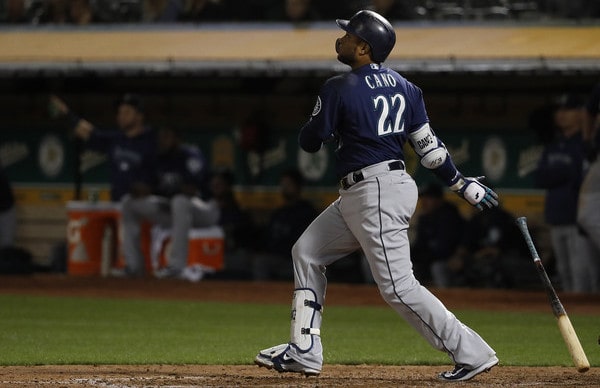 Thanksgiving weekend is over and the hot stove is starting to heat up. Earlier today the Braves signed both Brian McCann (one year, $2M) and Josh Donaldson (one year, $23M), so the defending NL East champs are makin' moves. The Yankees still have a lot to do this offseason even after re-signing Brett Gardner and CC Sabathia, and trading for James Paxton. Here are the latest hot stove rumblings.
Yankees, Mariners talked Cano for Ellsbury
Earlier this offseason the Yankees and Mariners briefly discussed a Robinson Cano for Jacoby Ellsbury trade, reports Ken Rosenthal (subs. req'd). Talks didn't advance much because the Yankees wanted Seattle to include "significant cash" in the trade in addition to taking Ellsbury. Cano has five years and $120M remaining on his contract. Ellsbury has two years and $47M. Rosenthal adds the Yankees are wary about having to commit their DH spot to Cano down the line. There are also two no-trade clauses to navigate (Robbie would probably okay a trade back to New York in a heartbeat).
Cano, 36, hit .303/.374/.471 (136 wRC+) with ten homers in 80 games around his performance-enhancing drug suspension this year. The Yankees could stick him at second until Didi Gregorius returns, then slide him over to first base, which he played briefly in 2018. Cano is a better player than Ellsbury, there's little doubt about that, but those last five years on his contract could be heavy decline years. The Yankees limited their offer to seven years back when Cano was a free agent because they wanted to avoid those age 38-40 seasons, remember. When we're talking two years vs. five years in a bad contract swap, my preference is the shorter deal. Just get it over with, you know?
Yankees pushed Sheffield in Goldschmidt talks
According to Buster Olney (subs. req'd), the Yankees pushed Justus Sheffield in trade talks with the Diamondbacks about Paul Goldschmidt before sending Sheffield to the Mariners in the Paxton deal. Actually, Olney says "rival executives report" the Yankees pushed Sheffield in Goldschmidt talks, which is an important distinction. This is a secondhand rumor. Hmmm.
Three weeks ago we heard the Yankees had not yet shown interest in Goldschmidt, though things could've easily changed since then. And, even though Goldschmidt will be a free agent next winter, it wouldn't be unreasonable for the D'Backs to seek a Sheffield caliber prospect in return. Goldschmidt's really good! The Yankees pushing Sheffield in talks though? That's interesting, assuming it's true. This would hardly be the first time the Yankees weren't as high on a prospect internally as they let on.
More teams showing interest in Gray
We can add four more teams to the Sonny Gray trade rumor mill. Nick Cafardo reports the Braves, Padres, Rangers, and Twins have expressed interest in Gray in recent weeks. The Athletics and Reds are in on him as well. I reckon more than those six teams are interested in Sonny. Even with only one relatively inexpensive year of control, he's a good buy-low candidate who makes sense for contenders and rebuilders alike.
The Yankees are going to trade Gray at some point, Brian Cashman has made that very clear, and my hunch is it will happen fairly soon. Likely at some point before the Winter Meetings in two weeks. Trading Gray eliminates the distraction to some degree. More than anything though, it'll provide clarity. What do the Yankees get in return? How much money do they save, if any? Answering those questions will help shape the rest of the offseason going forward.
Yankees trying to move Stanton?
There are "long-shot rumblings" the Yankees are trying to move Giancarlo Stanton, reports Cafardo. That's a weird way to phrase it. "Long-shot rumblings?" Huh. Anyway, I don't really buy this. I'm sure the Yankees are open to moving Stanton because they're open to moving anyyone in the right deal, but his no-trade clause complicates things, as does having to replace him. Dudes who hit 38 homers with a 127 wRC+ in a down year are hard to find.
The Yankees could of course trade Stanton and replace him by signing Bryce Harper (or Manny Machado), but get outta here with that. For starters, the Yankees should be trying to add Harper (or Machado) to Stanton, not replacing one with the other. And secondly, Stanton carries a $22M luxury tax hit and Harper (or Machado) will come in around 150% of that, if not more, for similar production. If the Yankees are going to obsess over payroll, and it sure seems like they are, Stanton's the far better value. Well, whatever. There's no sense in dwelling on this because it probably won't happen.