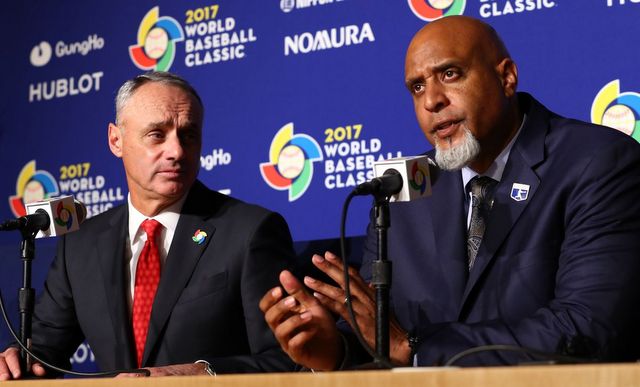 In addition to all the player movement, MLB and the game of baseball undergo some changes each offseason as well. There have been no significant rule changes yet this winter — those are reportedly weeks away, if any are made at all — but there have been some league-wide developments in recent weeks. Here's the latest from around MLB.
Manfred, Clark receive contract extensions
MLB commissioner Rob Manfred and MLBPA executive director Tony Clark both received contract extensions this month. Manfred received a five-year deal and is signed through 2024, the league announced. Clark received a four-year deal and is under contract through 2022, the union says. Also, new Yankee James Paxton was elected to the MLBPA's eight-player executive subcommittee. The board works with Clark on policy and various issues.
Manfred getting a new contract is no surprise. Revenues are higher than ever and the owners are getting a larger piece of the pie each year. They're happy. As for Clark, there's been chatter he could be in jeopardy because the MLBPA has conceded so much the last few Collective Bargaining Agreements, but I guess not. He will lead the next round of CBA talks in 2021. For the players' sake, I hope they get Clark some help, meaning someone actually trained and qualified to lead to a high-profile union.
MLB agrees to new deal with FOX
Get ready for more Joe Buck and John Smoltz. MLB and FOX have agreed to a new contract that runs through 2028, the league announced. Scott Soshnick says the seven-year extension is worth at least $5 billion. That's a 36% annual increase, on average. FOX will receive expanded streaming and highlight rights as part of the deal, otherwise it's the same old. Saturday games, the All-Star Game, postseason and World Series games … they'll all still be on FOX networks.
As a reminder, these national broadcast deals are split evenly among the 30 teams. So, even though the Yankees appear on national broadcasts more than any other team, they get the same cut as, say, the Padres. Hardly seems fair, but it is what it. Anyway, the new FOX deal is yet another new and massive revenue stream for the Yankees. Will that lead to a payroll increase? The new Yankee Stadium opened ten years ago now and payroll has gone down since then, so I'm not holding my breath.
London Series tickets now on sale
The Yankees and Red Sox will play a two-game series in London next season, specifically on Saturday, June 29th, and Sunday, June 30th. The series is part of MLB's efforts to grow the game globally. Ticket presale for season ticket holders opened this morning and they are crazy expensive. I'm not sure why anyone would've expected any different. From Ticketmaster's site:
Those prices are in pounds. Tickets range from about $38M to $500 dollars American. Expensive, yes, which flies in the face of the league's "we want to grow the game" edict. MLB's top priority is making money, always and forever, hence the ticket prices. Investing in the future is a secondary concern.
Anyway, the London Series games will be played at London Stadium with the orientation you see above. I'm not sure what the dimensions will be. I kinda hope it's cartoonishly small, like 245 feet down the line or something. Ticket presale is open for season ticket holders now. Presale for registered buyers opens Monday, December 3rd (register here), and general sales open Thursday, December 6th.
MLB, MLBPA relax footwear rules
Remember when Brett Gardner took the field with white cleats three years ago and was given a formal warning? He doesn't have to worry about that anymore. MLB and the MLBPA announced new relaxed footwear rules. Previously, all on-field footwear had to be the team's designated shoe color. For real. That was a rule. Now players are free to wear cleats that are black, white, gray, or any color displayed on the team's uniform. Teams can also approve other colors.
"Players welcome the expanded opportunity to express themselves and engage with fans through innovative design. We look forward to seeing their creativity and individuality on the field in 2019," said Clark in a statement. I'm sure someone somewhere well be aghast at the sight of a Yankee wearing white cleats, but eh, who cares? This gives players a chance to stand out and maybe grab the eyes of a young viewer, and create a new baseball fan. I'm all for anything that promotes creativity and breaks up the monotony of baseball.