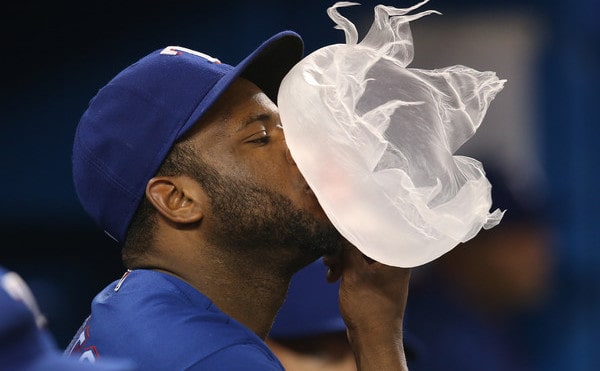 Free agency officially opens tomorrow and today the Yankees handled some roster business. Nothing exciting, but stuff that had to be done before free agency opens. Here's a recap of today's moves:
Did not make CC Sabathia the one-year, $17.9M qualifying offer.
Claimed infielder Hanser Alberto off waivers from the Rangers.
Activated Jacoby Ellsbury (hip surgery), Clint Frazier (post-concussion migraines), Ben Heller (Tommy John surgery), and Jordan Montgomery (Tommy John surgery) off the 60-day DL.
Eight Yankees became free agents earlier this week but only Sabathia was eligible for the qualifying offer. The other seven were either acquired at midseason or had previously received the qualifying offer, and were thus ineligible. Sabathia played for $10M this year and could be re-signed at a similar rate next year, so of course the Yankees didn't make the qualifying offer. Sabathia would take that $17.9M in an instant.
Seven free agents received the qualifying offer prior to today's deadline and they have ten days to accept or reject. For each qualified free agent they sign this winter (if they sign any), the Yankees will surrender their second highest draft pick and $500,000 in international bonus money. Every first round pick is protected. The Yankees hold the 30th overall selection and are locked into that pick. They can not gain any compensation draft picks this offseason.
As for Alberto, the 26-year-old is a classic utility infielder type who stands out on defense but hasn't hit a whole lot at the MLB level. He did put up a .330/.346/.452 (106 wRC+) batting line with seven homers and hilariously low strikeout (7.3%) and walk (2.3%) rates in Triple-A this year though. Alberto has played all four infield positions as well as right field. Consider him in the reserve infielder mix come Spring Training.
I should note Alberto is out of minor league options, so he'll have to pass through waivers to go to Triple-A next year. If there's a roster crunch the Yankees could try to slip him through outright waivers later this offseason and keep him in the organization as a non-40-man roster player. I imagine that won't happen until after the Yankees find a more viable Didi Gregorius replacement, if it happens at all. Point is, Alberto is a depth pickup and will not necessarily stick around for the long haul.
The 60-day DL activations are procedural. There's no disabled list in the offseason so those four guys had to be activated. The Yankees had eight free agents come off the 40-man roster earlier this week. The four 60-day DL activations plus the Alberto claim mean the Yankees now have 37 players on the 40-man roster. (Brett Gardner stayed on the 40-man roster when he re-signed.) The Rule 5 Draft protection deadline is November 20th, which will soak up some 40-man spots.