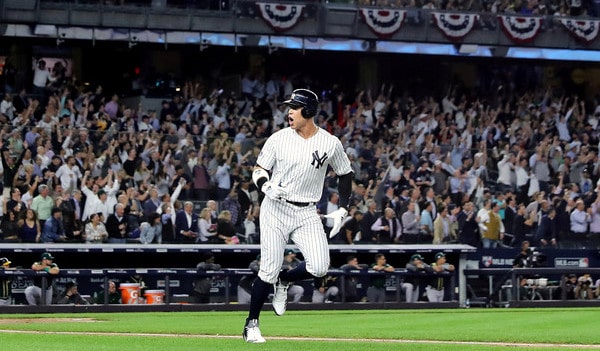 As you'd expect with a team that won 100 games and went to the postseason, the Yankees pounded out several big hits this past season. Especially early in the year, when they went on that 17-1 run and seemed to come from behind in the late innings every game. You can't win that many games without occasionally turning some high probability losses into wins.
With that in mind, it's time for our annual look back at the five biggest base hits of the Yankees' season. To do so, we're going to use Championship Probability Added, which is essentially Win Probability Added on steroids. WPA tells us how much closer a play gets you to an individual win. CPA tells us how much closer a play gets you to winning the World Series.
Given the nature of the CPA, you shouldn't be surprised to learn the team's five biggest hits of the year came in the postseason. In fact, their 14 biggest hits of the year came in the postseason. Don't worry, we'll make some time for the clutchiest regular season hits later in the post. Let's dig into the five biggest hits of the year according to CPA, shall we?
5. Sanchez vs. Price in ALDS Game Two
The Yankees' fifth biggest hit of the regular season left the yard. With the Yankees already leading 1-0, Gary Sanchez clobbered a long solo home run against David Price in the second inning of ALDS Game Two. Price left a cutter up just enough and Gary did not miss it.
Sanchez's career numbers against Price are absolutely silly. Including the postseason, he is 7-for-14 with six homers against Price. Four walks and only two strikeouts too. That's a .500/.611/1.786 batting line. I usually don't put too much stock into hitter vs. pitcher stats — I absolutely believe a hitter can "own" a pitcher and vice versa, though head-to-head numbers usually come in very few plate appearances, and it's hard to know what's legit and what's noise — but man, when you're 7-for-14 with six homers against a guy, I have to take notice.
CPA: +0.009.
4. Judge vs. Price in ALDS Game Two
One inning before Sanchez gave the Yankees a 2-0 lead in ALDS Game Two, it was Aaron Judge who gave the Yankees a 1-0 lead. That was homers in back-to-back at-bats for Judge dating back to the ninth inning of Game One. Price left a cutter out over the plate to Judge, and he walloped it over the Green Monster for a mighty no-doubt dinger.
That was huge, obviously. Whenever you drop Game One of a postseason series — especially a best-of-five series — you want to come out right away and take it to 'em in Game Two. Respond right away and don't give the other team a chance to feel confident.
Also, my favorite thing about this home run is this picture: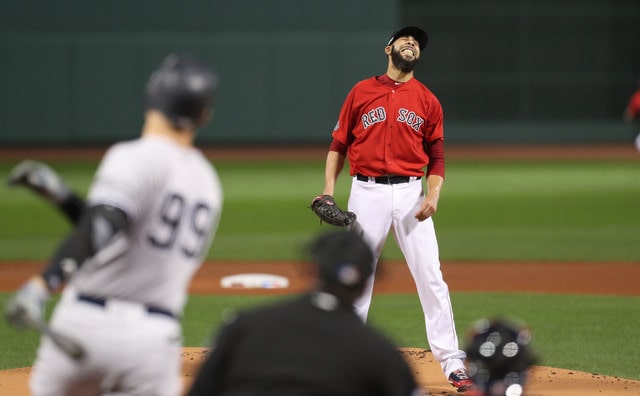 Perfect. Just perfect. I know Price got the postseason monkey off his back in the ALCS and World Series, but it's still comforting to know the Yankees crush him. Including the postseason, Price allowed 23 runs and eleven homers in 17.1 innings against the Yankees this year, and that includes one start in which he allowed two runs in six innings. Goodness. CPA: +0.009.
3. Sanchez vs. Rodriguez in ALDS Game Two
Right back to ALDS Game Two. It was a pretty important game, after all. Last game the Yankees won this season! Also the game that allowed them to tie the ALDS at a game apiece.
The Yankees were nursing a 3-1 in the sixth inning of ALDS Game Two and, as we all know, a two-run lead in Fenway Park is nothing. The game might as well be tied. Sanchez thankfully gave the Yankees some insurance with a very long — longest of the season, in fact — three-run home run against Eduardo Rodriguez. I enjoyed this homer greatly:
That was the longest home run hit by a Yankee this season and it was also the last home run hit by a Yankee this season. Sanchez came oh so close to a walk-off grand slam in ALDS Game Four and instead had to settle for a sacrifice fly (
video
). That non-homer won't necessarily haunt me this winter — haunt is too strong a word — but damn, every once in a while I think about it and it bums me out. I thought it was the big one.
CPA: +0.011.
2. Gregorius vs. Kimbrel in ALDS Game Four
Baseball is cruel. According to Championship Probably Added, the team's second biggest hit of the season did not drive in a run. It wasn't a walk-off hit or a game-tying hit or a screaming line drive or anything like that.
The second biggest hit of the season was Didi Gregorius' ground ball single in the ninth inning of ALDS Game Four. All it did ("all" it did) was bring the tying run to the plate with no outs in the final half-inning of the season. It proved to be the Yankees' final hit of the season and also Didi's final pre-Tommy John surgery hit. Like I said, baseball can be cruel.
That dinky little single put two men on base with no outs. Judge drew a four-pitch walk to start the frame and, later in the inning, Luke Voit drew a walk to load the bases and Neil Walker took a pitch to the foot to force in a run. That's when Sanchez hit his high non-homer. Sigh.
CPA: +0.011.
1. Judge vs. Hendriks in AL Wild Card Game
The Yankees played five elimination games last postseason and went 4-1. The four wins were nice, but, ultimately, the one loss is the only thing that really counts. This year the Yankees played only two elimination games. They lost ALDS Game Four and went home. They got to the ALDS with a Wild Card Game win over the A's.
The club's single biggest hit of the season — both sabermetrically and emotionally, I'd say — came in the first inning of that Wild Card Game. Against A's opener Liam Hendriks, Judge clobbered a two-run home run that gave the Yankees a 2-0 lead in the winner-take-all game.
That took the edge off a bit. The Wild Card Game is intense, man. We've been through them a few times now. Judge's homer this year doesn't compare to Didi's Wild Card Game homer last year, but gosh, it was awesome. Also, I'm pretty sure this is the closest we'll ever get to see Judge come to flipping his bat. Too bad the camera cut away so quickly:
Beyond putting two runs on the board in a winner-take-all game, that home run was also important because it showed up Judge's wrist was healthy. Or healthier, anyway. Judge went 9-for-41 (.220) with one homer in 13 regular season games after returning from the disabled list and the homer didn't come until his second-to-last game. Then he smashed that first inning homer in the Wild Card Game. At 116.1 mph, it was not only Judge's hardest hit ball since the wrist injury. It was his hardest hit ball since June 4th, nearly two full months before the wrist injury. It was great to see. CPA: +0.019.
* * *
You've got to qualify for the postseason before you can get big hits in the postseason, and the Yankees, despite winning 100 games, didn't lock up a postseason spot until the final week of the season. Such is life when four AL teams win 97+ games. Here are the team's five biggest regular season hits by CPA:
Now, for the sake of completeness, here are the five biggest regular season hits by WPA:
By both measures, Sanchez's walk-off home run against the Twins was the biggest hit of the regular season. That was win No. 6 during the 17-1 stretch. CPA and WPA are nice, it's good to put a number on things, but big hits have a certain feel to them, know what I mean? To me, the biggest hit of the regular season felt like Gardner's go-ahead triple against Kimbrel and the Red Sox. That was a wild back-and-forth game and Yankee Stadium had a postseason atmosphere in May. The place was rockin'. I can't remember the last time a hit in May felt that important.
I usually pair the biggest hits post with a biggest outs post (biggest out by Yankees' pitchers, that is), but I kinda gave them away already in the Dellin Betances season review post, so I don't think there's a need to dig back into it. Besides, four of the five biggest outs came consecutively. Here's the list:
Wild Card Game: Luis Severino strikes out Marcus Semien to end fourth (+0.011 CPA)
Wild Card Game: Betances gets Matt Chapman to fly out for the first out of the fifth (+0.009 CPA)
ALDS Game Four: CC Sabathia gets Ian Kinsler to fly out to end the first (+0.008 CPA)
Wild Card Game: Betances gets Jed Lowrie to fly out for the second out of the fifth (+0.007 CPA)
Wild Card Game: Betances strikes out Khris Davis to end the fifth (+0.007 CPA)
And finally, if you're a masochist and are simply dying to know, the biggest hit against the Yankees this season was J.D. Martinez's three-run home run in ALDS Game One (+0.017 CPA). The biggest regular season hit was Justin Smoak's grand slam against David Robertson (+0.004 CPA and +0.61 WPA) back during the first series of the year, when the Yankees intentionally walked Josh Donaldson to load the bases. That was far too much aggravation for the fourth game of the season.