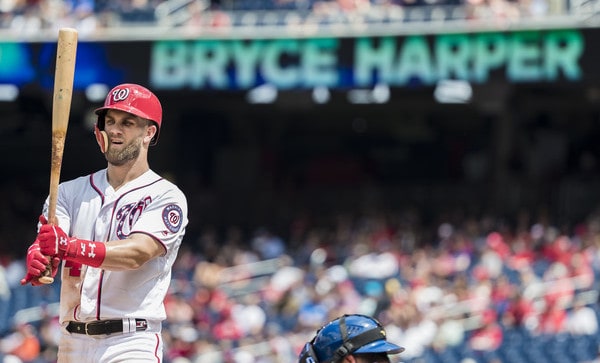 Last week at the Winter Meetings, Brian Cashman and Scott Boras had a weird little back-and-forth in the media about free agent Bryce Harper. Cashman said the Yankees don't need an outfielder and thus don't need Harper. Boras more or less laughed that off. He wants the Yankees involved for leverage purposes, if nothing else, and of course Cashman is going downplay interest in any free agent.
"At no point all winter have I said I am looking for an outfielder. The Harper stuff, I am surprised you are still asking," said Cashman to George King. "I have Judge, Stanton, Ellsbury, Gardner, Frazier, Hicks. Ellsbury will be healthy and Frazier will be healthy (but even if we) take them out, I have Hicks in center and Stanton, who is athletic as hell, as the DH because Judge is in right and I have Gardner in left."
"I've never heard the Yankees say (they don't need an outfielder)," Boras shot back to Ken Davidoff. "As far as the Yankees and what discussions I, Hal (Steinbrenner), and Cash have had, I will leave that to our own … The Yankees are very adept. They're smart. They are going to do something, and I think they can earnestly tell you that right now they're not doing it and have every intention of doing something else when it's best for them to do it."
On paper, the Yankees do not need an outfielder. Aaron Judge and Aaron Hicks are locked into two of the three outfield spots. Brett Gardner is more of a platoon guy and a part-time player at this point of his career, but, even then, the Yankees have Giancarlo Stanton for the third outfield spot. Jacoby Ellsbury is owed a ton of money and Clint Frazier is a former top prospect who could very well claim an everyday outfield job by midseason.
The outfield — and thus Harper — does not appear to be a priority at this point. Now that J.A. Happ is back on board, the Yankees need a middle infielder and bullpen help more than anything. That is an oversimplification, however, and it completely ignores Harper being a just turned 26-year-old star. I think he's a generational talent. Players who hit .279/.388/.512 (139 OPS+) with 184 (!) homers and +27 WAR through their age 25 season are extremely rare.
As far as I'm concerned, Harper (and Manny Machado) is the type of player you bring in no matter what. You sign him when you have the chance because the chance to sign a player like this doesn't come around often, and you make the roster work around him. Four things derail this "the Yankees don't room in the outfield for Harper" fallacy that somehow came to exist:
Gardner can easily be moved to the bench to open up left field.
Cashman himself admitted Ellsbury may not be ready for Opening Day after hip surgery.
Frazier is coming back from concussion issues and remains unproven at the MLB level.
There is life beyond 2019.
Imagine passing on a talent like Harper because you believe you already have six Major League caliber outfielders, and three of them are Gardner, Ellsbury, and Frazier? Goodness. Gardner is best used in moderation these days and he was moved into a bench role following the Andrew McCutchen trade this year. He can be moved to the bench in deference to Harper too. Ellsbury? Frazier? Who knows. The Yankees can't count on them for anything at this point.
I mean, we all watched this past season, right? The Yankees went into Spring Training with the exact same outfield depth chart as the one they have right now, except Ellsbury and Frazier were healthy, and they had Billy McKinney too. Lots of outfielders! Nine games into the season Jace Peterson was starting in left field. Nine games. Depth at even the deepest positions can evaporate quickly.
That fourth point seems to be a forgotten one too. Whoever signs Harper is not just signing Harper for 2019. He's getting multiple years. Maybe as many as 10-12 years. Both Hicks and Gardner will be free agents next offseason, and, in two offseasons, Ellsbury will be a free agent and Stanton could opt out of his contract. It is possible if not likely the Yankees will be looking for two everyday outfielders in eleven months. No room for Harper? Please.
And let's not forget about the first base option. That doesn't only apply to Harper either. Judge and Stanton are quite literally giants and who knows how their legs will hold up over the years? Running around the outfield at that size doesn't seem like something they'll be able to do long-term. First base (or DH) could be their ultimate destinations, further creating a need in the outfield. Point is, there are a lot — a lot — of ways to clear outfield space for Harper.
I don't believe Cashman was being sincere when he listed six outfielders as evidence the Yankees don't need Harper. The Yankees have to downplay their interest in Harper because, if they don't, Boras will take them to the cleaners. Cashman knows the Yankees can fit Harper into their outfield. The question, as always, is money. Are the Yankees willing to spend what it takes? If yes, the "we have too many outfielders" talking point will disappear in a hurry.