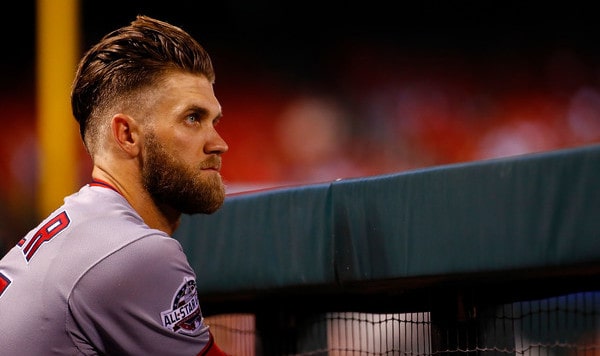 If any of my students are reading this, please stop, lest you think your current or former English teacher is a hypocrite, as I'm about to make a claim with very little–possibly no–evidence to support it. Based on his public statements and actions, Brian Cashman intends to sign Bryce Harper to the New York Yankees.
Going by Cashman's public statements, this doesn't make any sense. Last week at the Winter Meetings, Cashman essentially declared the Yankees out on Harper, ostensibly thanks to their very full outfield. With spots taken up by Aaron Judge, Aaron Hicks, Giancarlo Stanton, Brett Gardner, Jacoby Ellsbury, and Clint Frazier, there's just not room for another outfielder, even one as talented as Harper. That sentiment is true if we take Cash's words at face value, but digging a bit deeper–not even that deep, really–might reveal this as posturing.
The Yankees and Cashman gain nothing by openly stating their desire to sign Harper. And while I question how effective negotiating through the media is in today's age of baseball with almost every front office thinking and acting the same way, it's not something many GMs or heads of baseball ops are going to do. Beyond that, does anyone really believe that the Yankees are going to let three of those six players stand in the way of Bryce Harper?
Gardner is a veteran leader and a 'legacy' player, who's been a Yankee for life, but his days of starting probably should be numbered. On most contending teams, he'd be a backup. He and Harper are polar opposites at this point, with Gardner on the downside of his career and Harper just entering his age-based prime. Clint Frazier, despite his still massive upside and how much I want him to succeed with the Yankees, is coming off career-altering injuries and, as a relatively unproven player, should not stand in the way of one of the game's best. As for Jacoby Ellsbury, well…he shouldn't be a stumbling block for any player. The only question there is when, not if, the Yankees will develop the stomach to just eat his cost to get him off the team.
With regards to actions, it's the one Cashman hasn't taken that hints hopefully towards Harper. In the last few weeks, there has been a lot of smoke around the Yankees and trade talks for pitchers. They've been liked to a pair of Cleveland starters–Corey Kluber and Trevor Bauer–as well as crosstown 'rival,' Noah Syndergaard. Presumably, third baseman Miguel Andujar would have been the centerpiece of any Yankee trade to bring high-quality pitching to the Bronx. As I write this, Andujar is still on the Yankees and none of those pitchers–or Manny Machado for that matter–are. With the caveat that anything can happen at any time, it seems the Yankees are committed to Andujar and are passing on Machado, even if Cashman's language hasn't been as strong in severing that connection as it has been regarding Harper.
The Yankees are, arguably, more in need of a starting outfielder like Harper than they are a starting infielder like Machado. Ideally, the Yankees would go–and should go!–for both players and let the rest sort itself out, but I've more or less written that idea off. Given Cashman's words and actions, it's still possible the Yankees will end up with Bryce Harper. He is a difference maker in every sense of the word and pairing him with the right handed power of Judge and Stanton as well as the on-base ability of Hicks would make the Yankee lineup virtually unstoppable, able to outslug their (actually pretty good) rotation's potential woes. If the Yankees aren't going to use their best trade piece to upgrade pitching and replace him with Machado, the most logical thing to do is sign Harper.