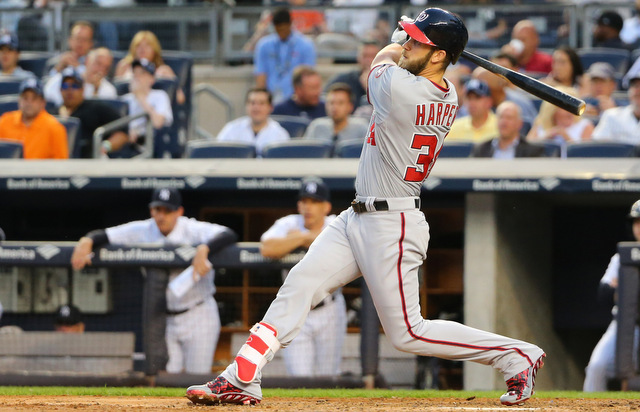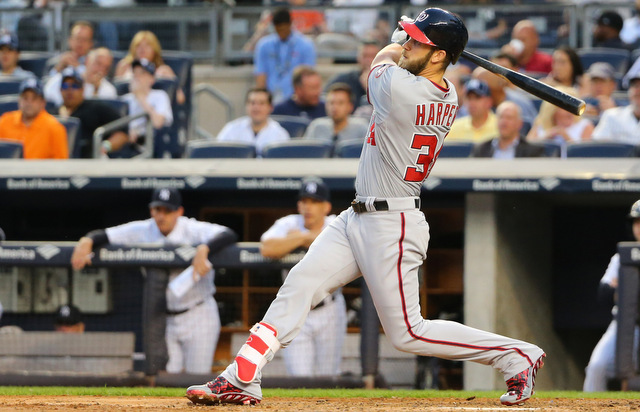 The Yankees and the 2018 free agent class have something of a special relationship. It has long been apparent that this year's group would be a unique collection of talent and the Yankees have predictably been expected to make a major splash. The available talent was even used to justify the team's sudden penny pinching, and for good reason: it is not often that players of Bryce Harper or Manny Machado's quality hit free agency. Now that the highly-anticipated offseason has arrived, the Yankees should not pass up the opportunity to bring Bryce Harper to the Bronx.
We all know Harper's backstory. Back in 2009, at the age of 16, he was dubbed baseball's chosen one by Sports Illustrated—putting him in the same category as athletes like LeBron James. He soon announced that he would skip his junior and seniors year of high school, instead electing to get his GED and attend junior college so that he could reach the Major Leagues sooner. He was drafted first overall by the Nationals in 2010 and made his MLB debut in 2012 after just 536 minor league at-bats (and only 231 above A ball), hitting .270/.340/.477 (121 wRC+) as a 19-year-old rookie.
If it feels like Bryce Harper has been around forever, that is why. But despite his larger-than-life presence in the baseball world, he is younger than Aaron Hicks, Giancarlo Stanton and even Aaron Judge; he is only ten months older than Gary Sanchez. Harper will play the entire 2019 season at age 26—just about the age we'd expect him to enter the most productive years of his career. He will not finish his age 30 season until 2023.
It is worth reflecting on Harper's career to consider what that might mean in terms of production. In just about 4,000 Major League plate appearances, Harper boasts a .279/.388/.512 line (140 wRC+) with 385 extra base hits (184 home runs), meaning 42 percent of his 922 career hits have been a double or more. (For a sense of perspective, that's just about the same percentage of extra-base hits as Miguel Andújar, who was rightly lauded for this skillset last year, but in 3400 more PA.) He is a patient hitter, walking at roughly the same rate as Judge and striking out considerably less.
And we have a sense of what prime production looks like for a player like Bryce Harper. After all, he hit a ridiculous .330/.470/.649 (197 wRC+) with 42 home runs in his 10-win, age-22 MVP season and put up another .319/.413/.595 (155 wRC+)  line just two seasons later at age 24. Even though he's had some comparatively down seasons—though it's worth mentioning that a 111 wRC+ is the worst he's ever posted—it is clear that he can produce at nearly unparalleled levels.
Advanced defensive metrics suggest that he's not the world's best outfielder, but they are most favorable to him as a left fielder, bringing us to his fit on the Yankees. It seems to be conventional wisdom that the Yankees outfield is full, but it only appears that way at first glance: Brett Gardner is more suited to a 4th outfielder role at this stage in his career, nobody expects Jacoby Ellsbury to play even when he is healthy and there is no chance a player like Clint Frazier would ever block Bryce Harper.
Moreover, that same conventional wisdom held true last spring—and yet the Yankees were forced to trade for Andrew McCutchen following a slew of injuries and weeks of Shane Robinson. With Hicks in center and the trio of Stanton/Judge/Harper for the corner positions, the Yanks could simply slot one of them into the DH role each day. Despite how it initially seems, making Harper fit on the roster is quite simple.
Offensively—in case that wasn't clear already—there is no question of Harper's fit. He is a patient and powerful hitter that fits right in with the Yankees offensive style, and he has the added benefit of hitting from the left side. Stacking right-handed batters is not a problem when they're of the caliber of Aaron Judge, Giancarlo Stanton or Gary Sanchez, but the Yankees are obviously short on left-handed hitting (even more so with Didi Gregorius sidelined for months). Slotting Harper between Judge and Stanton in the 2/3/4 spot has the potential to create a lineup as deadly as any in recent memory as well as mitigate any opposing platoon advantage. And that is without salivating over imagining a left-handed bat like Harper's, who tends to pull the ball, play 81 games in Yankee Stadium.
That doesn't mean he is a slam dunk, per se. There are risks and potential downsides to every signing, and for Harper, that includes a somewhat long injury history and a tendency to be a streaky hitter. That might be enough for some fans to argue that he isn't worth his huge payday or that the Yankees "don't need another streaky hitter."
But it is clear Harper is deserving of a huge contract. He is just now entering his prime and you can count on one hand the players capable of producing as he has. On the Yankees side, they've reset their luxury tax and have the money to spend in any case. There is no telling when the next time a player like Harper will be available in free agency, and if the Yankees are smart, they will not allow this generational talent to pass them by.