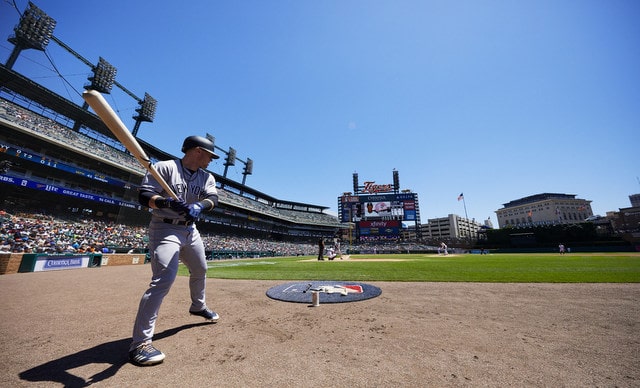 Good Sunday morning, readers. If you're in the tri-state area, I hope you're staying dry today and warm tomorrow. Today, I'll offer a few random thoughts on the Yankees as we sit a little less than a month away from pitchers and catchers reporting.
Clint's Comeback
after a longggggggg battle with the concussion like symptoms i'm happy to tell u i've been cleared to participate in spring training and go after what i've wanted since being traded over here, to win an outfield job and show u guys what i can do. i'm readyyyyyyy. pic.twitter.com/qsi7LcMmbr

— Clint Frazier (@clintfrazier) January 17, 2019
This is one of the best Yankee-related tweets of the offseason. I know I'm not alone in this, but I'm incredibly excited for the return of Clint Frazier. He had just about the worst year a player can have last year and seeing him get back into the swing of things is more than enough to bring a smile to my face. Red Thunder The Panther will likely have to start out the year in the minors, but it's not hard to see him taking over for Brett Gardner as Mike alluded to in the Friday mailbag. While Frazier shouldn't stand in the way of signing him, one positive thing about the Yankees not signing Bryce Harper is that it keeps Frazier's future within the organization. I've long been a big believer in him and his talent and, if healthy, I think he can establish himself as a big league player this year. Good luck in 2019, Clint. We're rooting for you.
Playoff Pitching Prowess
Bobby is completely right when he says that the Yankees have one of the best rotations in baseball going into 2019. I've harped on this before, but the talent in the Yankee rotation is almost astounding. At peak levels, Luis Severino, Masahiro Tanaka, and James Paxton are aces. J.A. Happ and CC Sabathia as back end starters are great–an experienced, proven lefty and a borderline Hall of Famer? Hard to beat that. Paired with an elite bullpen, the Yankees' pitching staff could make noise in the playoffs. There's just one catch: they need to win the division to do that.
The Yankees are a damn good team and will likely win well north of 90 games, but will it be enough? They haven't won a division title since 2012 and have played in three of the last four wild card games. Despite similar talent in the rotation at times, they've been unable to use it properly in a series because of that one game playoff.
If the Yankees manage to beat out Boston for the division title this year, they'll finally be able to set their rotation the way they want and not have to worry about a gassed bullpen heading into the start of the ALDS. A top three of Severino, Tanaka, and Paxton is more than formidable in any series, especially a short one, and throwing Happ and/or Sabathia as long men out of the bullpen can help, too. Winning the division is much easier said than done, but it's something the Yankees need to do to fully exploit the pitching talent they have.
The Andujar Endgame 
At this point, it seems clear that the Yankees are hitching their third base wagon to Miguel Andujar. For good reason, they clearly believe in his bat. They also likely think that he can improve on defense or that they can mitigate his poor fielding through substitutions and lineup shuffling. But given how they treated him in the field in the playoffs, how long can we really buy that? Playing a significant amount of time at DH or a new position like first would probably cut down on the value Andujar has as a third baseman, even a bad one. On the other hand, his bad defense does the same thing the more he spends time at third.  And, with that aforementioned treatment in mind, are we sure that Andujar is most valuable to the Yankees as a third baseman or as a potential trade piece?
Obviously, anything can happen at any time and the Yankees could sign Manny Machado and deal Andujar at a moment's notice, but I'm not holding my breath for that one. Hell, I'm not even waiting for it, and I'm barely bothering to hope for it.
One More Time
Despite what I said in the last bit, there's still a part of me in disbelief that neither one of Machado or Bryce Harper isn't a Yankee (or both!). I've seen people–mostly writers–make the argument that the Yankees don't necessarily need either player because of how good they were last year, but that's a half-truth.
Yes, the Yankees won 100 games, but it still wasn't enough to win the division and avoid being embarrassed in the playoffs. Yes, they will win lots of games with the roster as currently constructed and could, conceivably, win the World Series with it. No, having the most talent doesn't guarantee anything. But it helps.
The Yankees were good last year, and at times great. They have a solid young core with some good veterans mixed in. This is exactly the team and exactly the time to push over the edge in a big way. They've added to the team with good pieces so far, but adding great ones in Machado and/or Harper would go a long way towards helping win number 28.
It's undeniable that the team has been improved. But it's also undeniable that it hasn't been improved as much as it could've been.