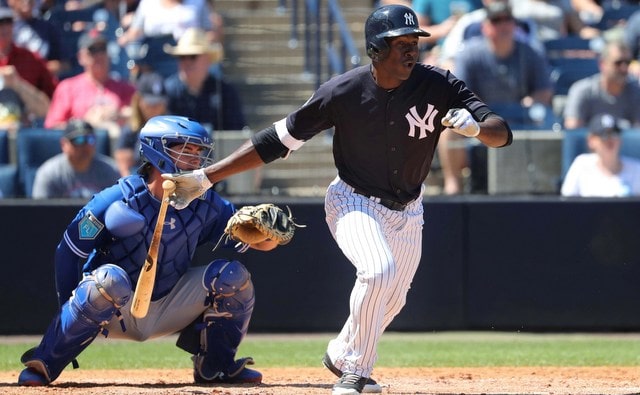 In two weeks pitchers and catchers will report to Tampa and Spring Training will begin. Will Manny Machado or Bryce Harper sign before then? I'm starting to think no. Would be pretty embarrassing for baseball if two 26-year-old superstars are unemployed when Spring Training opens, I think. Anyway, here are some notes and links to check out.
Three Yankees among Law's top 110 prospects
Over the last few days Keith Law released his top 110 prospects list for the 2019 season: Nos. 1-50, Nos. 51-100, and Nos. 101-110. Everything is behind the paywall, though I will tell you Padres SS Fernando Tatis Jr. ranks as Law's top prospect, not Blue Jays 3B Vlad Guerrero Jr. (Vlad Jr. is second.) Three Yankees make the top 110:
61. RHP Deivi Garcia
101. OF Everson Pereira
106. OF Estevan Florial
Law says Garcia "at least looks like he is built from the same mold as guys such as (Marcus) Stroman and Roy Oswalt," meaning a short righty who can stick as a starter. He adds Pereira might've made the top 100 had he not missed time with injury last year. "(The) raw tools and the fact that he still hit .263/.322/.389 despite his youth mark him as a potential top-50 guy for next year," says the write-up.
Like Baseball America, Law kept Florial out of his top 100 for pitch recognition issues. (Florial wasn't in Law's top 100 last year either.) And, given his injury history, I'm not surprised RHP Jonathan Loaisiga didn't make the top 110 or even the honorable mentions. Loaisiga has top 100 stuff and control, but not top 100 health. The only former Yankees prospect to crack Law's top 110 list is Mariners LHP Justus Sheffield, who ranked 34th. He went to Seattle in the James Paxton trade.
Yankees received calls on Cessa, German, Loaisiga
According to Joel Sherman, the Yankees have received trade calls this offseason on depth starters Luis Cessa, Domingo German, and Jonathan Loaisiga. Obviously the Yankees haven't received an offer to their liking given the fact all three righties remain in the organization. Loaisiga's trade value may never be higher than it is right now. Given his injury history, I wouldn't be against cashing him as a trade chip.
The Yankees (finally) traded Sonny Gray two weeks ago and they've yet to sign a swingman type to replace him, not unless you count Drew Hutchison or David Hale. Cessa, German, Loaisiga, and Chance Adams are the Nos. 6-9 starters in whatever order. Cessa is out of options, so trading him would be preferable to potentially losing him on waivers for nothing, but I'm not sure the Yankees would get much in return. Cessa is probably more valuable to the Yankees as a depth piece than anything he could fetch in a trade. Same with German.
Nike, not Under Armour, will be MLB's next uniform supplier
Earlier this month MLB announced a new ten-year agreement that makes Nike the league's new uniform supplier beginning in 2020. Nike will replace Majestic. A few years ago Under Armour was in talks to take over as the league's uniform supplier, but that deal fell apart, and Nike swooped in. The Under Armour logo would've appeared on the jersey chest, like so: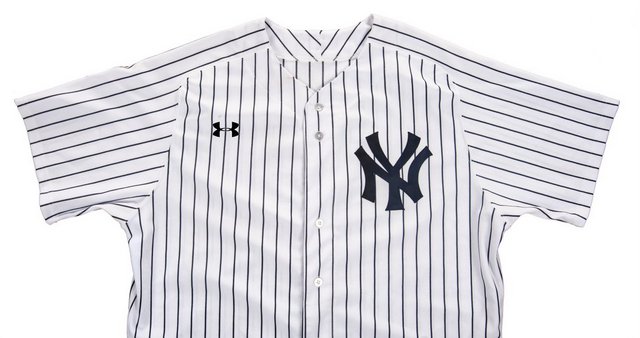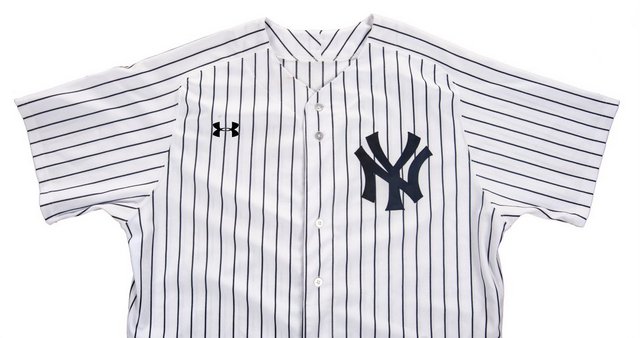 The Associated Press reports the Nike swoosh logo "likely will move to a more prominent position on jersey fronts," though no details were announced. Currently the Majestic logo appears only on uniform sleeves, and the Yankees have an exemption. There's no Majestic logo on their jerseys. I would be surprised if they get a similar exemption in the Nike deal. Much like the New Era logo on the side of caps, it probably won't be long before you stop noticing the Nike logo on jersey fronts.
Yankees hire first ever Environment Science Advisor
The Yankees have hired Dr. Allen Hershkowitz as their new Environmental Science Advisor, the team announced. It's the first position of its kind in pro sports. "The Yankees have always been devoted to supporting the best interests of our community, our fans and our players, and we believe effective eco-friendly initiatives are a key element of our interactions," said Hal Steinbrenner in a statement.
Teams around the league have taken up green initiatives but never before has a sports club hired someone for the express purpose of helping them become more environmentally friendly. The Yankees say Hershkowitz will have a "primary focus on the areas of energy use, waste management, water conservation, and food services." I imagine it's only a matter of time until this catches on around the league and other teams invest in environmental advisors.