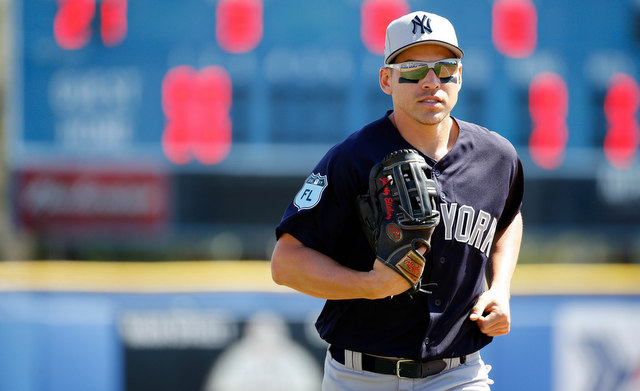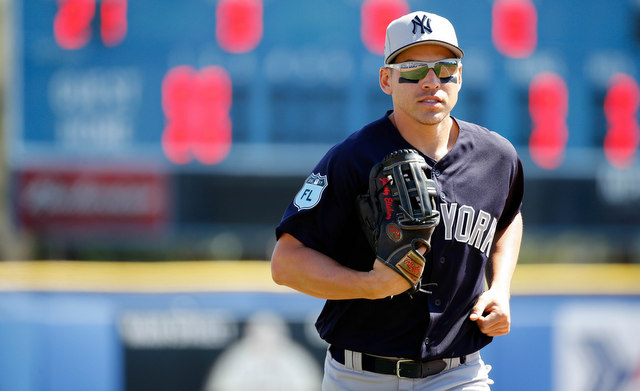 In a sad way, the news was completely unsurprising. Aaron Boone announced yesterday that Jacoby Ellsbury's hip surgery rehab has been slowed by another ailment (plantar fasciitis), and that he is quite a bit behind the other position players this spring. Opening Day was always questionable. Now it's a near certainty Ellsbury will not be ready when the regular season begins.
At this point Ellsbury getting hurt or his rehab taking longer than expected is not surprising news. That has been par for the course for a few years now. What is surprising is that he will stay home in Arizona for the next few weeks rather than report with the other position players on Monday. He's going to continue his rehab at home and join the team sometime in March.
"It didn't make sense for him to come out here at this point," said Brian Cashman to Dan Martin yesterday. "Once he's able to run and move forward from there, he'll be here."
Teams typically bring their rehabbing players — especially players rehabbing from a major surgery like Ellsbury — to camp so they can monitor and assist with their rehab. Jordan Montgomery and Didi Gregorius are with the Yankees as they rehab their new elbow ligaments, for example, and they're months away from returning to game action. Ellsbury stays home, however.
For all intents and purposes, Ellsbury staying in Arizona won't change anything. He's still going to do his rehab work and prepare for the season. He'll just do it at home rather than with the Yankees. Symbolically, Ellsbury staying home is about as fitting as it gets right now. He is the third highest paid player on the team and he is a non-factor, and has been for a while now.
The Yankees have played 19 postseason games during the Ellsbury era and Ellsbury has started four of them. Aaron Hicks deservingly replaced him as the starting center fielder in 2017 and now it's not even clear a healthy Ellsbury would fit on the bench as the fourth (really fifth) outfielder. Remember when he hit cleanup for a few weeks early in 2017? That feels like a lifetime ago.
There are two years and approximately $47.5M remaining on Ellsbury contract. We've spent the last few weeks (last few years, really) discussing hypothetical bad contract-for-bad contract trades that never felt all that realistic or likely. There has been some trade interest in Ellsbury, sure, but a deal with this framework is always a long shot. I see two possible outcomes:
The Yankees release Ellsbury.
The Yankees find a bad contract-for-bad contract trade partner.
Those are listed in order of what I think is most likely to happen. I know there's some name recognition here, but the fact of the matter is Ellsbury is now 35 years old, he lost his job two years ago, and he's a speed guy coming back from major hip surgery. What kinda contract would Ellsbury have received as a free agent this winter? He probably would've received no offers and been forced into retirement.
Between the ongoing injuries and his drop down the depth chart, Ellsbury has never seemed more out of the picture than right now. He's not healthy, and even if he were healthy, the Yankees don't have an obvious need for him. He is the Yankees' version of the Blue Jays' version of Troy Tulowitzki. Toronto owed Tulowitzki a lot of money but had no place for him. They could either grit their teeth and stick with him, or they could release him. They released him.
In Ellsbury's case, the Yankees will recoup salary through insurance — the "recoup 75% of Ellsbury's salary through insurance and not reinvest it in the team" grift last year didn't get enough attention — and, as long as that is the case, he will remain in the organization. The Yankees will stash him on the injured list and collect the insurance money as long as possible. And when it is no longer possible, he could be cut loose.
Within the last few years we've seen several teams release players with multiple years and big dollars remaining on their contracts. Tulowitzki, Pablo Sandoval, Carl Crawford, Jose Reyes, Hector Olivera, etc. The Yankees themselves released Alex Rodriguez with roughly $28M and one year plus two months remaining on his contract. Teams are increasingly willing to turn the page on bad contracts, including the Yankees.
Ellsbury is so far out of the picture right now that he's not in Spring Training while rehabbing an injury — when's the last time you heard a general manager say, "It didn't make sense for him to come out here at this point," about a rehabbing player in the spring? — and unless there's a barrage of outfield injuries, it's difficult to see where he fits once he is healthy. He's part of the team but not actually part of the team.
His wallet will be fine, though I feel bad for Ellsbury the person because the injuries are never-ending and it sure seems like baseball is being taken away from him. It is his livelihood and his passion, and I don't doubt that he wants to get back on the field and play. The injuries are preventing that and it's possible he'll never play again like Crawford and Olivera and A-Rod. A release could mean the end.
For the Yankees, the Ellsbury contract never made sense. He simply wasn't a $20M per year player when they signed him, and that's on them. Don't blame Ellsbury for saying yes to that deal. To their credit, the Yankees haven't let Ellsbury stand in the way of anything on the field. When Hicks broke out, he got the center field job. When there were better postseason lineup options, Ellsbury rode the bench. Now he's just hurt and the Yankees won't even bother to bring him to camp.
Letting Ellsbury stay home for a few weeks is kinda weird and also perfectly representative of his status in the organization right now. Out of sight, out of mind. He's not needed. Let him do his own thing, and should he ever heal up and be ready to play, only then will the Yankees will figure what to do next. My hunch is that will be an unceremonious Tulowitzki-style release. This has been building for a while now and it feels closer to happening than ever.