Eleven questions in this week's mailbag. One for each degree of temperature outside. Remember to send your questions to RABmailbag (at) gmail (dot) com and I'll answer as many as I can each week.
Danny asks: Who is your favorite low-cost, one year starter left on the market? Liriano? Anderson? Shields? I looked at Shields' numbers just for kicks and couldn't believe he threw over 200 innings last year.
Francisco Liriano above all. He has experience starting and relieving, and has moved seamlessly between those roles the last few years. Liriano still misses bats and gets grounders. Not like he did during his prime, but enough to be a serviceable swingman at this point in his career. If not for the regime change this offseason, I'd say James Shields was ticketed for the Orioles. He seems like their type. Brett Anderson is never healthy. Signing him always sounds like a great idea until you actually sign him and he spends four months on the disabled list. Gio Gonzalez seems likely to get starting job somewhere rather than settle for a swingman role for the Yankees. I'd rank the veteran one-year free agents like so: Liriano, Gonzalez, Shields, Anderson. Ervin Santana has said he hates pitching in Yankee Stadium, so forget him, and Jeremy Hellickson and Clay Buchholz are great big mehs. Liriano's my pick. He has the versatility, strikeouts, and grounders I want for that swingman/sixth starter role.
Keith asks: Good problem to have hypothetical: Let's say that Tulo actually stays healthy and, come mid-season, is producing in the field and at the plate. Clint Frazier is mashing at AAA, forcing the issue as hoped, and Didi is due to return. With a 3 man bench, we can't carry Gardner, Tulo, LeMahieu, and Romine. What do the Yankees do? Leave Clint languishing? Cut Gardner? Cut/trade Tulo?
In that case, the Yankees should dump the eighth reliever and go with a four-man bench. Put Didi Gregorius back at short and Clint Frazier in left, and move Troy Tulowitzki and Brett Gardner to the bench, where they'd join DJ LeMahieu and Austin Romine. Rotate guys in and out to keep everyone productive and involved. Enjoy the depth. If the Yankees must have an eight-man bullpen, I guess keeping Frazier in Triple-A is the easy solution, but I don't like it. This is definitely one of those things that will work itself out. I am 100% certain the Yankees would welcome this "problem" at midseason.
Ralph indeed: The NY Post recently featured an article with all the writers providing their top 10 Yankees of all time in concert with the HOF voting. I was shocked to see that Thurman Munson was not listed on any ballot as an all time top 10 Yankee. Do you agree with this summation? My heart is outraged, but we think with our heads, so please provide some perspective. Thanks.
Here is that article. Six writers listed their personal top tens and 15 different players were mentioned. Munson was not one of the 15. Had Munson's life and career not been tragically cut short — he died less than two months after his 32nd birthday — he stood a great chance of going down as a top ten Yankee all-time. The 1970s were the golden age for catchers (Johnny Bench, Ted Simmons, Gary Carter, Carlton Fisk, etc.) and Munson was right there with those guys. Rookie of the Year in 1970, MVP in 1976, World Series rings in 1977 and 1978, captain of the team, so on and so forth. I'm big on great catchers. I love 'em. Munson was before my time, but I reckon he would've gone down as my all-time favorite player given everything I've read and heard.
Here are the ten Yankees all-time according to WAR and my personal top list:
By WAR
1. Babe Ruth (+142.6)
2. Lou Gehrig (112.4)
3. Mickey Mantle (+110.3)
4. Joe DiMaggio (+78.2)
5. Derek Jeter (+72.4)
6. Yogi Berra (+59.5)
7. Mariano Rivera (+56.3)
8. Bill Dickey (+55.8)
9. Alex Rodriguez (+54.2)
10. Willie Randolph (+54.0)
…
18. Thurman Munson (+46.1)
Mike's List
1. Babe Ruth
2. Mickey Mantle
3. Lou Gehrig
4. Derek Jeter
5. Joe DiMaggio
6. Mariano Rivera
7. Yogi Berra
8. Bill Dickey
9. Whitey Ford
10. Alex Rodriguez
Yes, Rivera is the Yankees all-time leader in pitching WAR, three wins ahead of Ford and five wins ahead of Andy Pettitte. And yes, I have Mantle over Gehrig. Mantle hit like Gehrig and did it as a center fielder. Both belong in the inner circle of the inner circle of the Hall of Fame either way. Longevity pushes Jeter over DiMaggio for me. (Jeter played 1,011 more games than Joe D. and DiMaggio missing three years to World War II doesn't make up all of that.)
On the WAR list, Munson is still behind guys like Ford, Pettitte, Ron Guidry, and Bernie Williams. He's right there with Robinson Cano (+45.5 WAR). Like I said, I dig great catchers, and I think I would've had Munson in the 11-13 range somewhere with Pettitte and Bernie on my list. I am surprised none of the six New York Post scribes squeezed him into their personal ton ten Yankees list. Leaving him out is not egregious though. Munson was great, but the Yankees have had so many great players. Guys like Pettitte and Bernie would be slam dunk top tens for most other teams.
Michael asks: Just read a couple of articles about the Yankee farm system and its prospects. Miguel Andujar wasn't mentioned anywhere in any of them. What was Miggy's background and how did he rise to the majors? How come everyone mentions Gleyber but no one mentions Miggy. What's the deal here?
The Yankees signed Andujar as a 16-year-old shortstop in July 2011. They gave him a $750,000 bonus and moved him to third base right away. Andujar didn't make it out of rookie ball until 2014 — early in his career he had a tendency to start slow at each new level before turning it on a half-season later — and it wasn't until 2015 that he jumped into the prospect spotlight. Here's where Baseball America (and I) ranked him among their top 30 Yankees prospects over the years:
2014: BA No. 18 and RAB No. 24
2015: BA No. 10 and RAB No. 7
2016: BA No. 12 and RAB No. 15
2017: BA No. 12 and RAB No. 8
2018: BA No. 5 and RAB No. 3
Not sure what I was thinking dropping Andujar from No. 7 in 2015 to No. 15 in 2016. Huh. Anyway, Andujar had a breakout year in 2016, hitting .271/.331/.403 (108 wRC+) with a career high 12 homers between High-A and Double-A. Then, in 2017, he hit .318/.364/.503 (135 wRC+) with 16 homers between Double-A and Triple-A, and started to get some top 100 prospect love.
Andujar never got as much attention as someone like Gleyber Torres because there were always questions about his defense, and also because it wasn't clear how much power he'd have long-term. For a long time he looked like a line drive guy who might top out at 15-20 homers, which is good, but not top prospect good. Fast forward to last season and Andujar had 27 homers and 47 doubles as a rookie big leaguer, so he's answered questions about his power potential. Miggy was the rare underrated Yankees prospect.
Benjamin asks: Thoughts on the 2001 AL Cy young award. Two names pop out, Roger Clemens (won), and Mike Mussina (5th). In your opinion, if this vote happened right now, would Roger still win? As far as I can see, Moose had the better stats in the AL, but didn't have the magic W's.
That 2001 season was Mussina's best as a Yankee and probably the second best of his career, behind his 1992 season with the Orioles. Mussina led the league in FIP and WAR in 2001. Clemens led in winning percentage and that's it. Here are the 2001 AL Cy Young voting results:
| Rank | Name | Tm | Vote Pts | 1st Place | WAR | W | L | ERA | IP | H | R | ER | HR | BB | SO | WHIP | ERA+ |
| --- | --- | --- | --- | --- | --- | --- | --- | --- | --- | --- | --- | --- | --- | --- | --- | --- | --- |
| 1 | Roger Clemens | NYY | 122.0 | 21 | 5.7 | 20 | 3 | 3.51 | 220.1 | 205 | 94 | 86 | 19 | 72 | 213 | 1.257 | 128 |
| 2 | Mark Mulder | OAK | 60.0 | 2 | 5.6 | 21 | 8 | 3.45 | 229.1 | 214 | 92 | 88 | 16 | 51 | 153 | 1.156 | 126 |
| 3 | Freddy Garcia | SEA | 55.0 | 4 | 4.2 | 18 | 6 | 3.05 | 238.2 | 199 | 88 | 81 | 16 | 69 | 163 | 1.123 | 135 |
| 4 | Jamie Moyer | SEA | 12.0 | 1 | 3.4 | 20 | 6 | 3.43 | 209.2 | 187 | 84 | 80 | 24 | 44 | 119 | 1.102 | 120 |
| 5 | Mike Mussina | NYY | 2.0 | 0 | 7.1 | 17 | 11 | 3.15 | 228.2 | 202 | 87 | 80 | 20 | 42 | 214 | 1.067 | 143 |
| 6 | Tim Hudson | OAK | 1.0 | 0 | 4.5 | 18 | 9 | 3.37 | 235.0 | 216 | 100 | 88 | 20 | 71 | 181 | 1.221 | 129 |
Yeah, I think if we held the 2001 Cy Young vote today, Mussina would indeed win. Among those six he had the best park-adjusted ERA, allowed baserunners at the lowest rate, was second in the league in strikeouts (Hideo Nomo had 220 strikeouts for the Red Sox), and led the league in WAR by more than a full win. I remember Clemens went 20-1 in his first 30 starts that year and, at the time, sitting on a 20-1 record that late in the season made you a Cy Young lock. Mussina threw 8.1 more innings than Clemens and allowed seven fewer runs and 33 fewer baserunners.
Brian asks: With unproductive final years of Texeira, A-Rod and (currently) Ellsbury contracts fresh in fans' minds, the front office has fans right where they want us… many not clamoring for lengthy deals for Machado and Harper. You see right through that. Can you compare and contrast just the Ellsbury deal and why a Machado or Harper signing is advisable in spite of that debacle?
Come on. Manny Machado and Bryce Harper are demonstrably better players than Jacoby Ellsbury was when the Yankee signed him. Ellsbury has batted at least 300 times in nine different seasons in his career, and in five of those nine seasons he was a below-average hitter after adjusting for ballpark. He had that truly excellent 2011 season that is so very clearly an outlier given the rest of his career. Only four times in his career has Ellsbury bested +2 WAR. Machado and Harper have done it six times each already. Also, the Yankees signed Ellsbury when he was 30. Machado and Harper are 26.
Had Robinson Cano signed a ten-year deal when he was 26, it would've just ended and it would've been a smashing success. Ellsbury has had one (1) season on par with what Machado and Harper have done multiple times in their career. The first A-Rod contract is the best historical comparison here. That prime-aged proven star-caliber producer. Not Ellsbury. He was never on their level outside that one season. The "oh no a long-term contract" hysteria has jumped the shark. Eventually some team will sign Harper and another team will sign Machado, and those teams will be very happy they did, and every other team will look silly for not trying harder to sign them. When you're where the Yankees are on the win curve, you have to worry about now now and later later. The oceans will probably swallow us all whole before these deals go bad.
Emiliano asks: It is plausible to believe that Mariano could help Ottavino to improve his cutter like he did with Halladay or is it more about raw talent for the pitch?
It's possible, sure. It won't be easy and it's not guaranteed to happen, but it is possible. Just remember there's more that goes into throwing a certain pitch than the grip. You need a certain level of laxity in your wrist to throw a curveball, for example. Pedro Martinez had such big hands and long fingers that he could really smother the ball when he threw a changeup. Not any pitchers could throw a changeup like Pedro. Rivera's cutter was the result of a lot of things. The grip, his finger pressure, his arm action, etc. Adam Ottavino might not be able to replicate those things. Roy Halladay and David Robertson were able to after consulting with Rivera about his cutter, at least to some extent, so it is possible. My guess is there are more failure stories than success stories here.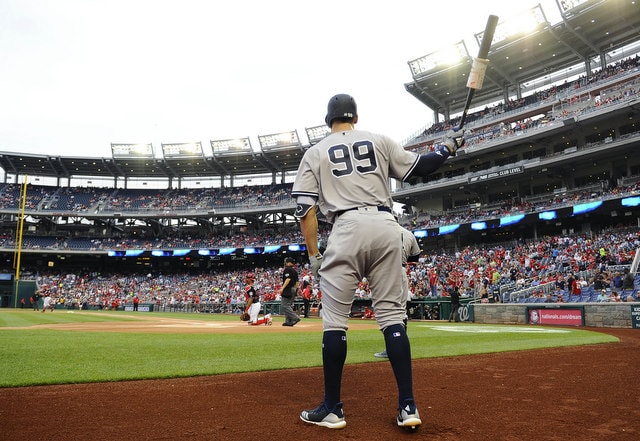 Michael asks: It appears that the Yankees 25 man roster will have the greatest range in jersey numbers possible this year at 99 (Ottavino at 0, Judge at 99). What was the greatest range in numbers previously?
Ottavino and Aaron Judge have to be the largest spread in history, right? I doesn't get any wider than 0-99, unless 00 is somehow lower than 0, or they go to triple digits at some point. Looking over the all-time numbers quick, these appear to be the largest spreads in Yankees history going into 2019:
98 (Billy Martin No. 1 and Charlie Keller No. 99 in 1952)
97 (Derek Jeter No. 2 and Brian Bruney No. 99 in 2009)
89 (Derek Jeter No. 2 and Al Aceves No. 91 from 2008-10, 2014)
86 (Derek Jeter No. 2 and Josh Outman No. 88 in 2014)
86 (Derek Jeter No. 2 and Ryan Thompson No. 88 in 2000)
Keller played for the Yankees from 1939-49 and wore several different numbers. It wasn't until he returned in 1952 that he wore No. 99. Keller had one plate appearance for the Yankees that year and Martin was the starting second baseman. Those two were atop the list for 67 years before Ottavino and Judge came along.
Luis Cessa (No. 85) is the only other Yankee to ever wear a number higher than 77, and he never played with Jeter. The lowest number he's ever played with is No. 11 (Brett Gardner). Ottavino and Judge will sit atop this list until the end of time. Put them on top, move everyone down a spot, then Ottavino and Cessa slot in at seventh place with a spread of 85, assuming Cessa remains with the Yankees and wears the same number.
Brian asks: Would you rather Freddy Galvis 1 year 5 million or Tulo 1 year $500k?
Galvis. The Yankees are over the luxury tax threshold, so the money is largely inconsequential at this point, and I think Galvis will be the better player this season. At the very least, you can bank on him being a very good defensive shortstop. He also has a chance to pop 15+ homers. I don't know if Troy Tulowitzki can do either of those things. I get that he's basically free and no risk, and the Yankees do have a good backup plan in DJ LeMahieu (with Gleyber Torres sliding to short), but I think Galvis is the better player and more likely to help the Yankees win games this season. Shrug.
Zack asks: Given the way this free agency period is going, what do you think the chances are that Harper or Machado take a 3 year super high AAV (40+MM/year) deal that would expire a) before they turn 30, and b) after the current CBA expires which might result in teams being more willing to spend?
I just can't see it. If they're willing to take a short-term contract, I think the more likely scenario is a five or six-year deal with an opt-out after year three. That allows them to hit free agency again at age 29 and right before the new Collective Bargaining Agreement takes effect, and also gives them a little insurance policy on the back-end in case things go wrong. A five or six-year deal with an opt-out after three years seems more likely to me than a straight three-year contract. Part of me wonders if Harper's and Machado's agents would push for an irregular opt-out date, say January 1st so they can better gauge the market and the impact of the new CBA. The CBA expires December 1st and the opt-out decision would normally be due in early November. Pushing the opt-out deadline back to January 1st — or even December 1st for that matter — would put them in better position to make an informed decision. We'll see.
Mark asks: What is your projected 25 man roster? 3 or 4 bench players? I feel like if everyone is healthy, it ends up being 4 bench players. You can't really make Ellsbury do a 2 year rehabilitation stint…. can you?
A few weeks ago Brian Cashman said Jacoby Ellsbury is still questionable for Opening Day. Ellsbury had his hip surgery on August 6th and the Yankees announced a six-month recovery time. That puts him on track to return in February. It is a major surgery though, and let's be frank here, Ellsbury is not the quickest healer. His disabled list stints always last a little longer than expected. He's not an Opening Day consideration until we see him on the field and healthy. This is my projected 25-man roster:
Catcher

Infielders

Outfielders

Rotation

Bullpen

Gary Sanchez
1B Luke Voit
LF Brett Gardner
Luis Severino
CL Aroldis Chapman
2B Gleyber Torres
CF Aaron Hicks
James Paxton
SU Dellin Betances
SS Troy Tulowitzki
RF Aaron Judge
Masahiro Tanaka
SU Zach Britton
3B Miguel Andujar
OF Giancarlo Stanton
J.A. Happ
SU Adam Ottavino
DISABLED LIST
CC Sabathia
MR Chad Green
Didi Gregorius
BENCH
MR Jonathan Holder
Jordan Montgomery
C Austin Romine
???
MR Tommy Kahnle
Jacoby Ellsbury
IF DJ LeMahieu
LG Luis Cessa
The Opening Day rotation order is whatever. No need to sweat it right now. I said earlier this week I expect Kahnle and Cessa to get the final two bullpen spots, which is why I have them in the table. Everything else is pretty straightforward. That last bench spot is the only mystery at this point. If Ellsbury is healthy, I imagine it'll go to him. If not, it could be Greg Bird, Clint Frazier, or Tyler Wade. Those are really the only options, right? I'd be surprised if Thairo Estrada, Gio Urshela, or Billy Burns forced their way into an Opening Day. The best candidate for that open bench spot? Gardner. Sign Bryce Harper and move Gardner to the bench. Do it, Yankees. Deep down, you know you want to.