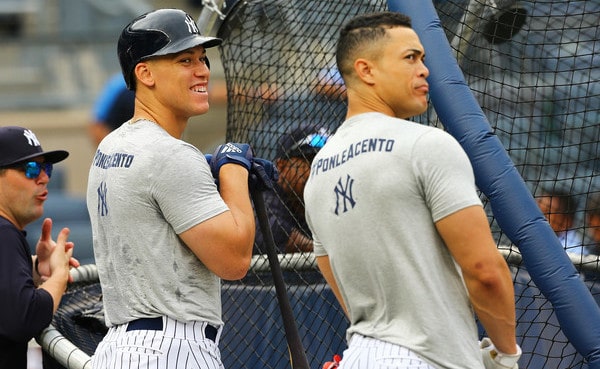 On the eve of pitchers and catchers reporting, there is one thing we know with absolute certainty about the 2019 Yankees: Their projected starting lineup will be very right-handed. With Didi Gregorius injured Aaron Hicks is far and away the club's best left-handed threat, and he's a switch-hitter. Brett Gardner can still grind out an at-bat like nobody's business, but an offensive linchpin he is not.
Easily searchable team platoon split data goes back to 2002 and last season the Yankees gave 63.2% of their plate appearances to right-handed batters, their highest rate in that time frame. For reference, 58.9% of plate appearances league-wide went to righties in 2018. The team's swing in right-handed plate appearance percentage over the last five years is pretty amazing:
2018: 63.2%
2017: 59.1%
2016: 40.1%
2015: 31.4%
2014: 35.8%
Four years ago the Yankees were very left-handed and we all complained they were too prone to infield shifts. Now the Yankees are very right-handed and the complaint is, uh, they strike out too much? The strikeout issues aren't as bad as you may think — the Yankees had a 22.7% strikeout rate as a team last year, just above the 22.3% league average — but we need something to complain about, I guess.
"Hopefully we can get some balance with a more fluid offense that can score a lot of different ways," Brian Cashman said during his end-of-season press conference and adding balance is not what happened this winter. The Yankees replaced Gregorius with the righty hitting Troy Tulowitzki and essentially replaced the switch-hitting Neil Walker with the righty hitting DJ LeMahieu. Also, Luke Voit is poised to fully replace Greg Bird at first base.
Last year the Yankees took nearly two-thirds of their plate appearances right-handed and, with Gregorius sidelined and Voit pushing Bird out of the picture, it's possible they'll take even more plate appearances right-handed this year. It is very un-Yankee-like. The franchise's history is littered with patient and powerful left-handed batters and the new Yankee Stadium is tailor-made for lefties. That right field short porch is begging to peppered with fly balls.
Being so right-handed is not necessarily a detriment. The 2017 World Series champion Astros took 64.7% of their regular season plate appearances right-handed, for example. They pulled it off because they didn't just have a lot of right-handed hitters. They had a lot of great right-handed hitters. Jose Altuve, Carlos Correa, George Springer, so on and so forth. The Yankees are cut from a similar cloth with Aaron Judge, Giancarlo Stanton, Gleyber Torres, etc.
In fact, the lineup being so right-handed last season did not stop the Yankees from being one of the best hitting teams against right-handed pitchers. Their numbers and league ranks against righty pitchers in 2018:
AVG: .254 (seventh best)
OBP: .330 (fourth best)
SLG: .471 (second best)
wRC+: 115 (second best)
The Yankees were actually quite a bit better against righties (115 wRC+) than lefties (102 wRC+) last season, which is not what I would've guessed. We can't chalk that up to small sample size noise either. The Yankees collectively had over 2,300 plate appearances against southpaws last season. I guess it's just one of those things. I know if I were a lefty pitcher, I wouldn't want to face the Yankees. I wouldn't want to face them as a righty either, but I digress.
On the aggregate, the Yankees were very productive against right-handed pitchers last season despite having such a right-handed heavy lineup. That doesn't mean there weren't moments when being so right-handed worked against them. I think we all remember Justin Verlander cutting through the Yankees in early-May* …
… and Sergio Romo getting some key right-on-right outs with that frisbee slider in the late innings for the Rays. Overall, the Yankees were really good against righties last season. There were still times when a little more balance would've been nice, the same way a little more balance would've been nice when the Yankees were so left-handed in 2015. Same idea, different sides of the plate.
* Fun Fact: The Yankees won that game thanks to this.
Cashman and the Yankees had literally an entire offseason to add left-handed balance to their lineup and they instead doubled down on righties with Tulowitzki and LeMahieu. Michael Brantley, Daniel Murphy, and Jed Lowrie were all out there ready to add lefty thump to the lineup, but the Yankees passed. Bryce Harper and switch-hitter Marwin Gonzalez are still out there, yet the Yankees are showing essentially zero interest.
With Tulowitzki, the Yankees brought him because he is basically free and teams love free. Why pay something for something when you could possibly get something for nothing? With LeMahieu, it was about the total package. From Ken Rosenthal (subs. req'd):
The Yankees viewed LeMahieu as the second-best free-agent infielder behind Manny Machado, ranking him ahead of Marwin Gonzalez, Jed Lowrie and the rest. LeMahieu, in the club's opinion, offers elite defense and superior makeup, and some of the team's internal data suggested he was under-valued offensively.
The Yankees didn't ignore the lack of lefties because they're dumb or oblivious. They just don't value lineup balance much. Overall talent and expected production trumps handedness. The same applies to the pitching staff. Three lefty starters were acquired this offseason (J.A. Happ, James Paxton, CC Sabathia). Why? Because they were the best available players at their price points (which is another topic for another time). Not because they're lefties.
Four right-handed hitting Yankees batted at least 300 times against right-handed pitchers last season and the worst of those four was Stanton, who hit .249/.328/.465 (112 wRC+) against northpaws, and that's pretty darn good. Last year was last year though, and just because the Yankees hit righties well with a right-handed lineup last year does not mean they'll do it again this year. There are three reasons I'm not sweating this though:
The righty bats are really good. It's one thing to stack your lineup with righties like late career Vernon Wells and Kevin Youkilis, Eduardo Nunez, and Ben Francisco. It's another to do it with Judge, Stanton, Torres, Andujar, and Gary Sanchez.
Most of the righty bats are young. Tulowitzki is 34 and LeMahieu is 30. They're the exceptions. Stanton is 29, Judge and Sanchez are 26, Andujar is 23, and Torres is 22. Age-related decline is not a concern with these righty hitters.
Personnel changes during the season because that's baseball. Who had Andrew McCutchen and Luke Voit hitting first and fifth, respectively, in the Wild Card Game at this time last year?
You can add Sir Didi's eventual return here, giving the Yankees another lefty bat, though I'm inclined to treat anything Gregorius gives the team this year as a bonus. He is expected back at some point and that's great. After a major procedure like Tommy John surgery, I prefer to prepare for the worst. Gregorius will probably hit the ground running when he returns. There is a chance he won't though.
In a perfect world the Yankees would sign Harper and plop him into the middle of the lineup, mostly because he's a very dangerous hitter and partly because he's a lefty. That's probably not going to happen, unfortunately. Greg Bird staying healthy and remembering how to hit would help balance the lineup, but, given his recent track record, it's impossible to count on that. What you see is what you get with the lineup right now.
A righty heavy lineup is not inherently a bad thing. Again, the Astros won the World Series two years ago with a ton of righties. It can work. The Yankees have prioritized talent over handedness, and as the season plays out, they'll have a chance to adjust the lineup as necessary. My guess is the right-handed heavy lineup will be one of those things that is discussed as a potential issue all season but is never actually a significant problem, kinda like last year.