The Yankees had a chance to be bold this offseason. They could've splurged for Manny Machado or Bryce Harper, or even Patrick Corbin, but instead opted to spread the money around on several good players rather than one or two great players. Calling it an offseason of half-measures is probably unfair. Clearly though, the Yankees could have done some bigger things and passed.
Among the offseason pickups was veteran southpaw J.A Happ, who pitched so well for the Yankees following last year's trade (2.69 ERA in eleven starts) and has had a renaissance in his early-to-mid-30s. Rather than sign Corbin to a deal that would've carried him through his age 35 season, the Yankees gave Happ a little two-year contract (with a vesting option) that covers his age 36-37 seasons.
At a time when so many teams are shunning free agents and older players, the Yankees gave the winter's third largest average annual value ($17M per year) for a free agent starting pitcher to the fourth oldest starter on a 40-man roster at the start of Spring Training. Corbin and Hyun-Jin Ryu received a higher average annual value. Only Rich Hill, CC Sabathia, and Adam Wainwright are older.
"He was a performer. He took the ball every five days. He was a competitor. He came as advertised," Brian Cashman said to Coley Harvey following Happ's re-signing. "A real pro. Had a veteran presence within that clubhouse. Knew exactly what was necessary and brought it every five days in the most competitive division in all of baseball and the world."
Aside from his ALDS start, Happ's brief tenure with the Yankees went very well, and it shouldn't be ignored that he joined the team in the middle of a postseason race and thrived. That's not easy, especially not in New York. Happ is a pro's pro. Low maintenance and effective. Every team wants a guy like him in the middle of their rotation. Let's preview his upcoming 2019 season.
Is an adjustment coming?
The Yankees are an anti-fastball team but Happ is not an anti-fastball pitcher. In fact, he's one of the most extreme fastball pitchers in baseball. Last season he threw the fifth highest rate of fastballs in baseball:
Lance Lynn: 88.9%
James Paxton: 81.5%
David Price: 74.9%
Jon Lester: 74.8%
J.A. Happ: 73.3% (72.0% with the Yankees)
Happ ratcheted up his fastball usage during his brief stint with the Pirates a few years ago, which led to his early-to-mid-30s renaissance. He hasn't lost velocity with age either. Look at his average four-seam fastball velocity numbers the last four years:
2015: 92.8 mph (96.4 mph max)
2016: 92.8 mph (96.4 mph max)
2017: 92.9 mph (96.4 mph max)
2018: 92.7 mph (96.2 mph max)
Geez, hard to get more consistent than that. The velocity has held steady. Happ's fastball spin rate dipped noticeably last year …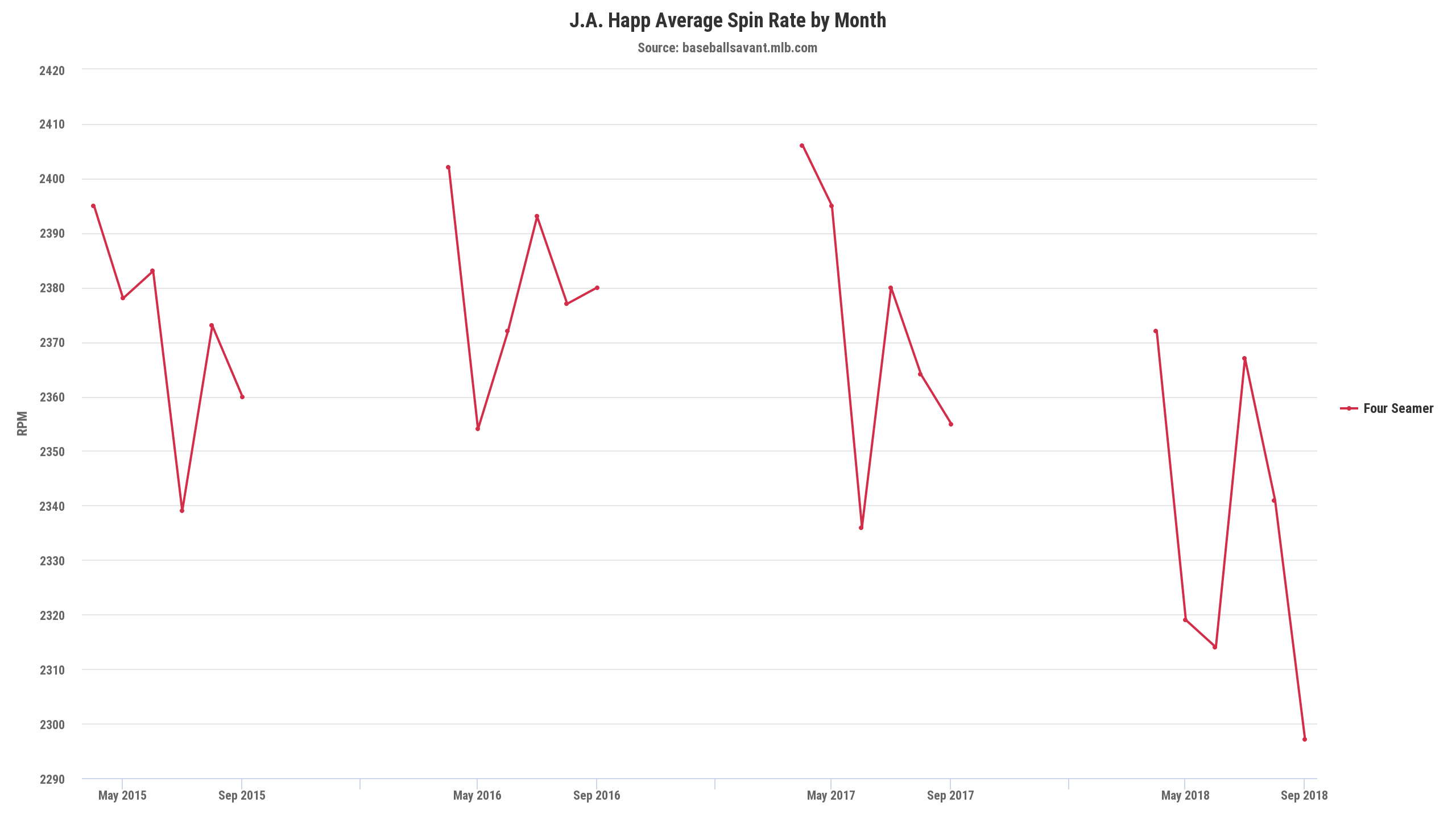 … which worries me a bit. Three of Happ's four worst months in average fastball spin rate from 2015-18 came last year, and August 2018 was 6 rpm short of making four of the five lowest. Happ likes to pitch up in the zone with his fastball because it's a great swing and miss pitch. High spin helps the fastball play up.
"I was encouraged, feeling (my fastball) had a little more life," Happ said to Pete Caldera following his most recent Grapefruit League start. Aaron Boone added: "(I) thought it was the first time he had his Happ fastball. I thought it was a really good day for him."
Aroldis Chapman's velocity dipped last season and, to compensate, he started throwing a lot more sliders. The thing is, Chapman came out of the gate throwing more sliders. More sliders was the plan going into the season. He and the Yankees didn't wait around until they were sure his velocity dipped to make the adjustment. They were proactive.
The Yankees are big believers in spin rate, so they surely noticed Happ's fastball spin rate dip last year. Because of that, I wonder if we'll see a slightly different Happ on the mound this year. Maybe more sliders or changeups, or perhaps he'll bring back the cutter he shelved a few years ago. A proactive adjustment like Chapman's slider.
For what it's worth, Happ threw a lot of changeups in his Grapefruit League start last week. That could've been one of those "veteran working on a pitch that's given him trouble this spring" things. Probably was. But maybe it was part of an adjustment? More changeups to help the fastball play up makes sense, no? I guess we'll find out soon enough.
What do we expect in 2019?
I say this with all due respect: J.A. Happ is boring. He's a very good Major League pitcher. He's also relatively uninteresting from a analytic standpoint. He likes to use his high spin fastball up in the zone and … that's it? In three of the last four seasons he's finished with an ERA in the 3.50 to 3.65 range. In three of the last four seasons he's finished with a FIP in the 3.75 to 3.95 range. Consistency is boring.
Happ will play the entire 2019 regular season at age 36 and, for any player at that age, age-related decline is a major concern. Things can fall apart quickly. Happ has defied the typical aging curve — that is especially true with his fastball velocity (it should've dipped years ago) — with is encouraging, but it doesn't mean he will continue to defy it forever. Father Time remains undefeated.
While I admit to being concerned about the drop in fastball spin and the potential ramifications, Happ has earned the benefit of the doubt. He's been consistently above-average on a rate basis the last four years and he's averaged just short of six innings per start the last four years. Year after year, season after season, it's been the same J.A. Happ. That's not a bad thing at all.
Luis Severino's injury has created some rotation issues, but, more than anything, the Yankees need Happ to provide competency. They didn't get it from Sonny Gray or Domingo German last year. Happ came in and stabilized things. If he pitches like an ace, great. That'd be a neat little bonus. With their offense and their bullpen, the Yankees only need Happ to be solid and chew up innings. He remains capable of doing that.
* * *
I was hoping the Yankees would spend big for Corbin, a high strikeout and high ground ball southpaw in the prime of his career. Once they determined his asking price was out of their range (another issue for another time), Happ was the next best thing. I had him as the second best free agent starter this winter. The Yankees avoided a guaranteed third year, which is always a plus for a pitcher this age, and they got to know him a bit firsthand last year following the trade. He's not Corbin, but Happ was a solid re-signing and will be integral to the 2019 Yankees.