The following is guest post from Josh Fortunatus, a longtime RAB reader and a longtime Yankees fan who lives in Phoenix. With RAB shutting down in two weeks, Josh wrote about what RAB means to him, and I thought it was worth sharing on the site. I've had a lot — a *lot* — of people reach out with similar stories and I thank you all.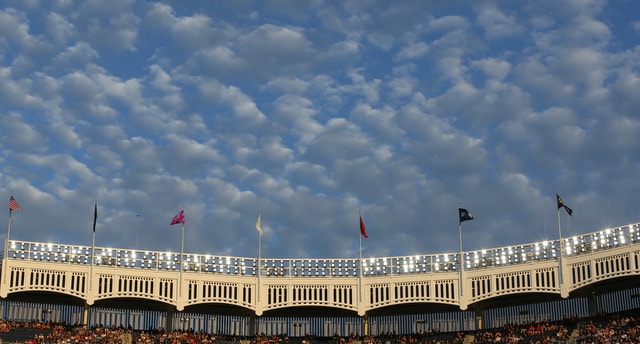 I'm a millennial. I say that as a statement of fact and not as some proud, defiant proclamation. I was born in 1985 in Plattsburgh, New York, which is a place that could be described as everywhere and nowhere. You see, there are many towns like it but I challenge you to find it without typing it into Google Maps. For a baseball fan growing up in the 90s, Plattsburgh felt like a dream because no major league club had a monopoly in the market. You could love any club you wanted to. Expos, Red Sox, Mets and Yankees fans co-existed in an interleague utopia. You had the pick of the litter. You could love one team and not worry about being outnumbered by another fanbase. It was a creature comfort. And since I lived close enough to the Expos' Stade Olympique, it meant I had easy access to watch live ball games in person. As much as I tried, I couldn't love the Expos. Then one day, my mom bought me a mitt with Derek Jeter's insignia and I found my club.
For many millennials, phrases like "you can be whoever you want to be" and "it won't feel like a job if you truly love what you do" might sound like milquetoast meditations on how to comport yourself but if you ask your parents how often they heard those sentiments in their youth from their own parents, chances are they didn't hear them much. Gen Xers and Boomers often followed their parents into their line of work or pursued the career of their parents' choosing. In the 50s and 60s, children were not considered the focus of the family. As you can imagine, the father was. But as the rates of divorce and women in the workforce grew from the 70s and beyond, so did the focus on children within the immediate family. My father is an immigrant and my mother was born near Albany, New York. My parents subscribed to the notion that their kids should be able to pursue their dreams, loves and interests. My father felt it was necessary in the interest of assimilation while my mother simply rejected her parents' parenting style.
I was stats-obsessed from an early age. I could rip off triple-slashes and all-time records with ease. I impressed my family by knowing not only what guys like Jeter produced, but also knowing what guys like Tino Martinez produced. When I popped in World Series Baseball '95 into my Sega Genesis (and after several clearing blows into the cartridge), I always stacked the top of my lineup with guys who had high batting averages. I vividly remember taking my baseball cards out, looking at lifetime averages, putting my slugger in the clean-up spot and slotting high average guys around him. In fact, swapping out Mike Gallego for Randy Velarde was often my first managerial move. No matter the player, I wanted to know the numbers. I had to know how good he was. Through middle school, high school and most of college, it was mostly the same – Triple Crown stats. There was a lot of "gimme a .270 hitter with 10 home runs over a .250 hitter with 30 home runs any day" and "who cares what his ERA is? He had 20 wins last year!"
Then I found RAB. It was a merging of data and baseball that I had never seen before. Even my friends who are Sox fans read it. RAB opened me up to an analytics treasure trove including Moneyball, Fangraphs, Brooks Baseball, Baseball Prospectus and Baseball Savant. My assumptions, which were largely formed by the old school philosophies, were shattered. The days of arguing that Jeter's 97 RBI as a number two hitter meant he should win the MVP were gone. I saw all data – not just baseball stats – in a new, revelatory light. To me, hunting for undervalued players became an obsession. Comparing legends was commonplace as a topic of conversation among my friends. Yet perhaps the most rewarding thing was seeing the evolution of the content itself as it changed from simply pointing out oddities to explaining why those oddities existed and contextualizing them. Instead of turning me away from baseball, understanding sabermetrics caused me to love the sport more deeply.
In the end, my parents' rejection of their parents' teachings opened me up to the idea that I could take what I learned from RAB and turn it into my livelihood. I make my living as a data analyst and one my favorite facets of the job is finding new ways to solve old problems. My parents rejected the old ways. RAB rejected the old ways. And in turn, I rejected the old ways. In a significant manner, I credit RAB for my chosen profession.
I'll miss my most consistent lunchtime companion. I'll miss the moment I type "r" into the search bar and see "riveraveblues.com" immediately show up. And a few months after RAB closes up shop and I'm no longer visiting the site, I won't see it anymore. Google will have decided that it's no longer relevant. But I know the truth.
RAB is the definition of surplus value. It's basically Aaron Judge's rookie season but for twelve straight years. We're all lucky to have had this unbelievably consistent and quality outlet for our favorite ball club literally at our fingertips.
Thank you to Mike, Ben, Joe and everyone who contributed over the years. It's been a pleasure.