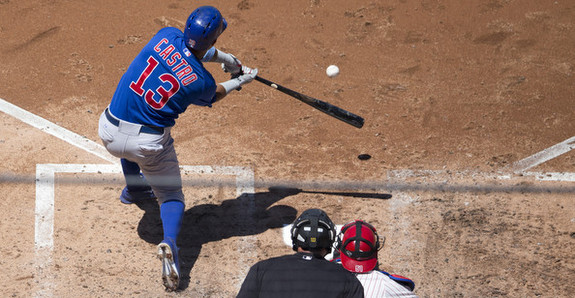 When your team trades for a player in December, it's like getting a present early; there's a shiny new toy with "your" name on it and you can't even open the damn thing–let only fully play with it–for months. So, in turn, you build up anticipation both positive and negative about what this new toy could or couldn't be. Such is the case with this post and newly acquired infielder Starlin Castro and where he fits in the Yankee lineup (as presently constructed, barring any more moves).
For most of his career, Castro has hit in the number two spot in the lineup. During his time with the Cubs, he amassed 1117 plate appearances in that spot over 252 games. He's also had about a full season's worth of PA in the leadoff spot (529); the third spot (494); the cleanup spot (537); and the fifth spot (525). In the Bronx, Castro won't be relied upon to hit in those important spots in the lineup. Rather, it's likely he'll be called upon to add some right handed balance to the overall lineup as well as some contact skill to the bottom of the Yankee order.
There are definitely reservations to have regarding Castro entering the Yankee lineup at all before we even get to where he's going to hit in that lineup. Castro's career high walk rate is only 6.2%, which he notched in 2014. He's only been over 5% on his walk rate three times including 2014; the other two were in his rookie year of 2010 (5.7%) and 2012 (5.2%). His power has been up and down and either average or slightly below. New York's success over the last 20 years has been predicated on patience and power, but not every player can be a take-and-rake guy, especially in today's offensive climate and especially when that guy is a middle infielder. The Yankees have at least four guys who can fill at least one of the "take" or "rake" role–Alex Rodriguez, Carlos Beltran, Mark Teixeira, and Brian McCann–and they don't necessarily "need" the bottom of the order guys to do that. Granted, it's a lot more helpful when the lower-in-the-order hitters can do those things, but that's asking a lot in 2016. What Castro is good at, though, is making contact.
Castro has posted above-average contact rates for his entire career , including the down years he had in 2013 and 2015. After years of watching Jayson Nix and Stephen Drew rack up a good amount of strikeouts in the lower third of the order with not too much return (though Drew was probably a little better than we gave him credit for), it'll be nice to have a player who can make contact to (hopefully) move more runners along and bring more runners home.
Lefties killed the Yankees in the second half last year after A-Rod slowed down and Mark Texieira got hurt, and that's another area where Castro can help the club. For his career, he's hit .295/.344/.415 against lefties with a .330 wOBA and a 106 wRC+. Depending on how manager Joe Girardi deploys Jacoby Ellsbury, Brett Gardner, and Aaron Hicks–who can hit lefties well–Castro will have some opportunity to spend time at the top of the lineup. It's easy to see him leading off or batting second against lefties when Ellsbury or Gardner gets a day off. His high-contact, decent-OBP success against lefties bodes well for leading off or batting second and is something the Yankees sorely lacked with Ellsbury struggling against lefites and Gardner fighting injury (along with the aforementioned Teixeira and Rodriguez situations).
With the Yankees, Castro will not need to shoulder the load or be the catalyst for offense. He'll simply need to keep doing what he does well–making contact and handling lefties–and he'll fit in just fine, regardless of where he ends up hitting. There was a time–even a recent time–when I wasn't thrilled with the idea of acquiring Castro, but he certainly fills a need and the hole he fills is bigger than the one the pieces used to get him–Adam Warren and Brendan Ryan–are leaving. Even if it'll be a while before we can see what he can do, I look forward to seeing what he can do.