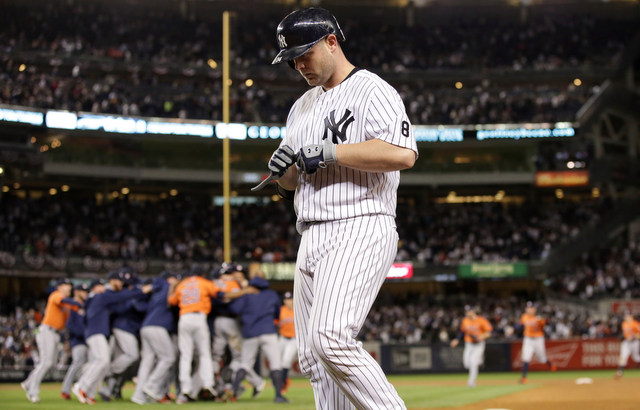 During the time that passed between October, 1996 to October, 2003, I went from being in fourth grade to being in eleventh grade. All-in-all, those were some formative and impressionable years. In all of those years but two–1997 and 2002–my favorite baseball team was in the World Series, winning four of them and losing two. They were also one out/inning/game away from making it there again in 2004 before, well, you know what happened. As I write this, I'm looking back at those years and taking away something I never thought I'd take away: those years did not mean all that much to me as a baseball fan.
Of all those seasons–and I'm being completely honest here–I only have a handful of memories. I remember falling asleep during Game 6 of '96, only to wake up to Joe Torre covered in champagne at a press conference table. I have no recollection of watching anything from the 1998 and 1999 World Series, though I'm sure I did. I remember falling asleep before Game 1 of 2000 ended. I remember being at my aunt and uncle's house for some reason while the Yankees got pounded in either game one, two, or six in the 2001 World Series. I remember falling asleep during Game Seven, waking up to hear Soriano's home run on the radio, then falling asleep again, thinking they'd won, only to wake up to Luis Gonzalez's heroics. I remember falling asleep in 2003 before Aaron Boone did his thing. All I remember of the 2003 World Series is the last out Jorge Posada made against Josh Beckett. I remember watching Game 3 of the '04 ALCS at a friend's house, thinking there was no way they wouldn't close out that series the next night. I remember turning off Game 7 in the first few innings. Essentially, for most of the Yankee dynasty years, I was asleep when they were winning. This isn't meant to be some commentary on the late start times of playoff and World Series games, but rather a revelation (confession?) about myself as a fan: I just didn't care as much back then.
Perhaps seeing the Yankees win so many damn times numbed me to just how incredible it was to make it to the World Series. Perhaps I cared more about playing baseball than I did about watching it; again, I can't recall watching many games on TV as a kid. I'm sure I did, but I honestly don't remember it. My family and I made it out to the Stadium once per season, and maybe I went with a friend a handful of other times, but I wasn't as immersed in it until later in life.
When I got to college, the fall of 2005, I was lucky enough to be placed with a roommate who was also a big Yankee fan. The combination of a passionate roommate, a lack of morning classes, and relative freedom meant I could finally watch just about as much baseball as I could. This was augmented by the advent of faster internet both at home and at school that enabled me to talk about baseball (or anything else) just about any time I wanted to. And because of that, this is when my baseball fandom really started. From that point until now, I've watched or listened to or followed a vast majority of games the Yankees have played. And because of that, I finally realized how hard getting there can actually be.
The (mostly) disastrous playoff losses the Yankees suffered in 2005, 2006, 2007, 2010, 2011, and 2012 felt worse to me than the losses in 2001 or 2003, and to some extent, 2004 did. Why? Personal investment. As a kid, I didn't invest all that much in the Yankees. Like I detailed before, I have vague flashes of memories of those teams and that's it; granted, this could be time and memory (or lack thereof) playing some tricks on me in 2015, but the level of care I put into the Yankees from 2005/2006 on dwarfs any feeling of affection I had for them during my younger and more vulnerable days. This is why the 2009 World Series win will always be my favorite.
While the "drought" between World Series wins was relatively short for the Yankees, the old 'quality vs. quantity' problem is what makes up the difference for me. The quality of those years of watching them not win–or really even come close–was much greater than the small quantity of years.
2004 was obviously bad and I was disappointed and upset and frustrated, but it didn't shake me to my baseball core or anything. Looking back with some detachment, it's clear that, given their pitching staff, the 2004 Yankees had no real business being in the 2004 ALCS, let alone winning it. For me, the worst playoff losses were the 2010 and 2012 ALCS's.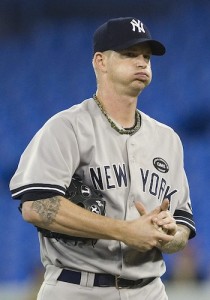 I'm not going back to find it, but I remember tweeting in the late innings of that 2010 loss to the Rangers, something along the lines of "Don't go out like this. Please, not like this." Coming off of 2009, when I watched most every inning of most every game, a lot of that time spent right here on this very website, I knew what it took for a team to make it to and win the World Series. I knew how hard they'd worked, how much they'd given. I also knew they were the better damn team, which made the loss so biting and disappointing.
In 2012, the Yankees essentially no-showed in the ALCS and that–along with the 2011 ALDS, also against the Tigers–was probably the most painful experience I've had watching baseball. There was just nothing that went right for them. They couldn't hit. They couldn't pitch. It was hopeless from the start. That loss was more disappointing and more brutal for me than the one in 2004 was.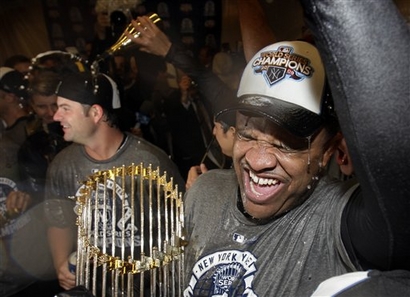 2009 showed me what a championship team looks like, in terms of team construction and that "fighting spirit" that meant they were never out of a game (though the latter here really comes from the former). I haven't gotten that feeling from the Yankees since 2010, though there were flashes of it early this year. I liken the Yankees' loss in the Wild Card game to that ALCS vs. Detroit in 2012: the chances of them winning weren't great, but, of course, I couldn't look away. Things felt somewhat doomed from the start, but it didn't matter.
2009 also showed me that, as a Yankee fan, I'm an eternal optimist. Perhaps that, not the feeling of championship or playoff-entitlement, is what growing up in the presence of the last great baseball dynasty left me with, hope: the hope that the Yankees will always be in it, will always be there, will always hang around. They might not always come through like they did way-back-when, but they will always have the chance to get there.