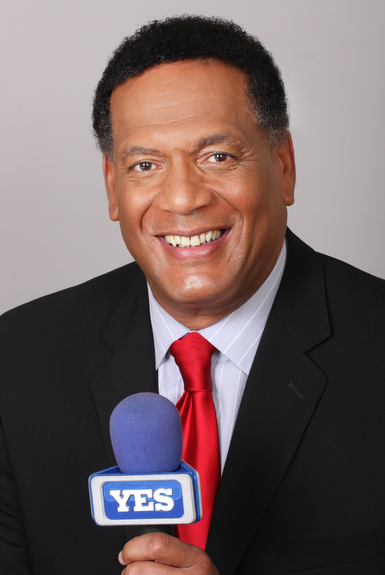 Last week, we spoke to YES Network broadcaster and former All-Star Ken Singleton about all things Alex Rodriguez, from his looming suspension to his legacy and everything in between. This time we're going to cover the trade deadline and some moves/non-moves, and in part three tomorrow we'll tackle some other "state of the Yankees" topics.
Matt Warden: One of the big stories we've covered extensively here at RAB was the trade deadline.  I think the Yankees had an opportunity, a really important opportunity actually, to either raise the white flag and try and move guys like Hiroki Kuroda, Curtis Granderson, Phil Hughes, Joba Chamberlain, or even Robinson Cano with the idea of retooling for the future, or they could have gone the other route and done whatever it took to compete this season.  Looking back, it seems the team managed to do very little.  Sure, they grabbed Alfonso Soriano, but I wonder if that was too little too late.  Do you think they showed the right amount of activity at the deadline or would you have preferred them to do something more dramatic?
Ken Singleton:  Well, of course everyone would like to see the team improve and Brian Cashman is in the business of improving the Yankees.  I'm sure he was on the phone talking to people, but maybe what they were offering was not, in his eyes, good enough.  Or, maybe other teams wanted too much [for their guys].  We've seen how Joba's slid down the list in the bullpen as far as importance, but maybe the Yankees felt he's more important [then his selling price would indicate].  Was Joba more important to another team, and they could have offered more, but they just didn't?
Same with Phil Hughes.  Although he's going to be a free agent, you still need somebody to pitch today and tomorrow.  I'm not one to just unload guys just to unload them.  I think you look to make your team better, whether it's in future prospects or getting decent prospects from a team, and if the prospects from another team aren't good enough — we weren't involved in these phone conversations and Brian Cashman was — and if he didn't think it was good enough, they aren't good enough.  You just go with what you got.  I'm sure Cashman was trying.  I'm sure other teams were calling about some of his players. I'm sure he inquired about players on other teams, but if things don't happen, it just doesn't happen.  That's why when players get injured managers say someone else on the team will have to step up.  It's not like everyone out there is feeling sorry for you.  That's not going to happen, particularly not with the Yankees.
MW:  The Yankees have been pretty depleted with right-handed power.  What did you think about the Alfonso Soriano move?
KS: I'm kind of glad they got them.   At least he's a player who hits right handers and has some power.  Yankee fans know him.  He's been here before.  I think Vernon Wells hasn't hit a home run since May.  They had to do something.  If Vernon had been producing like he was earlier in the season, I don't think Soriano would be here right now but the fact is that Vernon Wells hasn't provided power for the last several months and they had to do something or risk being shut out every time by left handed pitchers.
MW: True.  Travis Hafner has been pretty ineffective for a while too which was certainly part of the problem.
KS: Yeah, both he and Wells started going downhill around the same time.  Wells has been a little more effective than Hafner lately, prior to his injury.  Plus Wells can do more things.  Hafner's job is basically just to hit and he hasn't been doing it.  And now he's on the DL because his shoulder's bothering him I guess.  Neither one has really done much since May.
MW: At least with Wells, he's being utilized more appropriately now.
KS: Yeah, he's not being played not on an everyday basis.  They couldn't do that early in the year because there was no one else, and now Joe Girardi can slot him in against pitchers he's done well against in the pass.  Defensively, he's fine.  He's made some throws from the outfield that have gotten guys out at the plate.  He's a very good base runner and he hustles.  He just hasn't hit like the Vernon Wells we saw with the Blue Jays.  He basically hasn't been the same guy since leaving Toronto, and that's unfortunate because he was one of the better players in the league at the time.
MW:  Getting back to the deadline and Cashman's efforts, I think you're right to some extent.  It's been publicized now that the Yankees inquired into players like Carlos Ruiz or Michael Young, and those offers simply weren't happening which was fine…
KS: Matt, let me say this.  One thing that may hinder trades is the extra wild card spot.
MW: Agreed.
KS: Yeah, I think that kind of slows down the trade market because teams maybe feel "we're not totally out of it."  "We're not totally giving up on our players.  If we get a couple of guys healthy, we can make a run and make the playoffs" and once you get in, who knows what's going to happen.
MW: Is that naive thinking by teams in some cases though?
KS: No, but I think it affects the Yankees.  I think it affects all the other teams in Major League Baseball too, hot or not.  If you're going to deal with a team that's low and out of it, low in the standings and out of it, maybe you can pry someone away from them.  But even the Phillies, maybe they're thinking "Ah, maybe we've got a shot."
MW: I'm sure that's definitely true to some extent, and I'm sure it definitely applied to the Yankees this year.  Do you think they should be thinking along these lines though?  The Yankees are an older team and when you really weigh their options, even if they somehow reach the playoffs this year, how good of a chance do they have now, and especially going forward?  As for the Phillies, is it really worth keeping a guy who's 36 years old like Michael Young when they could potentially get a solid prospect in return in a seller's market, rather than risking the likely reality of missing the postseason with another aging veteran?
KS: Okay, but if you're a team like the Phillies, who draw very well, or you're a team like the Yankees who draw pretty well, and all of a sudden you get rid of all your players, it's like telling your fans, "don't show up for the rest of regular season."  That's it, we've given up on this year.  That's not a good thing if you ask me.  I think you want to show everyone that you're still trying and you still believe in everyone you have.  I don't know what the Yankees offered the Philadelphia Phillies.  Nobody does, and I just feel things happen or they don't happen for a reason; and if the trades weren't made, it's because they weren't there.  It's as simple as that.  It's not like they didn't try hard enough.  It's just that it didn't work.
MW:  Fair enough.  Speaking of GMs, I know GM Mike Rizzo recently enjoyed a promotion to something of the effect of President, something comparable to a Theo Epstein type of gig.
KS: Got an extension too.
MW: Yeah, that's correct.  Do you think that's what's in store for Brian Cashman once the season concludes?
KS: I have no idea what the Yankees have in mind for him.  I think his title right now suits him just fine.  He's the General Manager of the Yankees.  That title still carries a lot of weight.  Now if they want to give him a promotion to something else, I'm sure he'd consider it and he'd probably accept it.  But his job right now is, I think, all he can handle at the moment to be honest with you.
MW: [Laughs] So this leads me to a sensative topic, I suppose.  Do you think there is tension between him an ownership.  I feel like in the past year or so, he's been much more vocal about, "yeah this trade was my idea" or "no, this move was not my preference."  You heard this with Rafael Soriano.  You heard it again with Ichiro Suzuki, and most recently with Alfonso Soriano.  It's almost like he's distancing himself from certain moves.  Recently folks heard him say something to the effect of "This was ownership's doing.  Sure it makes the team better, but this wasn't exactly my call" when asked about the Soriano trade.
KS: Well you know, he can voice his own opinion.  I mean, the ownership has the final call.  They're the bosses and if he doesn't like it, I give him credit for saying what's on his mind.  I'm not saying that creates tension; maybe it's just being honest with everybody.  Doesn't seem to bother Hal Steinbrenner, because Brian Cashman's still around.
MW: So we shouldn't be reading anything further into this?
KS: I think honesty is the best policy.  You just say what you feel.  He probably mentioned it to Hal Steinbrenner to begin with.  He probably said, "Hey, I'm not in with this [move] but if you want me to do it, you're the boss, and I will do it."  If it goes public, it goes public.  I don't see them going back at each other in the press.  They are just doing their jobs.  I have no problem with this.  You know, I played for Earl Weaver and he used to say to us, "You say what's on your mind.  This is America.  You're allowed to say what you want.  But you just better bet able to back it up."  So I remember when he said that in the club house once, though I forgot the situation, but I began…
[briefly pauses]
You know, Earl was right.  This is America.  You say what you want.  You say what's on your mind.  You just better be able to back it up.  That's all.
MW: [Laughs]  I like that.  That's … pretty frank.
KS: Yep.  And if you played for Earl, he said what was on his mind.
MW: I think that's a fair point.  No one really knows what arrangement Cashman has with ownership regarding what he is or isn't supposed to publicize (if there's anything at all).  They may or may not have differences of opinion about baseball operations, but no one knows if that's causing any grief in the day to day baseball administration.
KS: Nobody does.  You know what.  I've been married for 22 years and I don't agree with my wife all the time.
MW: [Laughs]
KS: [Laughs] We co-exist.  You know.  That's the nature of everything.  You learn to compromise on certain issues.