It's been a tough couple of months in Boston. The Red Sox went from a virtual playoff lock and World Series contender to missing the playoffs, firing their manager and seeing their long-tenured and well-respected general manager depart for a new challenge with the Chicago Cubs. Change has come to the AL East, change that seemed hard to imagine a year ago. Now that Theo has moved on and no longer runs the Yankees' biggest and baddest rival, he's more free than ever to explore a more functional working relationship with long-time nemesis, Brian Cashman. Indeed, one of the more interesting things to watch about the new leadership on the North Side of Chicago will be the extent to which Epstein and General Manager Jed Hoyer find Brian Cashman to be a go-to trading partner.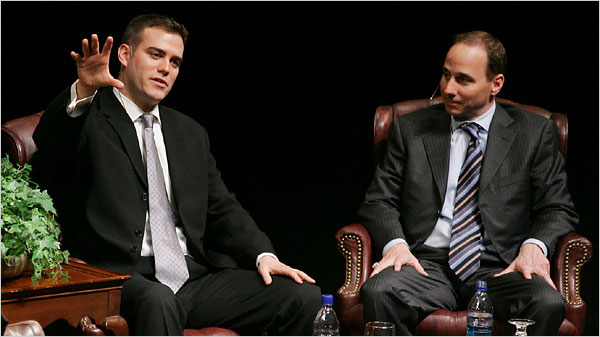 While there certainly isn't any type of formal prohibition on trading between fierce rivals, Epstein and Cashman weren't ever really free to pursue a trading relationship during their tenures atop their respective organizations. Despite the fact that a mutually-beneficial deal could have existed at least in theory, the constraints of the rivalry, pressure from ownership, and glare of the media made it extremely unlikely. Intra-division trades aren't too frequent. Trades between the biggest rivals in baseball almost never happen. The last time the Sox and the Yankees matched up on a deal was back in 1997 when they swapped Tony Armas and Jim Mecir for Randy Brown and Mike Stanley. Neither Cashman nor Epstein were General Managers yet, and Epstein was just 24 years old.
Despite the fact that they worked for rival organizations, Epstein and Cashman have always seemed to get along. This makes sense, as they share a lot in common. As general managers, they were both in big markets with a lot of money to spend. They had high-profile owners and sometimes messy decision-making apparatuses. They were under harsher media scrutiny than anywhere else, and they operated with the pressure to win every year. Setting aside their professional competitiveness, one has to imagine Epstein could empathize with Cashman when he got overruled on Rafael Soriano, and that Cashman felt similarly towards Epstein as the Sox season spiraled out of control and ownership pushed Terry Francona out the door. They're not so different, Epstein and Cashman.
They could be eager now to explore a working relationship. One has to imagine they're at least curious to match wits in a trade negotiation, to experience up close what they've observed from afar over the past decade. For now there doesn't seem to be an obvious fit between the Cubs and the Yankees, unless the Cubs were willing to trade one of their starters now. If the Cubs fall out of contention this summer and look to shed payroll and get prospects in return, could they make Ryan Dempster or Matt Garza available? And would Cashman be ready to deal? It's an interesting question, and the burgeoning dynamic between the once-forbidden partners will be something to watch over the next few years.