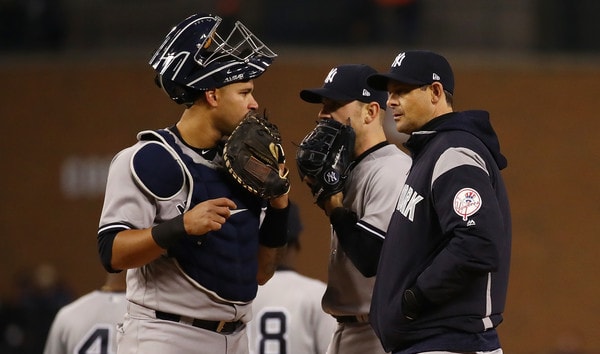 Fourteen games (and several postponements) into the 2018 season, the Yankees have yet to play up to their full potential, and the result is a perfectly mediocre 7-7 record. A 14-game sample is nothing, and going 7-7 is hardly a disaster, but the Yankees certainly haven't looked the part of a World Series contender yet. We're still waiting for the team to fire on all cylinders.
The offense has not been a problem so far. Even with Giancarlo Stanton and Gary Sanchez starting slow, and Greg Bird on the disabled list, the Yankees are hitting .244/.332/.423 (112 wRC+) as a team and are averaging 5.50 runs per game. They are seventh in team wRC+ and sixth in runs per game. Once Stanton and Sanchez heat up, forget it, the Yankees will score runs like crazy.
Run prevention has been a different story. The Yankees have allowed 5.50 runs per game in the early going — their run differential is exactly zero (77 runs scored and 77 runs allowed) — and things have been especially bad over the last ten days or so. They've allowed at least six runs in each of their last five games, and in six of their last seven games overall. Yuck.
There are three components to run prevention: Starting pitching, relief pitching, and defense. So far the Yankees have been below-average at each. Some quick numbers:
Starters: 4.83 ERA (22nd in MLB)
Relievers: 4.71 ERA (25th)
Defense: 0.684 Defensive Efficiency (29th)
Again, we're only 14 games into the season, and there are better ways to evaluate pitching than ERA and defense than Defensive Efficiency (a fancy name for the percentage of batted balls turned into outs), but so far the Yankees aren't pitching well and they aren't defending well. I'm not sure I needed to give you the numbers to tell you that. We've all seen it.
Performing poorly in the first 14 games and performing poorly the rest of the season are two different things. The Yankees have performed poorly on the run prevention side of things to date and those games are in the books. Can't take 'em back. Going forward though, things on this side of the ball can improve for several reasons, two of which don't seem outlandish to me:
Luis Severino and Masahiro Tanaka won't continue to get bombed like they did in Fenway Park last week.
The outfield defense will improve now that Aaron Hicks is healthy.
Both Severino and Tanaka were very good in their first two starts before getting rocked by the Red Sox last week, and they both have strong track records, so I'm willing to chalk last week up to "one of those series." Maybe they'll be bad now and forever. It could happen! I think we need more evidence before saying anything definitive though. Bad starts happen. Sometimes to good pitchers and sometimes in back-to-back games.
As for the defense, getting Hicks back means Stanton spends more time at DH than in left field, where he has been adequate rather than stellar. Giancarlo is awesome, but defensively I want Hicks in center and Brett Gardner in left field as often as possible. And remember, it's not just less Stanton in left field either. Billy McKinney and Jace Peterson started two games apiece in left already. Less of that, please.
The bullpen is a different story. On one hand, the talent on the roster suggests the bullpen should be better going forward. A lot better. On the other hand, relievers are known to be volatile, and guys like Aroldis Chapman and Tommy Kahnle have yet to show their usual velocity. Dellin Betances has had his moments, but it always feels like the next meltdown is right around the corner. The bullpen has been dicey.
Fourteen games in, I don't think there's anything the Yankees can do other than give the bullpen more time. No one in the bullpen has thrown even nine innings yet. Given the talent in the bullpen, April 16th is no time to start ripping things apart and dumping guys who were great last year for depth arms. I'd like to see more of Domingo German and Luis Cessa in short relief. I also don't think the Yankees should move on from their current bullpen core just yet. If the bullpen still stinks in a few weeks, the Yankees will make changes. I don't think they're at that point yet.
I know this much: The Yankees are allowing way too many runs at the moment. They're scoring plenty and that's good. But only six teams have allowed more runs in the early going, and that is no way to make a run at a postseason spot, even in a hitter friendly home ballpark. (The Yankees allowed the fourth fewest runs in baseball last year.) The Yankees need to improve their overall run prevention to go on any sort of hot streak. The rotation, the bullpen, and the defense all haven't been up to snuff.