This guest post is by Jim Johnson, formerly of Bronx Block.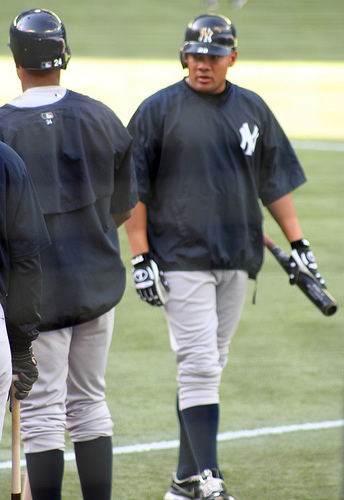 Let's look at the road Melky Cabrera has taken in his young career.
In 2005, he was brought up for a bit and embarrassed himself.
In 2006, he filled some holes when some injuries hit the team and out-performed expectations while playing most of the year.
In 2007, he became the starting center fielder early in the season. However, he did not take a major step forward in his development as one would have hoped.
As of 2008, Melky has made center field his own and his performance is fairly positive.
2007 was a troubling year for Melky. While playing in 20 more games and collecting 85 more at-bats than in 2006, his average dropped 7 points, his slugging remained the same, and his on-base percentage dropped a hefty 33 points. He stuck out more and walked less. This is not what anyone in the Yankee organization wanted to see. Melky has drawn comparisons to Bernie Williams and Carlos Beltran at the same point in their careers. Now, I don't think that anyone truly believes that Melky can match Williams or Beltran in terms of talent, but the comparisons are there.
2008 is going to be a very important year for both Melky Cabrera and the Yankees. How Melky performs this year could set events in motion that could reverberate thought the entire Yankee organization. There are two possible scenarios. For the sake of discussion, let's assume that the below come true.
Brett Gardner continues to develop as hoped and is ready to become the 4th outfielder on the Major League club in 2009.
Austin Jackson continues to develop as hoped and is ready to contribute to the Major League club mid-2009 and be the starting center fielder in 2010.
Jose Tabata continues to develop as hoped and is ready to contribute to the Major League club mid-2010 and be a starting corner outfielder in 2011.
If we assume that those 3 prospects work out as planned (which may or may not be a stretch), there are two ways this could all play out:
Scenario 1
Melky Cabrera improves on his plate discipline in 2008, increases his power numbers, and finishes with a batting average over .300. The Yankees decides that his potential is legit and decide that he has a long-term role with the team. With RF open due to the departing of Bobby Abreu, the Yankees decide to slide either Cabrera or Brett Garnder to RF until Austin Jackson is ready to make the jump to the majors. From then on, Gardner can slide into the role of 4th outfielder and pinch runner. The organization continues to develop Tabata and will decide which corner of the outfield to slot him into.
Backtrack to 2009. With Bobby Abreu departing and Melky moving to RF, there will be a heavy offensive drop-off. The Yankees will see an offensive reduction from C, SS, CF, RF, and potentially LF and DH. By losing their 3rd place hitter and replacing him with a bottom-of-the-order hitter, the Yankees will probably go out and sign Mark Teixeira to a hefty 7-year deal. Teixeira will be 29 at the start of the 2009 season and is a switch hitting first baseman with a .290 Avg / 30 HR / 100 RBI bat. He's a two-time Gold Glove winner and two-time Silver Slugger winner.
With the need for offense, Teixeria will be able to name his price. By the end of the contract, much as we see with Jason Giambi, Yankee fans may be grumbling that they have better 1B options sitting on the bench because of the money the starting guy makes. Also, the deal with probably keep Jorge Posada behind the plate for an extra year than he would have otherwise. I see Posada as a C/1B/DH in year 3 of 4 and a DH in year 4 of 4. Teixeira's signing will block 1B for Posada, possible Jesus Montero and, of course, Derek Jeter. With a full outfield and 1B tied up for the foreseeable future, Jeter may not have a place to move in 2011 when he signs his new deal. He'll either have to remain at shortstop (yikes) or take up the very valuable DH position.
Montero might even be dangled as trade bait if one or more of the trio of young starts the Yankees have do not work out. With the signing of Teixeira, the Yankees may not be willing to shell out the kind of money that C.C. Sabathia will be commanding, no stadium or not.
Shelley Duncan will have no place on this team, either.
Scenario 2
Melky Cabrera puts up another 2007 and looks more like a back-of-the-order bat instead of a front-of-the-order bat. The decision will be made to overpay Bobby Abreu to re-sign for 2 years instead of the 3 that he could get elsewhere. Melky will remain the starting CF in 2009 but will split a little time with new 4th outfielder Brett Garnder. There is little doubt that Melky is keeping the spot warm for Austin Jackon. Once Jackson gets called up later in the season, Melky will begin to get moved around the outfield a bit. In 2010, the Yankees decide to go with their center fielder of the future and Melky becomes expendable.
There are several ways the Yankees could go after this. With Bobby still with the team, the Yankees may not be so eager to sign Teixeira to big bucks. They may prefer to hand the role to Shelley Ducan and/or Juan Miranda with an occasional start by Posada or even Damon. The future of 1B could fall in the lap of Derek Jeter or Jesus Montero.
The success of Hughes/Joba/Kennedy coupled with Cashman's salesmanship and the status of whatever Hank had for dinner last night will have a factor on whether or not the Yankees will make a play for C.C. Sabathia. Actually, I think the biggest factor in this decision may be how Joba the Starter looks in late 2008 vs. how Joba the Reliever looked in early 2008/late 2007. Everyone in their right mind wants him in the rotation, but the combination of him shortening games, Mariano's aging, the availability of a big-time lefty starter the sudden abundance of available money may swing this decision in the other direction.
If Melky does not take a significant step forward in 2008, I see him being shipped off to another franchise within 2 years. The Yankees have 2 star-caliber outfield prospects coming up and another who is a perfect 4th outfielder or bottom-of-the-order hitter. Granted, these decisions could be affected by the 2008 performances of Tabata and Jackson nearly as much, but for the time being, Melky's destiny rests in his own hands. A significant part of the Yankee roster going forward could be shaped by how much improvement the Yankees see in their 9th place hitter in 2008.
Melky image from flickr user phillenium1979 under a Creative Commons license.