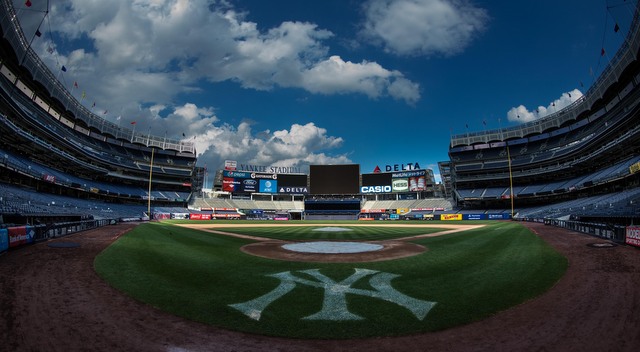 The Yankees and Orioles will continue their ultra-important three-game series at Camden Yards later tonight. Saturday night games are just the worst, aren't they? Blah. Anyway, here are some links to help you pass the time.
MLB announces postseason schedule
A few days ago MLB announced the 2016 postseason schedule, and despite the first four months of the season, the Yankees are still hanging around in the wildcard race. Here's the portion of the postseason schedule potentially relevant to the Yankees:
AL Wild Card Game: Tuesday, October 4th (on TBS)
ALDS A: Thursday, October 6th through Wednesday, October 12th (on TBS)
ALCS: Friday, October 14th through Sunday, October 23rd (on TBS)
World Series: Tuesday, October 25th through Wednesday, November 2nd (on FOX)
The AL has homefield advantage in the World Series this year, remember. I assume a tiebreaker game would be played the day before the Wild Card Game. What happens if there's a three or four-team tie? Not sure. Kinda hope we find out. I explained the tiebreaker procedures in yesterday's mailbag. Here's the full postseason schedule.
Yankees attended Tebow's workout
According to multiple reports, the Yankees had a scout on hand for Tim Tebow's workout at USC earlier this week. Ken Davidoff says there were 42 scouts representing 28 teams in attendance — the Cubs and Athletics were the only no-shows — but no high-ranking evaluators. Just area scouts. Tebow did the usual. Running, throwing, live batting practice, the works. Here's a little bit of video:
I don't have any problem with Tebow or anyone else giving baseball a try. If he can do it, more power to him. He played in high school and is obviously a great athlete, and based on the video he didn't seem completely out of place on a baseball field. I just wonder about things like pitch recognition and outfield/baserunning instincts, the stuff that gets honed through repetition. This guy's been away from the game for 12 years now. Also, how will his minor league teammates receive him? I don't see this as Tebow taking someone's job, but the players might.
Jose Garcia leaves Cuba
Outfielder Jose Adolis Garcia, brother of ex-Yankees farmhand and current Braves third baseman Adonis Garcia, has defected from Cuba, reports Ben Badler. The 24-year-old still has to go through the process of being declared a free agent and all that, which could take months. Badler ranked Garcia as the 20th best prospect in Cuba last year (subs. req'd). Here's a piece of his most recent scouting report:
(Garcia) was one of the most tooled-up players in Cuba, with 60 speed on the 20-80 scouting scale and a plus-plus arm … he has played center field during international tournaments and looked comfortable there, with the tools and athleticism that should allow him to play center field in pro ball … At 6-foot-1, 175 pounds, Garcia has quick bat speed from the right side of the plate  … his long swing, free-swinging approach and struggles to recognize offspeed pitches are significant concerns about his ability to perform against better pitching.
Meh. That sounds almost exactly like a right-handed Leonys Martin, though, if I'm remembering correctly, there weren't a ton of questions about Martin's bat when he defected. No one expected him to be an MVP or anything, but he could hit. The Yankees haven't been all that active on the big money Cuban market since Jose Contreras, and while up-the-middle players are always worth checking out, this tiny little bit of information makes Garcia seem like a non-priority.
Yankees looking to refinance stadium payments
The Yankees are looking to refinance about $1 billion worth of debt from the construction of Yankee Stadium, report Josh Kosman and Lois Weiss. They're trying to get a better interest rate, basically. Happens all the time. Businesses do this regularly and so do regular folks. They refinance their mortgages, their car loans, whatever. The team's stadium debt payments are $73M a year. They're slated to rise to $76M in 2018.
"He's always looking for ways to cut expenses," said one of Kosman's and Weiss' sources, referring to Hal Steinbrenner. That'll be misconstrued as Hal being cheap, but it just means he's like every other business owner on the planet. Kosman and Weiss say the Yankees are breaking even financially right now, but that's just the team itself. They're still making a boatload of cash from YES and Legends Hospitality, among other things. Don't worry, the Yankees won't go broke anytime soon.