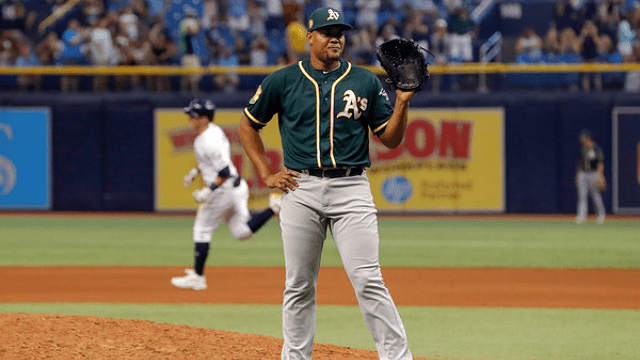 In five days time, the Athletics will come to Yankee Stadium for the Wild Card Game, armed with a cadre of relievers.
For sure, Oakland is defined by its lineup, which posted the second-best wRC+ in baseball and slugged .440 despite the spacious confines of the Coliseum. But the team didn't win 96+ games just off its offense.
The team's rotation, despite containing plenty of talent, has been ravaged by injuries and by all measures is mediocre. There's a reason they've adopted an opener/bullpenning strategy to take up the back-end of their rotation in the last month.
Instead of winning with a strong rotation, the Athletics have been decidedly modern and turned to a strong bullpen. One has to figure Bob Melvin will follow that formula in the Wild Card Game, likely following a short stint from Mike Fiers with a series of their top relievers.
So where can the Yankees find cracks if they don't get to the homer-prone Fiers?
Unlike last season with the Twins, the Athletics do have a pitcher to fear and that is All-Star closer Blake Treinen. Treinen has been good enough that he should earn some down-ballot Cy Young consideration. At age 30, the right-hander has finally figured out how to dominate with his electric upper-90s sinker.
Considering his 0.79 ERA (a 532 ERA+, not a typo), 0.832 WHIP and ability to go multiple innings, the Yankees basically need to get to the seventh inning with a lead or else Treinen likely finishes their season off. Treinen blew his last save, but that came on a pair of seeing-eye singles and a key error.
It would be one thing if the bullpen were just Treinen. However, the A's have some standout rookies, a trio of former closers and a sprinkle of veterans in front of him, although each has their flaws.
Even better than Treinen in the first half was Lou Trivino, but the 26-year-old rookie has come crashing down to earth in the second half to the tune of a 5.86 ERA and a .280/.364/.449 line against him. The right-hander has been dealing with a neck issue to boot, but he still can fire the ball in the upper-90s easily.
Next up is Fernando Rodney. All I need to say is he's Fernando Rodney. He walks way too many batters and the Yankees seem to own him. Luke Voit and Gary Sanchez certainly have.
For some reason, Rodney continues to get almost exclusively higher leverage innings. Someone, please explain this to me. Or don't, and just make sure it happens on Oct. 3.
Another trade deadline acquisition was Jeurys Familia. A better and younger arm than Rodney to be sure, but he hasn't been quite as sharp in Oakland compared to his Mets days. His peripherals have been better despite a rising walk rate. Like Rodney, the Yankees got to him in their one victory during their Labor Day series.
The other former closer is former Yankee Shawn Kelley, who's been a mess in high leverage spots this year between the Nationals and Athletics. That likely has him lower on the totem pole for Wednesday's clash.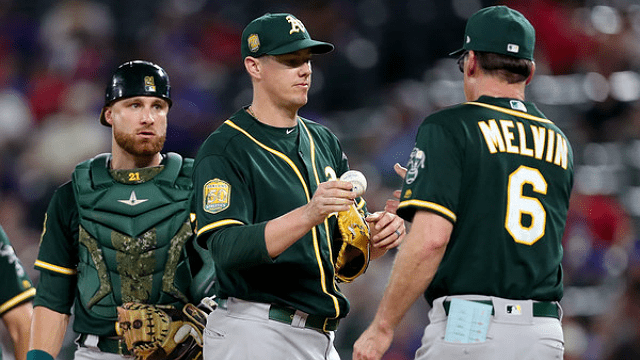 If you take out Kelley, those are the tippy-top arms for the Athletics. But Melvin s plenty of tricks (or relievers) up his sleeve. I'll break them down quickly since there's way too many to go into detail.
Ryan Buchter is the matchup lefty. If Didi Gregorius is healthy, he's the matchup for Buchter. Otherwise, he'll be waiting for Neil Walker, Brett Gardner or Greg Bird to enter the game. Maybe he gets an inning against righties, but this seems unnecessary with Oakland's depth.
Yusmeiro Petit is a jack-of-all-trades. He can take long relief, but he's pitched in one inning bursts recently, likely due to the increased depth in the pen.
Trevor Cahill and Edwin Jackson are each part of the rotation, yet each has some experience in the bullpen and could take up a long relief or emergency role in the Wild Card Game. The Yankees historically have hit both pitchers extremely well, but neither has seen the Yankees often the last few years.
Along those lines is Daniel Mengden. He's primarily pitched behind an opener in recent weeks, but he had the Bombers' number on Sept. 4, carrying a no-hitter into the middle innings. Don't be shocked if he's on the Wild Card Game roster, but it's tough to see him slotting into middle relief with the Athletics clinging to a lead.
The Athletics could also utilize the opener with Liam Hendriks. The Australian right-hander has allowed a run in just one of seven "starts" this season and would work alongside Oakland's right-handed options to counter the Yankees' lineup.
Lastly, rookie J.B. Wendelken has allowed one run over 15 2/3 innings this year and his fastball-curve combination could have him ticketed for a postseason roster spot. Still, he hasn't been trusted with a late-inning lead.
There are a few other arms that the A's could turn to, but expect the formula to be Fiers and Treinen with some combination of Familia, Rodney, Trivino and Buchter in between. Oakland is able to meet the Yankees' righty bats with plenty of right-handed power in the their bullpen with Buchter to seek out other matchups. If I had to put anyone else in there, Petit would get an inning if Fiers or whichever starter is out quickly, but he might not have the Proven Closer™ feel to him that some of the others have.