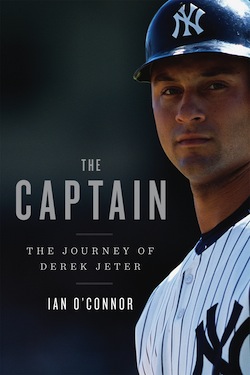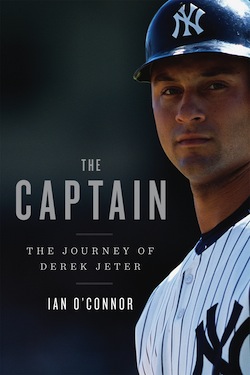 There is a book waiting to be written about the life and times of Derek Jeter. This book will explore what motivates him to excel on the field and how he behaves off the field where he was – and maybe still is – a king of New York's social scene. In other words, it should delve into every aspect of Derek Jeter that makes him Derek Jeter. That book is not, however, Ian O'Connor's highly anticipated biography The Captain: The Journey of Derek Jeter.
From the start, I knew that O'Connor's book, at nearly 380 pages, would be a slog. The first sentence of chapter one read, "Like all good stories about a prince, this one starts in a castle." That's the way O'Connor has chosen to frame his biography. It's not a critical look at Jeter; it's not one with inside information about his social life; it excuses any short-comings; it is about a player O'Connor views as a prince.
After that, though, the book takes a turn for the better. The first 200 pages focus on Jeter's background and early years with the Yankees. We learn about his grandfather's youth in New Jersey as a foster child and how his work ethic shaped Jeter's devotion to his eventual craft. We hear about the racial challenges Jeter's parents faced as a mixed marriage at a time of less tolerance even in New Jersey and Michigan. We read about his youth as a start baseball and basketball player. As a scrawny teenager in the late 1980s, even then, Derek Jeter was destined for great things. He told his friends he would both be on the Yankees and date Mariah Carey, and everyone who knew him believed him.
As the tale progresses, O'Connor offers a glimpse back at the fateful draft of 1992. Somehow, Jeter, far and way the most productive player from that draft, fell all the way to the sixth pick. The Astros wanted Phil Nevin's power while the Indians wanted Paul Shuey's arm. The Reds' advanced scouts and a young Jim Bowden urged the club to take Jeter with the fifth pick, but Julian Mock went the cheaper route. They picked Chad Mottola who appeared in just 59 games for the Reds, Blue Jays, Orioles and Marlins.
That draft was, of course, the first major turning point in Jeter's life. He was expected to become the next great Yankee and had a signing bonus to match. He and Brien Taylor were due to lead the club into another era of greatness, but the game that came so easily to Jeter in Michigan proved challenging. At the age of 18, he hit .210/.311/.314 with 21 errors and would call home in tears every night. At age 19, his hitting improved, but he made 56 errors for Single A Greensboro. Already, Yankee officials were talking about moving Jeter out of short stop.
But as O'Connor notes, intangibles carried the day. Jeter, work ethic intact, turned himself into the sixth best prospect in baseball, and despite pressure from the front office to go with a more experienced short stop, he emerged as the team's young spark plug in 1996. For his first five seasons, Jeter led a golden life. He won four World Series and dated Mariah Carey. After the 2000 World Series, Jeter was on top of the world, but even then, O'Connor had to position the second half of his book. "Derek Jeter, four-time champ," he writes, "was the undisputed lord of the rings. He had no idea how much suffering he would endure in pursuit of his one for the thumb."
The suffering, of course, came in the form of Those Other Guys. Once the synergistic energies of Paul O'Neill and Tino Martinez and Scott Brosius departed, the Yankees, says O'Connor, became a Me-First team. Jason Giambi, for instance, asked out of the 2003 World Series, much to Jeter's chagrin. And then A-Rod arrives.
If this book has a villain, it is Alex Rodriguez. He's the guy who kisses himself in the mirror, who slaps at baseballs, who cares too much about his image and manages to put his foot in his mouth. He's the guy who dissed Jeter in an Esquire interview and who bears the full weight of the Yanks' post-season failures from 2004-2007. He is the anti-Jeter, and this goes on for nearly 150 pages as O'Connor defines Jeter for what A-Rod isn't as much as he does what the Yankees' Captain is.
Using stories from Selena Roberts' A-Rod expose and the Joe Torre/Tom Verducci memoir, O'Connor paints a familiar picture of A-Rod as a selfish guy. Perhaps that's not an inaccurate picture of A-Rod, but he's also a player who hit .303/.403/.573 with 173 home runs over his first four seasons in the Bronx. He certainly wasn't embraced by Jeter who comes across as vindicative toward those who double-cross him, but he was a big part of the Yanks' regular season success.
Eventually, Jeter and A-Rod reconcile as the Yanks' Captain brings Alex "back into the fold." He is embraced, and the Yankees win the 2009 World Series. It was Jeter's crowning moment. "Jeter did not just embody the pride of the Yankees as much as any mythic figure before him," O'Connor writes, returning to his favorite metaphor. "He proved a prince can become a king without lusting after the throne." Mostly, the book is as saccharine and sterilized as it sounds.
Yet, buried within this tale of the prince of New York is something more interesting, and now and then, it shines through. While Jeter didn't fully cooperate with O'Connor, he clearly gave his blessing for some of his closest friends — including Tino Martinez, David Cone and one-time Yankee farmhand R.D. Long — to sit with O'Connor. When they talk, Derek becomes more human and less princely. It slams the Mets for allowing the Baha Men to perform "Who Let the Dogs Out" before the 2000 World Series at Shea Stadium. He is absolutely frigid toward those who slight him or friends who do him wrong. He dumps Mariah Carey and kicks her to the curb with a brutal efficiency. He yells at Bernie Williams and Jay Witasick behind closed doors and is a far more vocal captain than many fans think. He parties as a youngster during Spring Training and courts starlets for decades.
To me, that's what would make a Derek Jeter biography more interesting. It doesn't have to be all wine and roses. We know about his on-field accomplishments; we have seen them day in and day out. But O'Connor's book leaves Jeter's private life well enough alone. The book rehashes the 2003 dispute with George Steinbrenner that eventually lead to an amusing VISA commercial and mentions Jeter's extreme secrecy concerning the women he has dated. But Minka Kelly, for instance, is mentioned on a whopping six pages, and Joe Torre's reluctance to push his favorite pupil to improve his defense gets very short shrift.
As an epilogue to the 2009 World Series, O'Connor provides some behind-the-scenes glimpses at Jeter's contract negotiations, and here, the book does what I want to do. Jeter, painted as proud and not always receptive to criticism, did not take kindly to the Yanks' suggestion that he wasn't worth a nine-figure deal or $20 million a year. This is the excerpt that ESPN New York ran a few weeks ago as a teaser for the book. The Yanks pushed hard, and Jeter got upset. Eventually, Randy Levine settled the dispute by offering Jeter more money than he otherwise would have gotten and a player option, and everyone became friends — or at least frenemies — again.
Yet, even here, the book seems incomplete, and that's because it is. Derek Jeter's story is far from over. We have yet to see how Jeter, long accustomed to exploiting his natural talents to win World Series titles and not receptive to moving position, will respond to the inevitable and ongoing aging process. We don't know what's going to happen when he does have to move from short stop, and we haven't seen how the Yankees and their fading star will address his anemic bat. That isn't just an epilogue to the softcover edition of O'Connor's book; it's an entirely new section that can't be written for years. We might know Jeter a little better after reading O'Connor's biography, but Jeter might not know himself until he faces the adversity on the baseball field that inevitably comes with age.