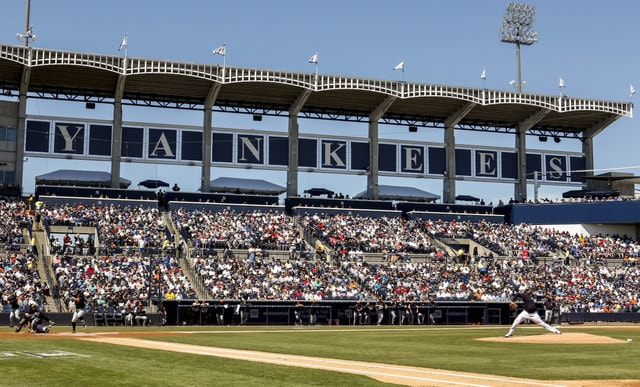 We're almost there. Opening Day is close enough that we can almost taste it. We'd probably be able to do so much better if not for the ever-more-stale aftertaste of Spring Training lingering on our tongues. Almost every story that could be written or thought of has been written or thought of and I'm sure I speak for everyone when I say "Just start the damn season already, please!" In that anticipatory spirit, let's try something a little fun to keep us on edge as we wait for Opening Day: prop bets.
Over/Under
If you don't know how this works, I'm going to put out a number for a player or players and you have to predict whether the total will be over or under that total. Let's start with the obvious:
Over/Under 120.5 home runs for Giancarlo Stanton, Aaron Judge, and Gary Sanchez. This one, for however fun it is to dream on, is a bit tough. It essentially breaks down to 50, 40, 30 for each player. For those home run totals, things have to go very right in terms of performance and health. But, given how each guy produced last year, it's a very doable number. My heart says over; my head says just under–but still a lot of dingers!
Over/Under: 875.5 innings from the Yankees Opening Day rotation (Luis Severino; Masahiro Tanaka; Sonny Gray; CC Sabathia; Jordan Montgomery). This is another reasonable target, with a slightly decreasing innings total from player to player, based loosely on ZiPS projections. However, I'm going to go under here as such a total would require extreme health for all these guys. All of them will carry some sort of injury risk going in and that'll keep them from this innings total. Obvious statement is obvious, but if they do meet or exceed this number, there'll be little stopping the Yankees.
First in Line
Let's (theoretically) bet on which player will be called up to the Majors first. If you told me earlier that Jacoby Ellsbury would be banged up this close to the start of the season, I'd've wagered on Clint Frazier for sure. However, given that he, too, is injured, I don't think we'll see him anytime soon in the Bronx, sadly. Clint, on the off chance you're reading this, we're all pulling for you to get better.
Knowing the Yankees, we'll see the Scranton Shuttle started up rather quickly, so the smart money is on a pitcher. But, if the team opts to go north with just a three man bench, there will be plenty of pitchers available in the bullpen, partially negating the necessity for call ups and send downs.
I'm going to go out on a limb here, though, and say that the first call up is going to be none other than Kyle Higashioka. Call it random chance–it will be–but maybe Austin Romine gets dinged by a foul ball and needs to take some time off. Come on up, Higgy; hope it goes better for you than last time did.
The regular season is around the corner. It's funny how time works when we're waiting for baseball, isn't it? This little stretch of time takes so long, but soon, it'll be June and we'll ask ourselves about where March, April, and May went. Soon, we won't need to pass the time with frivolities like this. Until then, though, let's keep speculating and dreaming about this team. It's going to be a lot of fun.