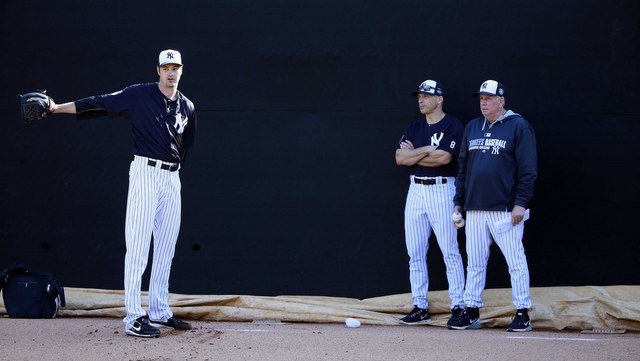 It's not often a closer loses his job after saving 36 games and posting the second highest strikeout rate in baseball. That's exactly what happened to Andrew Miller this offseason, as the Yankees bumped him from the ninth inning in favor of new pickup Aroldis Chapman. Most players would be upset with the demotion if not outright angry. Not Miller.
"It wouldn't be very welcoming on my end, or very appreciative on my end, toward a lot of people," said Miller when asked about losing his closer's job after reporting to Spring Training last month. "I don't want to make (Joe Girardi's) life harder. I don't want to make Aroldis' life harder. You know, we all want to win. That's something that all the veteran guys want, that's their goal, and then hopefully the young guys see that and hopefully fall into line with that."
Miller has had that same mentality since arriving in New York last year. His role is not important as long as he helps the team win. "For what they're paying me, I'll do anything," he famously said to reporters after Girardi officially named him the closer last May. Lots of players say they'll do whatever the team asks of them. We hear it all the time. Few seem as sincere as Miller.
Of course, the Yankees tried to trade Miller over the winter, even before acquiring Chapman. Well, maybe "tried to trade" isn't the best way to put it. As far as we know they weren't actively shopping him, but they did let teams know he was available at the right price, and that right price included a young starting pitcher. There were talks with the Astros about Vincent Velasquez and Lance McCullers Jr., plus rumors of the Dodgers and Cubs being interested.
Nothing happened, so Miller remains a Yankee and is about to begin the second season of what has already become a bargain four-year, $36M contract. It's not often big money free agent reliever contracts look so good even one year in. Miller had a 1.90 ERA (2.16 FIP) with a 40.7% strikeout rate and an 8.1% walk rate in 61.2 innings last year despite missing a month with a forearm issue. That's elite production worth more than $9M a year.
Miller actually added a tiny little bit of velocity last season, with his heater jumping from 94.9 mph in 2014 to 95.1 mph in 2015. His bread and butter is the slider though, a slider Miller actually threw more often than his fastball (54.8% to 45.2%) last year. Throwing that many sliders is generally not a good idea from a "keep your arm healthy" point of view. In a perfect world Miller would scale back his slider usage a tad going forward for the sake of self-preservation. Then again, fewer sliders likely means less success because the pitch is so good. Hitters look helpless against it.
The combination of the forearm issue and extreme slider usage — only Sergio Romo (58.8%), Al Alburquerque (55.6%), and Shawn Kelley (54.9%) threw a higher percentage of sliders among relievers in 2015 — are enough of a red flag to remind you Miller isn't perfect. Relievers tend to go poof without warning as it is. Add in a previous arm injury — however minor it may have been — and a slider heavy approach and you've got someone who carries risk. Maybe that's why the Yankees were open to trading him.
Either way, the Yankees have already announced Miller will close during Chapman's suspension. Once Chapman returns, Miller will slide into a setup role and team with Dellin Betances to form what has a chance to be the best setup tandem in history. Ideally, Miller would face the tough lefties in the seventh or eighth inning while Betances faces the tough righties. It probably doesn't matter though. They're both so good against batters on either side of the plate.
Girardi has shown over the years that he likes to assign his relievers set innings. He likes to have an eighth inning guy and he likes to have a seventh inning guy whenever possible. Miller closed last season and the natural move would be to bump him back into the eighth inning. Girardi has also talked about using only two of the big three relievers in any given game to make sure one is always fresh the next day, though we'll see what happens when the games begin. Miller doesn't seem to care how he's used as long as the team wins.
"I'm just trying to get ready. I'm trying to throw the ball as well as possible and then I'll deal with the situations when we get to games. It'll be a little bit of an adjustment but I don't think it'll be tough," he said. "Whatever's asked of us, we'll be ready."