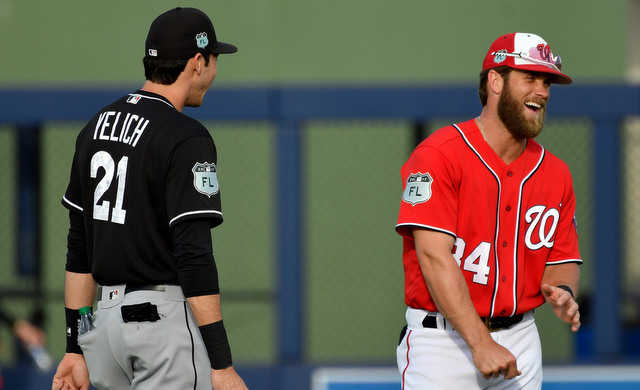 Our annual season preview series comes to an end today, and on Sunday, the 2017 regular season will begin. The Yankees and Rays kick off the new campaign Sunday afternoon. It'll be Chris Archer vs. Masahiro Tanaka. Every other team will be watching as they wait to play their first game of the year. The Yankees and Rays will be the only show in town for a few hours.
So, to wrap up our season preview, it's time to take a jaunt through the rest of the baseball world. Yesterday we looked at the other four AL East teams, the teams the Yankees will compete with most of the season. Now let's look at the remaining five divisions and 25 teams left in baseball. Come with me, won't you?
NL East
Best Team: The Nationals, probably.
Worst Team: The Phillies.
Most Fun Team: The Marlins.
I hesitate to say the window is closing for the Nationals and Mets, but they both very clearly need to win right now and not focus on two or three years down the line. Bryce Harper will be a free agent in two years (yay!) and others like Max Scherzer, Stephen Strasburg, and Anthony Rendon are in their primes. Same story with the Mets. Their rotation is starting to get expensive — all but Noah Syndergaard had some kind of arm surgery within the last year too — and offensive cornerstones like Yoenis Cespedes and Neil Walker won't perform like this forever. The time is now for these two clubs.
Very quietly, last year was a bad year for the Phillies and their rebuild. Maikel Franco didn't take the next step. Aaron Nola hurt his elbow and didn't pitch after late-July. Top prospects J.P. Crawford and Nick Williams struggled in the minors. Yikes. They want to get things back on track this year. The Braves are getting closer to contending, and for the time being, they're picking up low coast veterans. As for the Marlins, their rotation is really shaky, but their position player core is fun as hell (Christian Yelich, Giancarlo Stanton, Dee Gordon, etc.) and their bullpen can really bring it. They're high on the watchability scale.
AL Central
Best Team: The Indians.
Worst Team: White Sox over the Twins. Or would that be under?
Most Fun Team: Indians again.
The window is closing for the Tigers and Royals — Eric Hosmer, Mike Moustakas, Lorenzo Cain, and Alcides Escobar will all be free agents after the season — while the White Sox and Twins are in the middle of deep rebuilds. The Indians went to the World Series last year and pushed the best team in baseball to extra innings in Game Seven despite not having their best all-around hitter (Michael Brantley) and two of their three best starters (Carlos Carrasco and Danny Salazar) in the postseason. Impressive despite the disappointing finish.
The Indians are again a World Series contender this year and I think they got better over the winter. Edwin Encarnacion is better than Mike Napoli, they'll have full seasons of Andrew Miller and Brandon Guyer, and youngsters like Francisco Lindor, Tyler Naquin, and Salazar still have another level or two in their games. This team is really fun to watch too. Miller's awesome, Lindor is a joy, and others like Jose Ramirez and Encarnacion are a blast. (I can say that now that the Yankees won't see Encarnacion every other week.) The Indians play with a lot of energy and that makes them really exciting.
NL Central
Best Team: The Cubs, pretty easily too.
Worst Team: The Reds by a mile. Goodness.
Most Fun Team: The Cubs have a slight edge over the dinger happy Brewers.
The Cubs are annoyingly great and young too, so they're going to continue to be great for the foreseeable future. However! I'm curious to see how things shake out with their pitching staff. Jake Arrieta will be a free agent after the season, and even if they re-sign him, he'll be 32 next March. Hard to think there are many more ace-caliber years remaining. Jon Lester is 33 and will probably enter his late-career Sabathia phase at some point. John Lackey is 38. Is Kyle Hendricks really going to pitch this well going forward? The Cubbies will have to totally remake their rotation in the near future. Fortunately for them, they're set on the position player side.
Did you realize the Pirates went from 98 wins in 2015 to 78 wins in 2016? True story. Only the awful Twins had a larger drop in win total from 2015 to 2016. Pittsburgh hasn't done enough to capitalize on the Andrew McCutchen era. When they signed him long-term, the idea was being a bonafide World Series contender from 2016-18. Now they're looking to trade him away. Eek. I mean, look at their rotation depth chart:

Egads. Gerrit Cole is great, and both Jameson Taillon and Tyler Glasnow have a ton of upside, but is that a championship caliber rotation? I don't think so. I'm not even sure that's a playoff caliber rotation. The Yankees have a crummy rotation too, but at least they'll admit they're rebuilding transitioning. The Pirates front office has spent too much time planning for the future. Success is fleeting in baseball and you have to do what you can to maximize your opportunity when it arrives. That's why the Indians signed Encarnacion. The Pirates have done no such thing.
AL West
Best Team: The Astros.
Worst Team: The A's. Definitely the A's.
Most Fun Team: The A's.
Nice work by the Astros adding Carlos Beltran, Brian McCann, and Josh Reddick over the winter. They have some great young talent (Jose Altuve, Carlos Correa, George Springer) but needed to fill in the roster around them, and they did it with some high-quality veterans. Now they just have to hope their rotation comes together. Dallas Keuchel won the Cy Young in 2015 then had a 4.55 ERA (3.87 FIP) in 2016. A shoulder injury ended his season in August. Lance McCullers can't stay healthy, and others like Mike Fiers and Charlie Morton are meh. Just … meh.
Last season the Rangers had to be the worst 95-win team this century. They won 95 games with a +8 run differential. +8! They beat up on some bad AL West teams during the regular season, then got depantsed by the Blue Jays in the ALDS for the second straight year. Cole Hamels and Yu Darvish are a great one-two punch, and Adrian Beltre is still awesome, but when push comes to shove, this team folds. I'm guessing the Mariners finish second in the AL West this year, not Texas. The Angels don't have much to offer fans other than Mike Trout. The A's are really bad, but at least their teams are fun and the Oakland Coliseum fans are raucous. Win or lose, the fans are into it.
NL West
Best Team: The Dodgers
Worst Team: The Padres. Wow are they bad.
Most Fun Team: The Rockies.
Is this the year the Dodgers get over the hump? Last season they set a dubious record by failing to reach the World Series in their tenth consecutive trip to the postseason. Even when he was with the Rays, Andrew Friedman seemed averse to going all-in and making that big move that could put his team over the top. The 2010 Rays were set to lose Carlos Pena, Carl Crawford, and Rafael Soriano to free agency after the season, and their big trade deadline pickup was … Chad Qualls. Clayton Kershaw, Kenley Jansen, and Justin Turner are in their primes. Maybe time for a little more urgency?
The Giants are going to be good again because they're always good, though I can't believe they're going into the season with a Mac Williamson/Jarrett Parker platoon in left field. My guess is they'll be looking for outfield help by May. The Diamondbacks have to figure out why their pitchers keep going backwards. Patrick Corbin, Shelby Miller, Archie Bradley, and even Zack Greinke are not close to what they were two or three years ago. The Padres? They've ripped that team apart for rebuilding purposes. Their depth chart: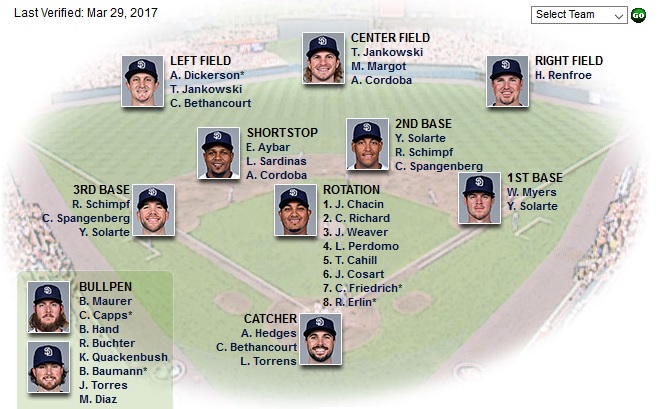 Worst of all? Almost all of their top prospects are teenagers signed as international free agents last summer, so there's not much immediate help coming. At least there are plenty of other things to do in San Diego. Seriously, if not for the great Tony Gwynn, the Padres would be the most nondescript franchise in American sports.
The Rockies were going to be my sleeper postseason team pick before they got hammered with injuries in Spring Training. David Dahl (rib), Ian Desmond (hand), and Tom Murphy (forearm) are all going to miss several weeks. Also, Chad Bettis is out indefinitely as he undergoes treatment for testicular cancer. Hoping for the best there. The Rockies have a lot of young talent, including the best collection of young starters in franchise history (Jon Gray, Tyler Anderson, German Marquez, Jeff Hoffman), and Coors Field ensures plenty of runs are scored. If you like offense, the Rockies are must see television.