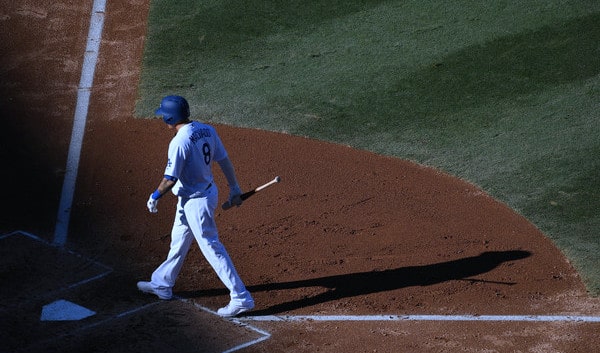 The first Grapefruit League game is less than 24 hours away. Thank goodness for that. As for the Yankees making further additions, it's possible, but don't expect anything big. "We've been offering (minor league contracts) out like Chiclets," Brian Cashman told Joel Sherman. How exciting. Anyway, here are some notes.
Yankees would've gone to $240M for Machado?
The Yankees never did make Manny Machado a formal offer before he signed with the Padres, but, according to Jon Heyman, during their December meeting the Yankees indicated they were willing to offer him $220M to $240M. A lowball offer, clearly. They wanted Machado on their terms and at a discount or not at all. My guess is that $220M to $240M would've been spread across eight years rather than ten, and included opt-outs and all that good stuff.
Bryce Harper signing a short-term contract never seemed all that likely and the Machado contract all but guarantees it won't happen. I have to think Harper and Scott Boras are licked their chops in anticipation of negotiating with the desperate as hell Phillies. I know it's not going to happen but dammit I can't help but hold out hope the Yankees are laying in the weeds here ready to swoop in a la Mark Teixeira years ago. Would be cool. Oh well. Maybe the Yankees will sign a 26-year-old superstar next offseason.
Yankees "briefly" considered Moustakas
According to Andy Martino, the Yankees only "briefly" considered making a run at Mike Moustakas earlier this offseason. Moustakas returned to the Brewers on a one-year deal worth $10M guaranteed earlier this week. The Yankees had interest in Moustakas as a first baseman at the trade deadline last year, before he went to the Brewers and before they acquired Luke Voit. Can't get mad about how that series of events turned out.
Moustakas, 30, hit .251/.315/.459 (105 wRC+) with 28 home runs last season. He's a lefty with a tendency to pull the ball in the air, so he would've fit nicely in Yankee Stadium. The Brewers are apparently going to play Moustakas at second base. The Yankees could've done that and shifted Gleyber Torres to short. Or they could've just put Moustakas at third base, moved Miguel Andujar to DH, and put Giancarlo Stanton in left field. Eh, whatever.
Pitch clock coming to Spring Training
You will see a pitch clock when the Yankees open their spring schedule tomorrow. Earlier this week commissioner Rob Manfred told Mike Fitzpatrick a 20-second pitch clock will be used during Cactus League and Grapefruit League games. No decision has been made about the regular season yet. Manfred and MLB want to give players and umpires a chance to get used to the pitch clock just case it is used during the regular season, so we'll see it this spring. There will be warnings at first before ball-strike penalties take effect depending whether the pitcher or hitter is late.
"We're still hopeful that we're going to make an agreement with (the MLBPA) on pace-of-play initiatives. I just think that whether it's by agreement or otherwise, the only prudent course for us at this point is to be in a position to proceed if in fact we have an agreement or decide to do it," said Manfred. Manfred can unilaterally implement a 20-second pitch clock this year and it sounds like he will do exactly that if MLB and the MLBPA are unable to agree to a new set of pace-of-play rules. I am pro-pitch clock. Let's do this. You won't even notice it's there in a few weeks.
MLB cracking down on high-tech sign-stealing
As expected, MLB is cracking down on high-tech sign-stealing following incidents in the postseason last year, reports Tom Verducci. An Astros employee was caught recording the Indians dugout during the ALDS last year, though the employee claimed he was monitoring Cleveland to make sure they weren't stealing signs, and was later cleared by MLB following an investigation. There was also the Apple watch incident with the Red Sox two years ago.
According to Verducci, teams are now banned from using non-broadcast cameras from foul pole to foul pole in the outfield, and there are tighter restrictions on in-house video. Specifically, dugout and clubhouse monitors will be on an eight-second delay, and a designated official will monitor communication between the video replay room and the dugout. Penalties include loss of draft picks and international bonus money. There are no rules against stealing signs! MLB just doesn't want teams using high-tech gadgets to do it. Given how much technology is in the game today, this was an inevitable and necessary step.
Yankees, Red Sox will wear home uniforms in London
The Yankees and Red Sox will both wear their home uniforms during the London Series later this summer, reports Pete Abraham. The Red Sox will be the home team for the two games but the Yankees will be out there in pinstripes. Why? Marketing. Can't send your marquee franchise overseas in an effort to grow the game and not have them wear their iconic uniform, you know? Imagine sending the Yankees overseas and making them wear their road grays. Good grief. Anyway, the London Series will be played at London Stadium on June 29th and 30th.