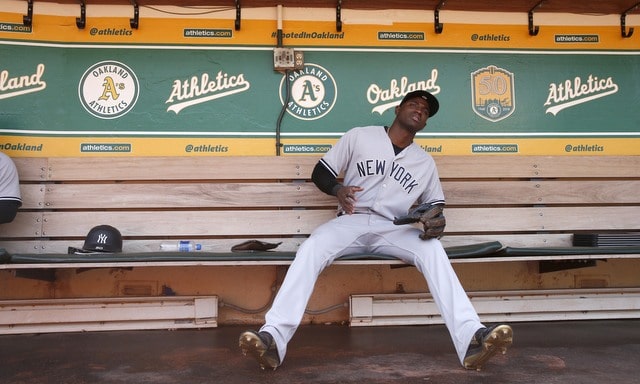 Five days ago September call-ups arrived and the Yankees and every other team brought up extra player from the minors. The Yankees are carrying 31 players on the active roster (15 position players, 16 pitchers) and it'll be 32 players once Didi Gregorius returns from the disabled list, which could be as soon as Friday. No more worrying about running out of relievers or playing guys out of position.
Once Gregorius returns the Yankees will have seven players on their bench, and, on any given night, these will be the seven players and their roles:
Backup Catcher: Austin Romine
Third Catcher: Kyle Higashioka
Utility Infielder: Ronald Torreyes
Defensive Specialist: Adeiny Hechavarria
Designated Speedster: Tyler Wade
Pinch-Hitter, Maybe?: Greg Bird
Neil Walker: Neil Walker
Walker has somewhat predictably cooled of late as his playing time has decreased, though at this point I think he remains the team's top pinch-hitting option against right-handed batters. I know Bird almost hit that pinch-hit grand slam the other day, but his bat still looks frighteningly slow, and I'm not really sure how you can send him up to the plate in a big spot as your top pinch-hitting option.
Even if you consider Bird a good pinch-hitting option, the Yankees are still short a right-handed bat on the bench. Walker is a switch-hitter who is hitting .174/.237/.246 (30 wRC+) against lefties this year, and his struggles against southpaws date back several seasons (career 86 wRC+ vs. LHP), so it's not small sample size noise. He's a switch-hitter in name only. That leaves, uh, Romine or Torreyes as the top righty bench bat? Yikes.
This isn't a minor detail either. It has come into play the last two nights. On Monday, with the Yankees down three and two runners on base in the seventh inning, Walker was sent up as a pinch-hitter against a righty, and the A's countered with lefty Ryan Buchter. Buchter retired Walker and Brett Gardner, a .250/.321/.339 (83 wRC+) hitter against lefties this year, to snuff out the rally.
Last night Buchter was brought in to face Gardner with a runner on base in a one-run game and the Yankees had no countermove. That one actually worked out okay in a weird way. Buchter picked Gleyber Torres off first base to end the inning, then Gardner started the game-tying rally the next inning with an infield single into the 5.5 hole. That doesn't seem like a sustainable strategy, Gardner beating out infield singles against lefties.
The right-handed pinch-hitter down the stretch was supposed to be Luke Voit, but instead he's in the starting lineup because he's mashing dingers (and Bird has been terrible). Having Walker to pinch-hit against righties and Voit to pinch-hit against lefties would be fine. Instead, the Yankees have Walker to pinch-hit against righties, no one obvious to pinch-hit against lefties, and Bird without a clear role.
The Yankees only have one seemingly viable right-handed pinch-hitting option in Triple-A: Ryan McBroom, a first baseman by trade who played some outfield this year, and hit .302/.348/.458 (125 wRC+) with 15 homers between Double-A Trenton and Triple-A Scranton this year. The Yankees got him from the Blue Jays in the Rob Refsnyder trade last year. They could bring McBroom up and let him take his hacks against lefties as a pinch-hitter.
Or maybe this isn't a big deal at all. Aaron Judge started swinging a bat earlier this week and is inching closer to a return, and once he does get back, the Yankees will have five players (Gardner, Judge, Aaron Hicks, Andrew McCutchen, Giancarlo Stanton) for four lineup spots (three outfield plus DH). If Gardner is in the lineup, that means one of the other four guys will be on the bench and available to pinch-hit against a lefty.
Until Judge returns (if Judge returns?), the Yankees don't have an obvious pinch-hitting option against a lefty pitcher, and it burned them two nights ago. It nearly burned them last night. Maybe bringing up McBroom as a short-term bench bat until Judge returns makes sense, just to have that power righty bat on the bench. Otherwise the best option is probably sending Torreyes up there, and hoping he contact bombs the pitcher and finds outfield grass.