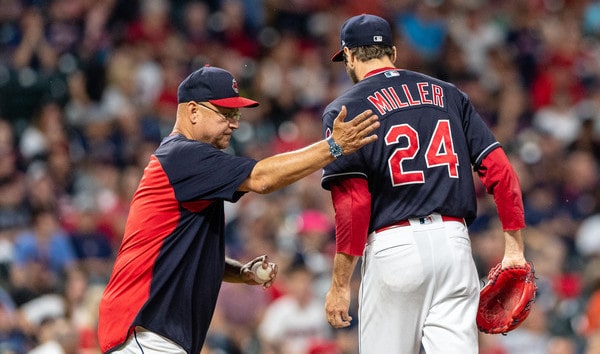 Baseball is a zero-sum game. There are only so many wins to go around and every win you add to your roster is a win you take away from everyone else. Everything is interconnected. The Yankees traded for James Paxton? Well, that impacted how the Mariners proceeded with the rest of their offseason, and thus how several other teams proceeded with their offseasons. Everything affects everything else.
In the annual mad transaction rush before the holidays last week, several moves were made that have an indirect impact on the Yankees. Some are more applicable to the Yankees than others, of course, but all those moves do change the offseason calculus for Brian Cashman & Co. Here are two recent transactions and their potential trickle-down effect on the Yankees.
Cardinals sign Andrew Miller
The Cardinals gave Miller a two-year contract with a vesting option to serve as their primary high-leverage reliever. He might close, he might set up, he might do a little of both. Miller joins flamethrower Jordan Hicks and rookie Dakota Hudson in the late innings for St. Louis. The Yankees reportedly had interest in a reunion with Miller and now he's no longer available. Stinks.
Miller's deal with the Cardinals is notable because, according to Alex Pavlovic, the Giants had been waiting for him to sign before exploring opportunities to trade their own lefty relievers, specifically Will Smith and Tony Watson. All the teams that lost out on Miller — that includes the Yankees, obviously — could now shift gears and discuss Smith and Watson with San Francisco. They might be the best lefties on the market other than Zach Britton.
Smith, 29, returned from Tommy John surgery and threw 53 innings with a 2.55 ERA (2.07 FIP) and very good strikeout (33.8%) and walk (7.1%) rates in 2018. Remove intentional walks and Smith had a 5.4% walk rate. That's about as well as you could reasonably expect a pitcher to perform in his first year back from elbow reconstruction. Smith will be a free agent next winter and MLBTR projects a $4.1M salary in 2019. A bargain for a reliever of this caliber in his final arbitration year.
The 33-year-old Watson had a 2.59 ERA (2.45 FIP) in 66 innings this past season, and he too posted strong strikeout (27.6%) and walk (5.4%) rates. He was primarily a sinker guy with the Pirates back in the day but is now more of a four-seamer/slider pitcher, which has led to more strikeouts and fewer grounders. Watson has an unusual contract. He's guaranteed only $9M from 2018-19 but a boatload of incentives could nearly double it.
The Yankees tried to sign Watson last offseason. Barring a change of heart (always possible), they likely still have some lingering interest. Watson's contract is complicated and his $4.5M luxury tax hit could quickly become $7M thanks to the bonuses (the exact bonus criteria is unknown), but maybe that's not a dealbreaker. Smith is younger and cheaper, and he was better this past season. That said, he's only a year removed from Tommy John surgery.
Watson and/or Smith would both be strong additions to the bullpen and we know the Yankees are looking for two relievers. They may be left-handed, but they're not strict left-on-left matchup guys. They can work full innings. Now that Miller's off the board and the Giants are ready to gauge the market on their relievers, the Yankees could touch base and rekindle their interest in Watson, or try for Smith.
Athletics trade for Jurickson Profar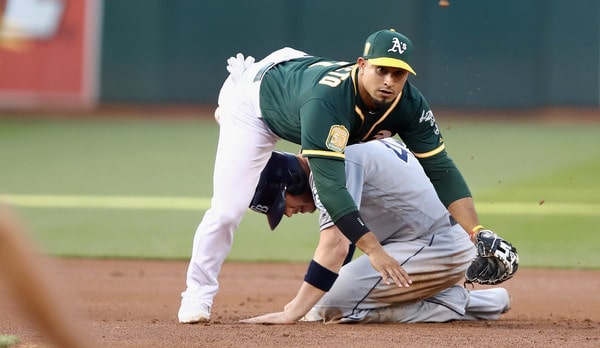 Profar was the centerpiece of my 2018-19 Offseason Plan but we never did hear anything about the Yankees having interest in him. Not this offseason, anyway. We've certainly heard it in the past. Instead, the rebuilding Rangers sent Profar to the Athletics in a three-team trade with the Rays last week. Long story short, Texas traded Profar for four Double-A prospects and some international bonus money.
The trade means two things for the Athletics. One, they will not re-sign Jed Lowrie. They have their second baseman in Profar. "Jed was huge … I cannot overstate how important Jed was to this team, and we certainly wish him nothing but the best as his career moves forward," said A's GM David Forst to Chris Haft following the trade. Profar will take over at second base and Oakland will redirect their money to starting pitching.
And two, longtime top prospect Franklin Barreto still doesn't have a place to play. I thought the A's would move on from Lowrie and install Barreto at second base, but nope, they added Profar. The soon-to-be 23-year-old Barreto has been a consensus top 100 prospect four years running and, prior to the 2018 season, Baseball America (subs. req'd) ranked him as the 43rd best prospect in the game. Here's a snippet of their scouting report:
Originally a shortstop, Barreto has spent time at second base in the minors and majors. He has the arm and range to play shortstop in the bigs, but is better suited for second because his arm at short can be a little erratic. As a hitter, he uses the whole field and has more power than you'd expect from someone his size (5-foot-10, 190 lbs.). He needs to improve his plate discipline to get the most from his above-average bat and surprising power. His plus speed makes him a basestealing threat … If he can become a bit more polished, he can be a first-division regular at second base.
Barreto has had some cups of coffee with the A's the last two years, hitting .215/.252/.424 (79 wRC+) with seven homers in 151 MLB plate appearances. He's spent most of the last two seasons in Triple-A and is a career .284/.342/.458 (113 wRC+) hitter with 34 homers in 192 games at the level. It seems like it's time to see what Barreto can do at the MLB level, you know? Instead, the A's traded for Profar to play second base.
I don't blame Oakland one bit. As a small market team, their windows to win are relatively short, and Profar is much better able to help them capitalize on their current window than Barreto. And besides, it's not like Profar is an older veteran. He's a 25-year-old former super-elite prospect who seemed to come into his own this past season. There's a reason he was included in my offseason plan. It appears Profar is about to really break out.
Anyway, the Profar trade means Lowrie has one less suitor, and it may mean Barreto is available in a trade. The Yankees need a middle infielder and they could now pursue Lowrie or Barreto. The A's really need rotation help. Is there a Sonny Gray-for-Barreto trade framework that makes sense? Oakland has interest in a reunion with Sonny, remember. And if the two teams can't find common ground in a Barreto trade, is Lowrie's price right for the Yankees now that the A's are out of the picture?
* * *
I thought about including the Dodgers releasing Homer Bailey in here as well but nah. He's pitched so poorly the last few seasons (6.25 ERA and 5.13 FIP in 231.2 innings from 2014-18) that, even at the pro-rated portion of the league minimum as a released player, he doesn't have many (any?) redeeming qualities. Yeah, Bailey would be a low risk pickup, but it's also low reward. The Yankees have signed worse pitchers though, so who knows.
The Bailey thing would be whatever. Low cost, low risk, low impact, etc. The Giants putting their top lefty relievers on the trade market and Lowrie having one fewer suitor are not insignificant offseason developments, however. Ditto the Barreto thing if the Athletics do make him available. The Miller signing and Profar trade had nothing to do with the Yankees directly, but those moves do have a domino effect around the league, and the Yankees could be among the teams that benefit.