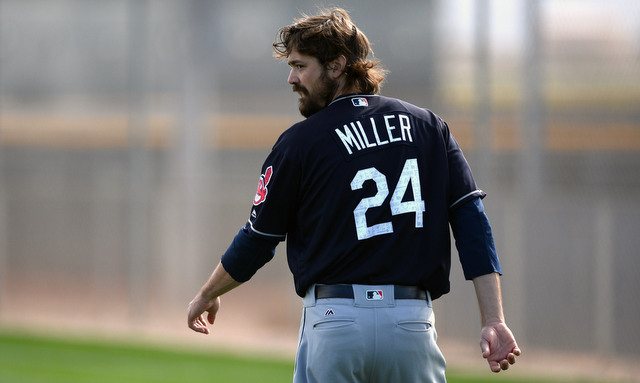 In the early days of Spring Training, we've gotten a nice little peek at some of the best young players the Yankees have in their much ballyhooed farm system. Aaron Judge socked what will probably go down as the longest home run of the spring, Gleyber Torres doubled to left and right fields the next day, and Clint Frazier has been wearing out the opposite field with extra-base hits. It's been fun!
Judge was one of New York's three first round picks back in 2013, and, as you know, Torres and Frazier both came over at last year's trade deadline. So did outfielder Billy McKinney, who hit a home run Sunday, as well as Ben Heller and J.P. Feyereisen. We didn't get to see Justus Sheffield make his spring debut Tuesday because the game wasn't televised, but he was another trade deadline pickup as well.
Last summer the Yankees were uniquely positioned heading into the trade deadline and Brian Cashman & Co. took advantage in a big way. They turned Aroldis Chapman and Andrew Miller, two relievers (great relievers, but relievers nonetheless), into three top 100 prospects, plus several others. The reliever trade market had really taken off in previous months and both the Cubs and Indians were pretty desperate despite sitting in first place. They had baseball's two longest World Series droughts and wanted to get over the hump. Sure enough, the trades helped both get to the World Series.
Whenever we see trades, especially blockbuster trades that go beyond anything we expected, our first inclination is to think the market has changed. The Yankees got massive hauls for Chapman and Miller, which means every great reliever is going to require a massive Torres/Frazier caliber package going forward. It hasn't worked out that way. Two other great relievers have been traded since those deals:
Pirates trade Mark Melancon to the Nationals for reliever Felipe Rivera and minor leaguer Taylor Hearn, whom Baseball America ranked as the 14th best prospect in Pittsburgh's system in their 2017 Prospect Handbook.
Royals trade Wade Davis to the Cubs for Jorge Soler, a 25-year-old former top prospect who is still trying to find his way at the big league level. He came with four years of team control.
The Melancon trade was made one week after the Chapman trade and one day after the Miller trade. The Davis trade went down over the winter. Melancon was a rental like Chapman, and while he's not as good as Chapman, he's not that much worse either. And yet, the Pirates turned him into a good reliever and an okay prospect. The Yankees turned rental Chapman into arguably the best prospect in baseball in Torres, plus three others.
The Davis trade really drives home how well the Yankees did with the Miller and Chapman trades. From 2014-15, Davis was the best reliever on the planet, throwing 139.1 innings with a 0.97 ERA (1.72 FIP). He also excelled in the postseason (one earned run in 25 innings), closed out a World Series, and has an affordable contract ($10M in 2017). Somehow the Yankees got more for rental Chapman than the Royals did for a full year of Davis.
We can go back even further to show how much the Chapman and Miller trade look like outliers. Last offseason the Padres acquired four prospects for Craig Kimbrel, including two who landed on Baseball America's top 100 prospect list soon after the trade: Javier Guerra (No. 52) and Manuel Margot (No. 56). Kimbrel had three seasons left on his contract at the time of the trade. Well, two seasons and a club option. There's an escape there in case things go wrong.
When the Yankees traded Miller, he had two and a half years remaining on his contract. They traded him for four prospects, including two who appeared on Baseball America's midseason top 100 list a few weeks earlier: Frazier (No. 21) and Sheffield (No. 69). Would you rather have the Nos. 21 and 69 prospects, or the No. 52 and 56 prospects? I'd take Nos. 21 and 69. Prospect rankings are not linear. There's not a significant difference between Nos. 52, 56, and 69. The difference between Nos. 21 and 52 is pretty huge though.
(For what it's worth, the prospect valuations at Point of Pittsburgh indicate Frazier and Sheffield were worth a combined $78.5M in surplus value at the time of the trade. Guerra and Margot combined for $44.8M. Top 20-ish position player prospects like Frazier are insanely valuable.)
The Phillies didn't got a single top 100 prospect in the Ken Giles trade, and he came with five years of team control. They just got a bunch of players with performance and/or health issues. Two years of Jake McGee was traded for a designated hitter (Corey Dickerson) who hasn't hit outside Coors Field. Three years of Justin Wilson fetched two okay but not great pitching prospects. Four and a half years of Sam Dyson was given away for two non-prospects. Giles, McGee, Wilson, and Dyson have all been among the game's top relievers the last few seasons, and look at those trades packages.
Point is, compared to some other top reliever trades, specifically the Melancon and Davis deals, the Chapman and Miller hauls look like a minor miracle. It was a perfect storm for the Yankees. They had an elite reliever on a contract that wasn't burdensome, and the team that wanted him was not only very desperate to get over the hump and win their first World Series in a lifetime, they also had the tippy top prospects to trade. And then it all happened again.
I don't want to call the Miller and Chapman trades once in a lifetime events, that's a wee bit over the top, but given everything that happened leading up to and since the deals, it sure looks like everything came together at exactly the right time for the Yankees. They had the right players to offer very motivated buyers. And maybe it won't work out and all the prospects will bust. Baseball can be a jerk like that. Right now, at this very moment, the Miller and Chapman deals look like franchise-altering trades. You dream of your favorite team making trades like this.