On Sunday night we got to see the new Yankees in action. Nick Johnson and Curtis Granderson batted in the starting lineup, while Chan Ho Park pitched two thirds of an inning out of the bullpen. But what about the guys they replaced? Here's a rundown of how former Yankees fared in their new team debuts.
Hideki Matsui: 2 for 4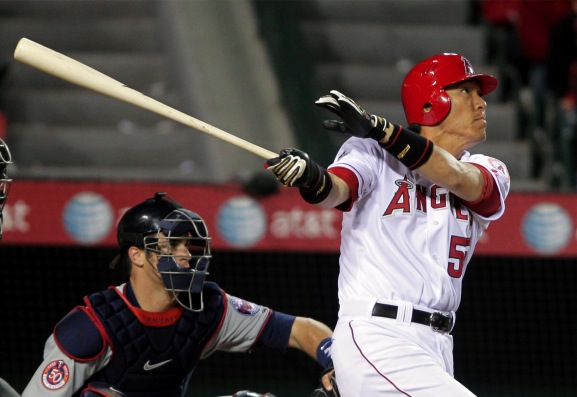 Matsui made an impresion in his Angels debut. With runners on first and second with two out during a tie-game in the fifth, Matsui singled to right field to give the Angels a lead. That chased Twins starter Scott Baker from the game. Then, with the Angels holding a one-run lead in the eighth, Matsui led off the inning with a 401 foot home run to center field. Kendry Morales followed with a shot down the left field line, sealing the Opening Day victory for the Angels.
Johnny Damon: 2 for 5
In his first at-bat as a Tiger Johnny Damon grounded out to second. No big deal. In his second at-bat he flied out to right. He was facing Zack Greinke, so again, it wouldn't have mattered if Damon went 0 for 4. He didn't, though. Leading off the sixth, he singled to right off Greinke, advanced on a Magglio Ordonez single, and then scored on a third straight single, this one by Miguel Cabrera. Then, with Roman Colon in for relief the Tigers broke open the game, and Damon contributed by doubling home two, including Austin Jackson.
Austin Jackson: 1 for 5
The Tigers found themselves down 4-2 heading into the seventh, but luckily for them Greinke had left the game by that point. Scott Sizemore walked and Ramon Santiago, pinch hitting for Adam Everett, singled, setting up Jackson with runners on the corners and none out. He lined a double to left for his first major league hit and RBI. He scored his first run one batter later on Damon's double. He struck out looking twice in the game.
Phil Coke: 0.2 IP, 2 H, 0 R
Joel Zumaya pitched a scoreless sixth for the Tigers, and then came out to start the seventh. After allowing an infield single to Jason Kendall, Jim Leyland lifted him for Phil Coke, who came in to face the lefty troika of Chris Getz, David DeJesus, and Scott Podsednik. Getz singled, DeJesus popped out in foul ground to third, and Podsednik singled. Kendall, had he been a bit faster, might have scored, but Austin Jackson gunned him down at the plate.
Melky Cabrera: 0 for 5
The Braves rallied for six runs in the first inning on Opening Day, handing Carlos Zambrano yet another poor season debut. Melky got things started with a walk and eventually scored on a Chipper Jones single after going first-to-third on a Martin Prado single. Melky made the last out of that inning, and then made outs in his next four plate appearances. He was the only Braves starter, non-pitcher, to not record a hit, though his walk did set up the definitive inning for the Braves.