Last week I took a look at how some of the better AAA prospects were doing over the course of the season, but more importantly, how they'd performed over a 10 game sample, their long-term prospects of helping the big club and some things they need to work on. One important thing I learned: for some inexplicable reason, people just love Eduardo Nunez. He's sort of like Michael Cera to me. Nice potential and has some good strengths but ultimately is overhyped and inconsistent.
Anyway, this week we head down to lovely Trenton, New Jersey to check in with Austin Romine, David Adams, David Phelps, Hector Noesi and D.J. Mitchell. We're going to leave out Jeremy Bleich, who's likely getting shoulder surgery, but I'll simply note here that he's been a huge disappointment this year. Feel better, Jeremy!
Much has been written about Romine's hot start. It's easily one of the best developments of our higher-end players in the system. From what I've read, Romine's defense has already been called "big league ready" and has improved in each of the past three seasons. He has a very strong arm and he's improved his footwork and receiving skills. This isn't very shocking – he already had a good defensive reputation, so enough of that. Let's get to the offense. Romine was considered to be a good-contact hitter with a solid eye but more of a gap power hitter than someone expected to pop over 20 home runs a year. In 2010, he's increased his contact skills, hitting .323, far above last year's mark of .273 in Tampa. Unfortunately, his BABip this year is an Austin Jacksonian .392, or close to 90 points higher than last year's mark. That won't continue, but there are promising signs. Romine, not fleet of foot, is knocking in a line drive rate of 20% (up from 12.8 last year) and decreased his groundball rate to 38%.
But it would be nice to see Romine bring his walk rate up and his strike out rate further south. On the year he's striking out 21% of appearances and walking 9% of the time, but overall, it's hard to have much to complain about Romine's season. His power is again looking pretty good (.512 slugging percentage) and he's sprayed 6 doubles in his last 10 games. The Yankees can afford to take things slowly with Romine, and if he hits this well and continues to improve his defense at catcher, we could very well be watching the team's future backstop sooner than we might expect, perhaps as early as 2012.
AA Season: .323/.386/.512
Last ten games: .308/.341/.462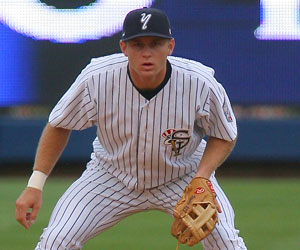 David Adams, 2B
Aside from Austin Romine, Adams is easily my favorite player to keep tab on in Trenton. According to Mike's Prospect Profile of Adams, the second baseman was rated as the top prospect in Virginia and the 102nd best overall in the 2008 draft (per Baseball America's list), eventually signing with the Yankees as their 3rd round pick. He started 2009 off in Charleston, where he hit .290/.385/.393, displaying a good approach at bat but not showing much in the power department. A promotion to Hi-A Tampa quelled power issues – he knocked in 7 home runs in 67 games, posting a slugging percentage of .498.
Interestingly, it seems Adams may have changed his hitting approach with the move up to Tampa (or simply went back to his old approach in Virgina – couldn't find college splits to see GB/LD/FB numbers). His ground ball rate dropped from 46% to 38%, his line drive rate from 22% to 16% and he knocked fly balls at a 44% rate, which explains the uptick in home run. It looks like he went from a gap-to-gap hitter to a swing with a bit more loft, and it was largely effective. He also maintained a solid walk rate and lessened strikeouts.
In Trenton – a jump that usually weeds out guys who took advantage of less advanced pitchers – it's been fun seeing Adams continue his success. His power has remained (.510 slugging percentage) and his on-base skills still look good (.395 OBP), though he's benefited from a high BABip rate of .373 (his career rate is .339). I'm a bit concerned he isn't hitting line drives at a percentage you'd like to see (it's at 11% currently) and striking out 21% of his plate appearances against right-handers is a tad high. But it's still early and these are knit-picky things. Adams is mauling lefties (.400/.489/.650) and might already be prepared for Scranton offensively. The question is if he's progressed with his defense. Adams should have the defense to stick at 2B, and his contact and on-base skills certainly make him the best middle infielder in the high minors with a good chance to contribute to the (or a) big league club. I'd put him above Kevin Russo, whom he has a higher ceiling than, though less versatility. Adams was recently injured sliding into a base but assuming this is a minor thing, he should be back in no time. He's struggled a bit of late, but he's looking every bit the possible 1st round pick he was hyped to be after finishing his sophmore season at UVA.
AA Trenton this year: .311/.395/.510
Last 10 games: .212/.366/.333
Not considered one of the team's high-impact pitchers down the farm, Phelps has continued to throw up really impressive numbers. A groundball-inducing extraordinaire, Phelps isn't afraid to throw any of his pitches in any count, keeping hitters off balance, according to a scouting report at Yanks Daily. He doesn't give many walks, issuing only 11 in 42 innings, and has pretty good strikeout rates for a finesse pitcher with 37 in 41.2 innings. A 14th round pick out of Notre Dame in 2008, Phelps has been one of the best players of the class (a class that includes Jeremy Bleich, David Adams, Corban Joseph, Kyle Higashioka and Brett Marshall), and 2010 is no different.
Hitters have been stymied by an FIP of 2.80 (and a corresponding ERA of 1.73), a groundball rate of 46.5%, and as already mentioned, an improved K-rate. Unfortunately, Phelps is outpeforming some of his peripherals. Hitters are unlikely to continue hitting only 2.8% of flyballs for home runs and his .256 BABip is significantly lower than last year's mark of .317, though there's certainly a correlation with his grounball rate from a year ago being 52%, compared to this year's 46.5%. Phelps will need to work on his off-speed pitches to compliment his low-90's fastball and some of his peripherals seem unustainable, but he's been a very good find and hasn't had any problem with AA hitters.
AA Trenton this year:
41.2 IP, 1.73 ERA, 29 hits, 37 K, 11 BB, 1.34 GO/AA
Last two starts: 12 IP, 3.00 ERA, 9 hits, 9 K, 5 BB
[Update: Phelps pitched today and threw 7 innings while giving up 6 earned runs. He had 5 strikeouts and 2 walks.]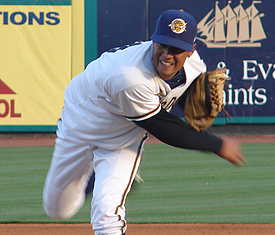 Hector Noesi, SP
After blowing through Hi-A Tampa in eight starts this year, the brass decided to jump Noesi to Trenton, where he's received one start. Noesi definitely has the stuff to succeed; the question has always been about his health. He's been sidelined by injury a few times but rebounded to slice up Sally League hitters with a SO/BB rate of 7.09. He then hit Tampa and worked in an eye-popping 10.00 SO/BB rate and an FIP of 2.69. Frankie Pilliere, scout for AOL Fanhouse thinks Noesi has the chance to be a #3 in the big leagues, noting that Noesi had an improved curveball that could develop as a true out pitch. He'll still need to work on his changeup and stay healthy, but he's an unheralded guy with good upside (although he's a bit old even for AA at 23).
His first start in Trenton wasn't fantastic (he gave up 5 runs in 6 innings), but Noesi may move quickly if he resembles the guy we've seen in 2009 and 2010. There's not a whole lot of data I can pore through that will really expose issues Noesi has had this year or last. His peripherals were all very encouraging, his BABip wasn't freakishly low, his FIP and ERA were reasonable. He was just really good, though his HR/FB rate was low at 4.9%. So, instead, I'll simply stress that the key to Noesi will be working on his off-speed pitches and not injuring himself. Otherwise, he could be a good edition to the team sometime in 2011 or 2012, probably the bullpen if he can't develop a changeup that will keep big league hitters honest. His command and good-but-not-great stuff would be quite welcomed in such a role.
Hi-A Season: 43 IP, 2.72 ERA, 35 hits, 53 K, 6BB, 1.08 GA/AA
AA Season: 6 IP, 7.50, 7 hits, 4 K, 2 BB, .075 GA/AA
Mitchell was one of the arms the Yankees took in the 2008 draft out of Clemson University. While Mitchell can certainly hold righties' heads below the water, he gets decimated by left-handers. They hit .287/.381/.316 against Mitchell last year and took 20 walks in 58 innings. D.J. didn't get enough strikeouts on lefties to limit the damage, either, knocking 5.59 per nine down on strikes. So here's where it gets weird. Remember how I just said that Mitchell can't get lefties out but he's really good with righties? You should, it was mere lines ago. Here's a fun one, guess which side Mitchell has thrown this line against: 19.1 IP, 2.79 ERA, 15 hits. Ok, how about this one: 22.0 IP, 7.36 ERA, 32 hits. The former is against left-handers, the latter against righties. I don't understand. It's just…what? Anyway, his numbers against lefties aren't really that fantastic beyond the surface. He's issued 11 walks to them with 9 strike outs and not a single fly ball has gone for a home run. So there's no reason to get too optimistic – he won't be a LOOGY out of the bullpen.
The utter collapse against right-handers is perhaps more interesting. He's helped his strikeout rate against them a bit with 18 in 22 IP, but the walks are still persistent. He's issued 11 to righties, and they're hitting him for an average of .344. Good news is the BABip is .423 and that will almost assuredly go down, plus the stats are skewed a bit by one really poor outing (4.1 IP, 9 earned runs and five walks). He's still getting guys to hit the ball on the ground at a very impressive rate (60%) and he's limited the big fly. Armed with a fastball that sinks more than Derek Bell's houseboat, a Nardi-fied curveball and a poor changeup, with only four years of total pitching experience, Mitchell has had a very strange season, full of great luck and terrible luck. How he does against left-handers with his changeup will be very interesting to watch as the season progresses.
AA Season: 41.1 IP, 5.23 ERA, 47 hits, 27 K, 22 BB, 2.07 GA/AA
Last two starts: 10.1 IP, 5.80 ERA, 17 hits, 8 K, 6 BB