Earlier this week, I posted a very unscientific/unofficial poll on Twitter. The question was simple. "If I say 'Francisco Cervelli,' the first thought that comes to your mind is…." RAB's very own Ben Kabak responded with the only (sort of) positive response, "fist pumps" (hurray for enthusiasm!).  The rest of the answers were either equal to, or synonymous with, "awful" which is pretty much what one would expect.
All of the candid responses, of course, got me thinking. How does Cervelli actually compare to other backup catchers from around the American League.  And, is our collective angst really justified?  Note: the stats compiled below do not include the games played since the All-Star break.
Offense: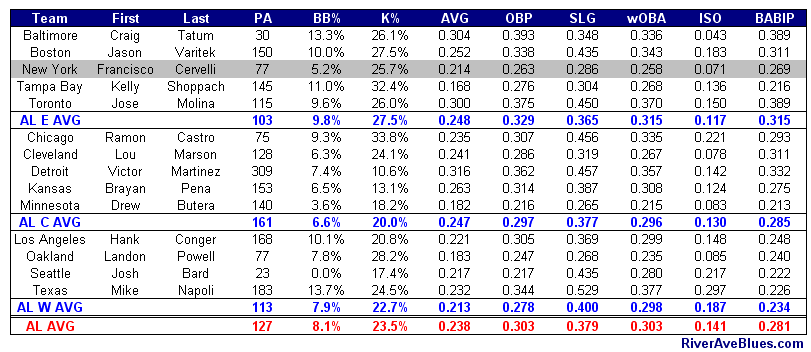 In terms of offense, clearly Cervelli doesn't inspire a whole lot of confidence. His walk rate is lower and his strikeout rate higher than the average backup catcher in the AL.  Just let that thought resonate on your tongue for a second.  He doesn't particularly hit for power or for contact either. Most importantly, our eyes — which are never biased in the least — tell us he is a supremely gifted rally-killer, right?
Well to be fair, Cervelli's only had 77 plate appearances which is a pretty nominal sample size.  Obviously, his limited exposure at the plate is also by design. Now, I don't want to come across as an apologist for Franky's offensive contributions; they are what they are. However, my point here, is that most backup catchers are very mediocre at best (at least offensively), and Cervelli is only marginally below that mark in terms of individual production.
Roughly speaking, all Cervelli would really need is about five more hits than he currently has (20 hits instead of 15, out 70 at bats) and he'd have a .285 batting average with a wOBA hovering around .320 which for all intents and purposes, is right in line with the other backups of the AL East.
In other words, given the typically high octane offensive production being generated by the rest of the team, I think there's a bit of wiggle room to be found here.  No one should expect Cervelli to match Victor's production, and no one should be surprised when the results are less than stellar given his role on the team.
Defense: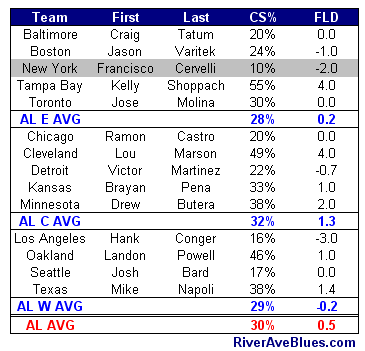 I think one can absolutely make the case though, that a backup catcher should be at the very least, proficient on defense.  After all, purely defense-oriented catchers are theoretically a dime a dozen.  Much to my chagrin, this aspect of the game is substantially harder to quantify though (especially when it comes to catchers).
If we utilize Fangraph's FLD metric — which is UZR, or TZR prior to 2002 — Cervelli is definitely trailing his peers. Of course, the only catchers of the group to garner really solid ratings are Tampa Bay's Kelly Shoppach and Cleveland's Lou Marson. The rest of the group is average at best. Even former Yankee Jose Molina, who is often raved about defensively, comes across as very average according to the numbers.
The other stat being displayed in the chart above is Caught Stealing Percentage. Now Frankie is obviously doing himself a rather large disservice every time he elects to throw the ball to Curtis Granderson or Brett Gardner when the runners attempt to steal.  At this juncture, he's only successfully stopped two runners out of the 21 attempts.  Opposing teams will continue to smell blood, and will continue to test him accordingly until he proves otherwise.
How much of that CS% is related to outside factors; I don't really know. Some pitchers have naturally slower deliveries. Some pitchers offer less control (I'm looking at you AJ) which can distort the pickoff movement. Hell, some divisions could simply have more quality base runners than others.  On the flip side, if someone has a reputation for having an excellent pickoff move, runners will become deterred; if only the best base runners are attempting steals, the percentages can become skewed from that (i.e. – three successful steals out of eight total attempts).   Anecdotally speaking, I think Cervelli's 10% CS rate is unacceptably low though.
Overall WAR: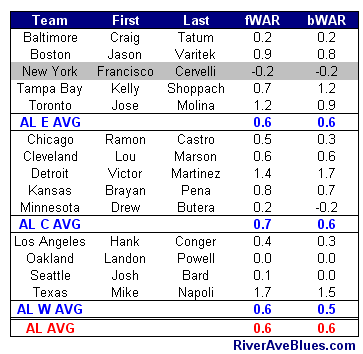 For quick reference, let's take a look at the old WAR rankings. It's a pretty pathetic picture, which I think, is the point. The position is marred by mediocrity and Cervelli is on the lower end of that mediocre spectrum.  The larger point though is that the contributions gained or lost with Cervelli are not overly substantial.  In my eyes, his job first and foremost, is to simply be available to spell Russell Martin.  Secondly, he should provide some decent defense (whether or not he's doing this is questionable), and any offense is merely gravy.  Are these needs being satisfied?  Perhaps.
The only guys really raising the averages in the list above are Kelly Shoppach, Victor Martinez, and Mike Napoli. Now, Shoppach and Napoli are not solely backup catchers; they also do some first base work and are occasionally slotted as designated hitters. Frankly, Victor is about as much of a backup catcher as I am; his value obviously stems from his bat which is why he's given so much exposure at the plate.
Additionally, finding quality starting catchers is seemingly impossible as it is. Finding a second quality one is really just not overly realistic.  Perhaps the reason why our attitude about Cervelli is particularly soured is because we have one of the most hyped prospects of recent memory waiting in the pipeline, who supposedly could fill that need.  The only problem is, unless, the Yankees are willing to give Montero those additional at bats that would make him valuable, he wouldn't be overly impacting on the team (I can't account for the benefit of big league exposure at a developmental level).  Granted, it's absolutely debatable whether or not the Yankees would be able to get Montero sufficient exposure for the remainder of the year, but as of now, it seems they are not intent on doing so.