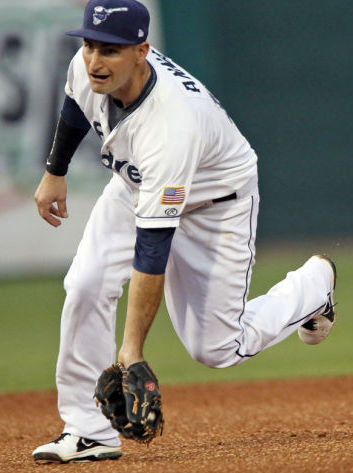 The Yankees have announced a series of roster moves. First, they have acquired IF Dean Anna from the Padres for Single-A reliever RHP Ben Paullus. Second, IF Corban Joseph has been outrighted off the 40-man roster. Third, they have added Anna, C Gary Sanchez, OF Slade Heathcott, RHP Jose Campos, RHP Bryan Mitchell, and RHP Shane Greene to the 40-man roster. Midnight tonight was the deadline to set the roster for next month's Rule 5 Draft and all six players were eligible. There is still one open spot on the 40-man roster.
Anna, 26, hit .331/.410/.482 (140 wRC+) with nine homers and three stolen bases in 582 plate appearances for San Diego's Triple-A affiliate this past season. He's a left-handed batter with little power (.138 ISO in 1,339 plate appearances between Double and Triple-A) but a good idea of the strike zone (12.5% walks) and good bat control (11.9% strikeouts). Anna has a ton of experience at the two middle infield positions while also dabbling at third and in the outfield corners. I'm guessing the Padres didn't have a 40-man roster spot for him and wanted to turn him into something rather than lose him for nothing in the Rule 5 Draft. Nifty little pickup for the Yankees, nice extra guy to have.
We heard Greene and Mitchell would be protected from the 40-man roster a few days ago. Sanchez and Heathcott were no-brainers but Campos was on the bubble as a 21-year-old who has never pitched above Low Class-A. He now has three years before running out of minor league options and having to stick in the big leagues for good. Joseph missed most of this season due to shoulder surgery and is really just a spare part for New York. He can hit a little but he doesn't really have a position — he doesn't have the range for second base or the arm for third. Not a surprise he cleared waivers.
The three most notable players the Yankees left exposed to the Rule 5 Draft are RHP Danny Burawa, RHP Tommy Kahnle, RHP Chase Whitley. The first two are hard-throwing relievers with questionable control (especially Kahnle) who spent last season with Double-A Trenton while Whitley is more of a command and control guy who spent the year at Triple-A Scranton. The Bombers tried to trade Kahnle for Michael Young and Alfonso Soriano at the trade deadline a few months ago, but no dice. Both he and Kahnle are very likely to be selected — hard-throwing relievers are the backbone of the Rule 5 Draft — and there's even a chance both will stick in the big leagues next season. Most Rule 5 picks don't, however.