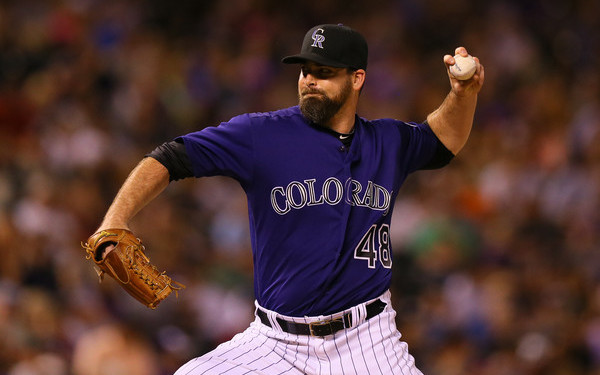 The Yankees came into the offseason seemingly determined to land a big money closer, and they did exactly that two weeks ago, when they inked Aroldis Chapman to a five-year contract. Chapman joins Dellin Betances and Tyler Clippard in the bullpen, probably Adam Warren too. The remaining bullpen spots are up for grabs with a whole bunch of young pitchers in the running.
Reports indicate the Yankees are still looking to add bullpen help — well, every team is looking for bullpen help, but you know what I mean — particularly a left-hander. They were in touch with Brett Cecil before he signed with the Cardinals, and they had interest in Mike Dunn before he signed with the Rockies. Here is New York's lefty reliever depth chart at the moment:
Aroldis Chapman
Tommy Layne
Chasen Shreve
Richard Bleier
Dietrich Enns
Chapman is the closer and won't be used in left-on-left matchup situations in the middle innings. Right now Layne is that guy, and while he did nice work for the Yankees this past season, I'm not sure he's someone they could count on going forward. The other three guys aren't all that reliable either. They might prove to be next summer, but right now, I can't imagine anyone wants to go into the season with one of those three as the top middle innings southpaw.
The current free agent class is not very good, especially now that most of the top players are off the board, but it does offer a few quality left-handed bullpen options. They won't come cheap — Cecil got four years and Dunn got three years, so yikes — which might keep the Yankees out of the market all together. Still though, if a nice opportunity presents itself, the Yankees could pounce. Let's review the available options.
Jerry Blevins
2016 Performance: Blevins, 33, spent the 2016 season with the Mets and pitched to a 2.79 ERA (3.05 FIP) in 42 innings spread across 73 innings, which tells you how he was used. He held left-handed hitters to a .250/.313/.324 (.283 wOBA) batting line against with 31.0% strikeouts, 7.1% walks, and 49.3% grounders. Blevins was actually much more effective against righties (.245 wOBA), but that was a big outlier compared to the rest of his career (.312 wOBA).
2016 Stuff: As with most relievers, Blevins is a two-pitch pitcher who relies on his fastball and breaking ball, in this case a curve. He has thrown a changeup on occasion in the past, but it's not a big part of his arsenal. Here's the PitchFX data from his past season. This numbers are against lefties only since we're looking at matchup guys:
| | % Thrown | Avg Velo | Whiff% | GB% |
| --- | --- | --- | --- | --- |
| Fastball | 63.0% | 89.9 | 4.2% | 59.5% |
| Curveball | 35.7% | 71.3 | 25.6% | 32.0% |
The fastball swing-and-miss rate is below-average (MLB AVG: 6.9%) while the curveball swing-and-miss rate is comfortably above-average (MLB AVG: 11.1%). Blevins got a ton of grounders with his fastball this year (MLB AVG: 37.9%), always has, while his curve is the opposite. It has a lower than average ground ball rate (MLB AVG: 48.7%) and has throughout his career.
The Skinny: There are very few consistently reliable matchup left-handers in baseball and Blevins is one of them. Since reaching the show for good in 2012, he's held lefty batters to a sub-.285 wOBA four times in five years. Despite his success this year, Blevins isn't effective against righties, and there's nothing to indicate this year's success was anything more than sample size noise (he faced only 65 righties). If the Yankees want a pure specialist, Blevins is one of the best out there.
J.P. Howell
2016 Performance: Last offseason Howell exercised a $6.25M player option in his contract to remain with the Dodgers. The 33-year-old had a 4.09 ERA (3.50 FIP) in 50.2 innings and 64 appearances overall, and lefties roughed him up pretty good too: .299/.340/.412 (.328 wOBA) with 21.4% strikeouts, 3.9% walks, and 66.7% grounders. Righties had success against Howell this year as well (.304 wOBA). Just a year ago he held lefties to a .237 wOBA, however.
2016 Stuff: Howell is another two-pitch reliever. He's a sinker/curveball guy with kind of a funky delivery that adds some deception. Here's how Howell's stuff played against lefties in 2016:
| | % Thrown | Avg Velo | Whiff% | GB% |
| --- | --- | --- | --- | --- |
| Sinker | 50.6% | 85.9 | 4.7% | 73.7% |
| Curveball | 49.2% | 79.1 | 11.7% | 58.8% |
Howell is a ground ball guy, not a bat-misser. Ground balls are fine, but when the guy's primary job is to get out lefties, you'd like him to be able to do it without relying on his defense so much. A ground ball doesn't help much when there is a runner on third with less than two outs. Howell is the not the type of pitcher who can come in and get you that strikeout.
The Skinny: Howell fell so far out of favor with the Dodgers this year that he wasn't even on their postseason roster. Manager Dave Roberts went with rookie Grant Dayton and veteran Luis Avilan as his two lefty relievers in October. Howell is a finesse pitcher with no track record of big strikeout numbers, so there's no reason to expect that going forward. Want him to get a lefty out? Chances are he'll need his defense to make a play behind him.
Boone Logan
2016 Performance: Shoulder inflammation sidelined the 32-year-old Logan for two weeks at the end of May, and around that, he had a 3.69 ERA (3.23 FIP) in 46.1 innings and 66 appearances. He absolutely dominated lefties. They hit .139/.222/.255 (.215 wOBA) against him with 33.6% strikeouts, 7.6% walks, and 60.6% grounders. Nearly 70% of the lefties Logan faced this summer either struck out or hit the ball on the ground. Righties has more success against him, naturally (.305 wOBA).
2016 Stuff: As I'm sure you remember from his time with the Yankees, Logan is a four-seamer/sinker/slider pitcher with good velocity and a breaking ball that, when thrown right, is allergic to bats. Here are the numbers against lefties from 2016:
| | % Thrown | Avg Velo | Whiff% | GB% |
| --- | --- | --- | --- | --- |
| Four-Seam | 31.7% | 93.9 | 8.9% | 42.9% |
| Sinker | 12.4% | 93.9 | 3.2% | 70.6% |
| Slider | 55.5% | 84.2 | 27.8% | 66.7% |
Logan throws a ton of sliders, always has and always will. That pitch is the reason he's in the big leagues. The slider gets a ton of swings and misses and a ton of grounders. The four-seamer gets an above-average amount of both too. Now that Dunn and Cecil are off the board, Logan is the only true power lefty remaining in free agency. He can throw the ball by hitters, which sure is a nice skill to have.
The Skinny: Logan never dominated lefties as thoroughly as he did this year. A season ago he held them to a .222/.349/.254 (.286 wOBA) batting line, which is nothing to write home about. His 2016 performance was a great big outlier compared to the rest of his career. That said, Logan has been generally serviceable against left-handed batters in his career, and his slider is probably the single best pitch among current free agent lefties.
Javier Lopez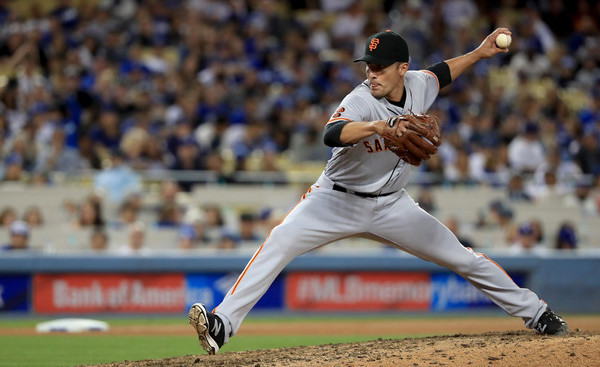 2016 Performance: Lopez, the stalwart southpaw who was a key part of all those championship bullpens with the Giants, had a 4.05 ERA (5.40 FIP) at age 39 in 2016. He threw 26.2 innings across 68 appearances (lol), and lefties hit .208/.318/.316 (.289 wOBA) against him with 66.2% grounders and the same number of walks as strikeouts (11.2%). Righties absolutely clobbered Lopez this past season (.413 wOBA).
2016 Stuff: Lopez is a classic left-on-left matchup guy with little velocity, a sweepy breaking ball, and a funky sidearm delivery. The stereotypical LOOGY. PitchFX credits Lopez with both a slider and a curveball even though they're the same pitch. He just varies the shape of his breaking ball. Anyway, here are the numbers against lefties from 2016:
| | % Thrown | Avg Velo | Whiff% | GB% |
| --- | --- | --- | --- | --- |
| Sinker | 72.8% | 85.0 | 6.2% | 76.9% |
| Slider | 21.3% | 78.5 | 6.7% | 50.0% |
| Curveball | 5.4% | 72.4 | 15.8% | 0.0% |
Well, the good news is Lopez is able to get ground balls with two pitches. Swings and misses though? It's not happening. The curve, which is just a variation of his slider, got a good amount of whiffs, though he didn't throw it all that much. Like Howell, Lopez is a guy who is going to put his defense to work to get outs.
The Skinny: Guys like Lopez scare the crap out of me. I know he spent all those years as a high-leverage matchup guy on championship teams, but, at this point of his career, Lopez is pushing 40 with no way to miss bats, even against lefties. The Giants had a miserable bullpen this past season and they're walking away from a guy who was a key part of their bullpen through the title years. That's kinda telling.
Travis Wood
2016 Performance: Unlike the other guys in this post, Wood has had success as a starter in his career. He made nine starts for the Cubs as recently as 2015 before moving to the bullpen full-time. This past season the 29-year-old had a 2.95 ERA (4.54 FIP) in 61 innings and 77 appearances. Wood was excellent against lefties, holding them to a .128/.208/.239 (.203 wOBA) batting line with 19.2% strikeouts, 9.2% walks, and 38.4% grounders. (And a .143 BABIP.) Righties hit him pretty hard though (.362 wOBA).
2016 Stuff: Even in relief, Wood used three pitches against lefties this summer. He attacked them with two fastballs (four-seamer and cutter) and a breaking ball (slider). And every once in a while he spun a curveball, but not often. Here's how his stuff played against same-side hitters in 2016:
| | % Thrown | Avg Velo | Whiff% | GB% |
| --- | --- | --- | --- | --- |
| Four-seam | 58.3% | 91.5 | 9.8% | 26.4% |
| Cutter | 23.2% | 87.7 | 6.2% | 55.6% |
| Slider | 13.7% | 82.7 | 14.3% | 53.3% |
Whereas Logan has one excellent pitch in his slider, Wood has three good pitches but no truly dominant offering. I find it interesting Wood attacks lefties primarily with a four-seamer and cutter and not his slider. Does he front door the cutter? Or aim it at the outside corner and let it cut off the plate? Intrigue!
The Skinny: The free agent pitching market is so thin right now that I wonder if a team will look to sign Wood as a starter. He opened the 2015 season in the Cubs rotation and made at least 26 starts each year from 2012-14, so he has a lot of experience in that role. Either way, I don't buy him being a true talent .203 wOBA pitcher against lefties, not with those strikeout and ground ball numbers, and especially without Chicago's defense behind him. That doesn't mean he's a bad pitcher. I just don't think Wood is really as good as he was in 2016.
* * *
To me, Blevins and Logan and Wood are at the head of the class here. Howell and especially Lopez are players I wouldn't consider on anything more than a minor league deal. There are an awful lot of red flags with those two. Blevins is reliable, Logan brings that nasty slider, and Wood might have a chance to be something more than a pure left-on-left matchup guy.
As always, it's going to come down to cost. Bullpen help is not cheap these days. Cecil signed for four years and $7.625M annually. Dunn received $6.33M per year across three years. Remember when the Yankees gave Matt Thornton two years and $7M total and it seemed kinda crazy? Those days are long gone. Decent middle relief help will cost you $6M a year or more. The Yankees might not be willing to commit that much to a lefty reliever, especially with no true shutdown guy available.