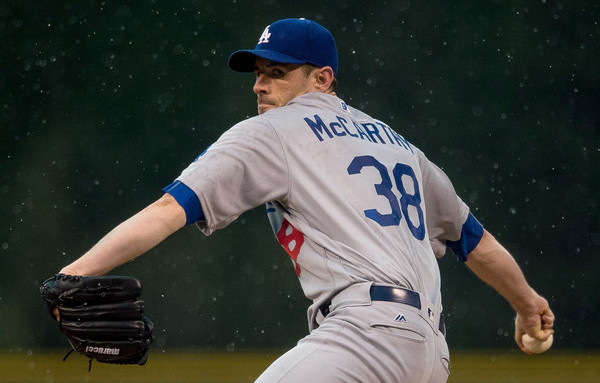 Now that they have a new DH, the Yankees figure to focus on "pitching, pitching, pitching" this offseason. The free agent class really stinks though, especially with Rich Hill now off the board. Hal Steinbrenner recently said the Yankees could go into Spring Training with competition for two rotation spots, but I know I'm not alone when I say I'd like to see the Yankees add some pitching depth. Starters and relievers, ideally.
Because the free agent class is so thin, the Yankees and every other team figure to turn to the trade market. A young pitcher with considerable upside would be ideal given the club's long-term outlook. Unfortunately every other team is looking for the exact same player, which complicates things. Acquiring a pitcher like that is going to cost you. The Yankees might have to get creative to address their rotation this winter, both short and long-term.
The Dodgers are among the few teams with excess pitching depth, so much so that Buster Olney reports they are shopping some veteran starters, including Brandon McCarthy. This isn't the first time the Dodgers have shopped McCarthy — reports at the trade deadline indicated he was part of a proposed Yasiel Puig-for-Ryan Braun trade as a way to offseason salary — so he's very available. Does a reunion make sense? Let's look.
Recent Performance
The Dodgers gave the 33-year-old McCarthy a four-year deal worth $48M two offseasons ago, and in the first two years of the contract, he threw only 63 total innings due to Tommy John surgery. He had a 5.29 ERA (4.62 FIP) in those 63 total innings, including a 4.95 ERA (3.70 FIP) in 40 innings this past season. McCarthy's strikeout rate (25.7%) was good. The walk (15.2%) and ground ball (34.7%) rates … not so much.
McCarthy returned from Tommy John surgery as a starter this past July, and after five good starts back, the wheels came off. He completely lost the zone in August and walked exactly five in three consecutive starts. McCarthy is usually an extreme strike thrower — he hadn't walked as many as four in a start since 2009 — and he admitted to developing a case of the yips.
"Coming back from Tommy John, you're not worried your career is over. The yips was a whole different thing," said McCarthy to Eric Stephen in September. "(You're thinking) 'I don't ever know if I can throw a baseball in a competitive Major League Baseball game.'"
McCarthy bounced back with a strong start in September — he walked one in 5.2 innings — before being shifted to the bullpen as part of a postseason roster audition. He made one relief appearance, faced six batters, and retired none of them. Five hits, one walk, six runs, zero outs. Ouch. That disaster outing raised McCarthy's overall season numbers from a 3.60 ERA (3.62 FIP) to that 4.95 ERA (3.70 FIP).
Back in 2014, his last healthy season, McCarthy authored a 4.05 ERA (3.55 FIP) in exactly 200 innings. That includes a 2.89 ERA (3.22 FIP) with 22.2% strikeouts, 3.5% walks, and 49.1% grounders in 14 starts and 90.1 innings with the Yankees after coming over from the Diamondbacks. That's the McCarthy whatever team acquires him will be hoping to get.
Current Stuff
When the Yankees had McCarthy for those few months in 2014, he operated with three low-to-mid-90s fastballs (four-seam, sinker, cutter) and a hard low-80s slurve. The Yankees famously allowed him to start throwing the cutter again after Arizona had him put him on the shelf for whatever reason. "I feel like myself again … I feel like I need that pitch to be successful," he said after the trade.
That was two years and one elbow ligament ago. Things change. In his nine starts back following Tommy John surgery this year, McCarthy averaged right around 92 mph with his three fastballs — he did hump the four-seamer up as high as 95.5 mph — and 80 mph with the breaking ball. That's down a tick from his time in New York. Here's some video from his first start back from elbow reconstruction this year:
Let's quickly compare the effectiveness of McCarthy's individual pitches this year to his time with the Yankees, just to see how far away he is from being that guy.
Four-seamer: 11.9% whiffs/25.0% grounders in 2016 vs. 12.3%/40.4% in 2014
Sinker: 5.4%/54.5% in 2016 vs. 10.6%/54.1% in 2014
Cutter: 8.9%/30.0% in 2016 vs. 7.9%/44.4% in 2014
Slurve: 5.6%/34.2% in 2016 vs. 12.5%/61.7% in 2014
A decline pretty much across the board, which isn't the most surprising thing in the world considering it was his first few starts back from major elbow reconstruction. Also, keep in mind we're dealing with small sample sizes here. We have no choice, really. McCarthy didn't spend much time with the Yankees and he hasn't thrown much since returning from Tommy John surgery.
There are two pieces of good news, I'd say. One, McCarthy retained most of his velocity. He didn't come back throwing in the upper-80s or anything like that. And two, he still has all his pitches. He's regained feel for everything. Acquiring McCarthy means hoping he looks more and more like the 2014 version of himself as he gets further away from elbow reconstruction. Reasonable? Sure. Not guaranteed to happen though.
Injury History
This is where it gets really ugly. McCarthy has been on the disabled list every season but one since 2007. That was his 2014 season with the D-Backs and Yankees, conveniently his contract year. Good timing, I'd say. McCarthy's list of injuries is scary. He's not a guy who missed some time here and there with a pulled hamstring and things like that. Check it out:
2007: Missed more than two months with a blister and a stress fracture in his shoulder.
2008: Missed almost the entire season with a finger tendon strain and forearm soreness.
2009: Missed more than three months with a stress fracture in his shoulder.
2010: Missed almost the entire season with a stress fracture in his shoulder.
2011: Missed seven weeks with a stress fracture in his shoulder.
2012: Missed three months with a shoulder strain. Also took a line drive to the head in September that required emergency surgery to treat a

skull fracture and epidural hemorrhage. Eek.

2013: Missed two months with shoulder soreness.
2014: Healthy!
2015: Missed almost the entire season with Tommy John surgery.
2016: Missed the first three months of the season with Tommy John surgery. Also missed six weeks late in the season with a hip issue.
Goodness. Guys get blisters and the line drive to the head was nothing more than a tragic fluke. But fractured shoulders and torn elbow ligaments? That's scary. The stress fractures are recurring too. If it happens once, you kinda hope that's the end of it. When it happens year after year, you have to be concerned going forward. How could you not be?
It's important to note McCarthy changed up his workout program during the 2013-14 offseason in an effort to keep his shoulder healthy. It wasn't just offseason workouts either. He does more intense work during the season as well. Nick Piecoro wrote about it a few years ago. The new workouts and elbow ligament could bode well for the future. Given his history though, it's hard to count on McCarthy to be a 30-start guy going forward.
Contract Status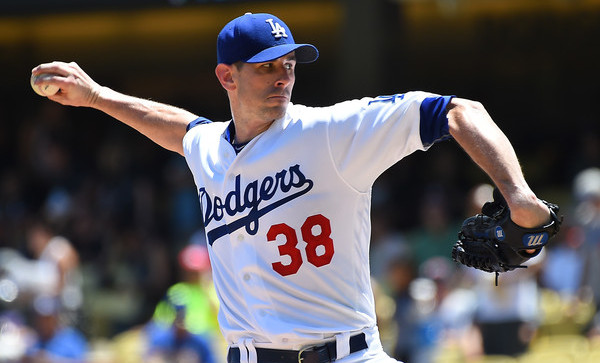 The Yankees tried to re-sign McCarthy two years ago, but they weren't going to come anywhere close to guaranteeing him four years given his injury history. I wanted McCarthy back too, and I was hoping two years would get it done. Three years made me really nervous. Four years? Forget it. It was perfectly reasonable to walk away at that point.
Los Angeles gave McCarthy that four-year deal worth $48M, and guess what? It was front-loaded. He received a $6M signing bonus and $11M in salary in both 2015 and 2016. He's owed $10M in both 2016 and 2017. What kind of pitcher can you buy for $10M annually in this free agent class? Not a very good one. Ivan Nova might get $13M a season this winter. Maybe more. Ivan Nova!
Now, $10M a season is not nothing. In the world of starting pitchers though, paying $20M across two years would be a relative bargain if McCarthy gives you, say, 300 league average innings. The pitching market is getting out of hand. The Yankees are trying to get under the luxury tax threshold at some point soon, and taking on a $10M luxury tax hit for a starter who is no lock to a) stay healthy, or b) be effective, is a bit dicey.
What About The Yankees?
The key to a potential McCarthy trade would be the intentions of the Dodgers. Are they looking to salary dump him? The Dodgers are reportedly working to lower payroll, partly because they have to meet MLB's mandated debt limit within two years. Trading McCarthy and freeing up $10M this year and next would certainly help do that.
Or do the Dodgers see him as a legitimate trade piece and expect something of substance in return? That's my guess. The free agent pitching market stinks and I'm sure more than a few teams would be willing to roll the dice with McCarthy on what is essentially a two-year deal worth $20M. His trade value isn't high given the injuries, but chances are you won't get him for a player to be named later or cash either.
The Yankees know McCarthy, and the fact they tried to re-sign him two years ago is an indication they like something about him. Maybe the Tommy John surgery and case of the yips — to be fair, McCarthy seemed to get over that, he walked only two of the 26 batters he faced after those three straight starts with five walks — has changed their mind. It's certainly possible. Lots can change in two years.
McCarthy wouldn't solve New York's need for long-term rotation help, but he would give the team some depth behind Masahiro Tanaka, CC Sabathia, and Michael Pineda. They wouldn't have to reply on youngsters like Luis Cessa and Luis Severino quite as much right out of the gate next year. Taking pressure off the kids would be pretty cool, I think. McCarthy's contract is not a burden and it might not cost much to get him in a trade. If that's the case, I think the Yankees should definitely be interested.