The following is the first post from our newest writer, Derek Albin. He currently contributes to Baseball Prospectus and has also written about the Yankees at the now defunct BP Bronx and It's About The Money, Stupid. You'll see his work regularly. You can follow Derek on Twitter at @derekalbin.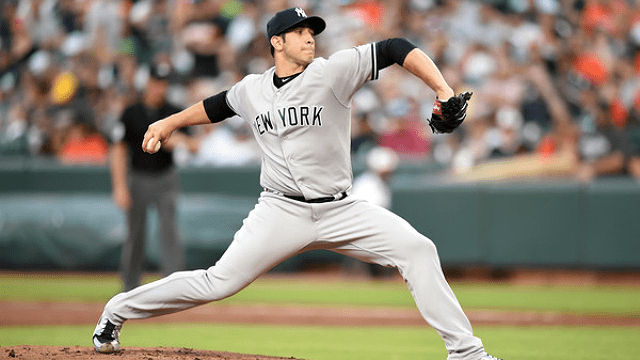 Conventional wisdom can be trite, but sometimes it exists for good reason. The old adage that you can never have enough starting pitching is something said ad nauseam, but holds true. Just look at the Yankees last year: twelve different pitchers started and ten of them did so on multiple occasions. This season, we can probably expect something similar.
Right now, the Yankees have baseball's third-best projected rotation per Fangraphs. It's pretty hard to knock a staff of that caliber, but if there's any flaw, it's depth. In particular, Luis Cessa, Chance Adams, Albert Abreu, and Domingo Acevedo project for 83 innings altogether. Decreasing that group's workload would be ideal, and it looks like something the front office is considering. Even with pitchers and catchers reporting in just a few weeks, there are still some useful pitchers available in free agency.
Wade Miley
Like CC Sabathia, Miley appears to have saved his career thanks to an emphasis on the cutter. In the past, Miley had thrown four-seamers for more than half of his pitches. Last year, he started throwing his cutter more than 40 percent of the time to resounding success. His home run problems? Gone. He allowed just three long balls in over 80 innings. All told, Miley posted a career best 2.57 ERA, supported by a solid 3.59 FIP.
Steamer foresees some regression, projecting a 4.36 ERA this year. Still, sign me up for that as a depth starter. Of course, why would Miley take on such a role? Given his revitalization and history of durability (29 starts or more annually from 2012 through 2017), he should be able to find a regular gig somewhere. Barring a six-man rotation, which is unlikely given the amount of off-days to begin the regular season, Miley would be in the bullpen to begin the year. Sure, someone could get hurt during camp, but that's not something Miley will want to count on. Miley would be a nice-to-have option, but it seems like an unlikely union. Then again, free agency is a weird, weird place nowadays.
Brett Anderson
It's been over a decade now since Anderson was one of the top prospects in all of baseball. Injuries have held the southpaw back, but he has put together a few decent stretches at points throughout his career. Though he's never been a strikeout artist, he's consistently put together solid peripherals by throwing strikes without surrendering many homers. In a curtailed 2018 due to injury (shocking), he pitched to a 4.48 ERA and 4.17 FIP in just over 80 frames.
Steamer expects more of the same: a low four ERA with some time on the shelf. His ability is tantalizing because he has the makings of a stellar fourth starter, but he simply struggles to stay on the field. For that reason, he might be hard pressed to find a guaranteed spot in anyone's rotation. Should that be the case, the Yankees are a great fit. I'm sure that the front office would prefer a more durable fallback option, but from a talent perspective, Anderson is hard to top for this role.
Jeremy Hellickson
Like Miley and Anderson, Hellickson also spent time on the disabled list last year. When on the mound, though, the righty pitched well for Washington. He posted a 3.45 ERA and 4.22 FIP in a hair over 90 innings, which was a strong recovery from a horrendous 2017. In time split with Philadelphia and Baltimore that year, Hellickson recorded a career-worst 1.92 HR/9, 5.43 ERA, and 5.77 FIP.
Hellickson's 2017 is likely the reason for Steamer's bearish outlook in 2019. Hellickson has always been a fly ball pitcher, so home runs are part of his game, but his highest HR/9 prior to 2017 was 1.36 in 2015. Most other seasons have been in the 1.1 or 1.2 range. Nonetheless, Steamer forecasts 1.59 HR/9, which balloons his projected ERA and FIP over five. I get that fly ball pitchers and Yankee Stadium don't mix well, but when we're talking about a sixth or seventh starter, beggars can't be choosers. He might not be as good as he was in 2018, but I'm certainly not as low on him as Steamer.
Ervin Santana
Finger injuries ruined Santana's 2018. He made just five starts that aren't even worth talking about. All you need to know is that he was horrendous. The two years prior are different stories, however. For the Twins in 2016 and 2017, Santana totaled 6.2 fWAR and ERAs in the low threes. Granted, Santana is now 36 and his best days are most certainly behind him. He can't be that far removed from his 2017 ability though, right?
Steamer disagrees and basically thinks he's done as an effective starter, calling for an ERA and FIP above five. With his health and projection in mind, it's a risky proposition to start Santana every fifth day from the get-go, so he will probably have to settle for the type of role the Yankees have available.
The Others
There are a handful of others who've been around the block, such as James Shields and Jason Hammel. I'm not very confident in options like those two exceeding the contribution that Cessa et. al. could provide, though a minor league deal wouldn't hurt. Ditto goes for hurlers like Edwin Jackson, Doug Fister, Josh Tomlin, and Yovani Gallardo. Let's not mention Clay Buchholz; the thought of him in pinstripes is rather unpleasant. Finally, you might have noticed I excluded Gio Gonzalez, who although still available, I don't think it's worth considering because he shouldn't have to settle.