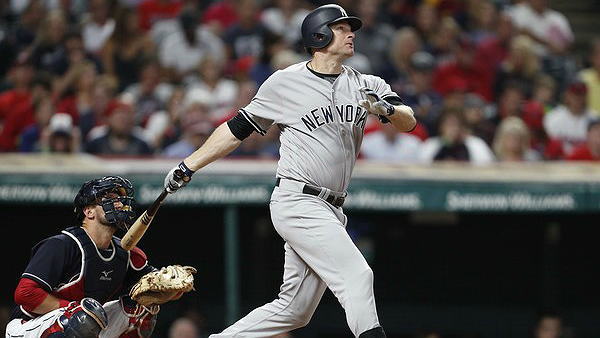 1:31pm ET: The Yankees have announced the trade. They get Blash from the Padres for Headley, Mitchell, and cash considerations. Mark Feinsand says the Yankees are sending $500,000 to the Padres. Jon Heyman says the two teams are splitting the $1M assignment bonus in Headley's contract.
11:17am ET: The Yankees have cleared up more payroll space under the luxury tax threshold. According to Joel Sherman and Ken Rosenthal, the Yankees have traded Chase Headley and Bryan Mitchell to the Padres for outfielder Jabari Blash. San Diego is taking on Headley's entire $13M salary. It's a straight salary dump trade. The Yankees also open a 40-man roster spot. Neither team has confirmed the deal.
For all intents and purposes, the Padres purchased Mitchell from the Yankees for $13M. That's what it boils down to. Mitchell clearly has quality stuff, including a high spin curveball, though he's been unable to find success in the big leagues the last few years — he has a 4.94 ERA (4.26 FIP) in 98.1 career innings — and had fallen way down the depth chart. The Yankees managed to attach Mitchell to Headley to dump Headley's entire salary. That seems pretty good to me.
Furthermore, Mitchell is out of minor league options, meaning he can't go to the minors without passing through waivers. He was on the 40-man roster chopping block as it is — I thought he might get the axe when the Yankees needed to clear 40-man space for their Rule 5 Draft protections last month — and there was little chance he'd break camp with the team next year. The Yankees might've lost Mitchell for nothing had they held on to him. Going to the Padres will be a good opportunity for him. Mitchell is a classic change of scenery candidate.
Headley, who is entering the final year of his four-year contract worth $52M, hit .273/.352/.406 (104 wRC+) with 12 home runs in 2017. He moved from third base over to first, and was tentatively scheduled to start at third base again next year. Headley could be very streaky, his highs were very high and his lows were very low, but overall he was an okay player for New York. Nice guy, did whatever the team asked, etc.
The 28-year-old Blash is a former Rule 5 Draft who went from the Athletics to the Padres in the Drew Pomeranz-Yonder Alonso trade two winters ago. He's a career .200/.323/.336 (84 wRC+) hitter with eight homers in 99 big league games, and his one standout tool is his huge raw power. Blash can do this to a baseball:
There's not much Blash can do other than hit the ball a mile when he connects, and hey, that's a good skill to have. He put up a .285/.419/.617 (165 wRC+) line with 20 homers in 72 Triple-A games this past season, though that happened in the very hitter friendly Pacific Coast League and in a very hitter friendly home ballpark in El Paso. El Paso as a team hit .283/.349/.473 this season, so yeah.
Blash has a minor league option remaining, though I get the sense he is not long for the 40-man roster. He was included in the trade because the rules say the Padres had to send the Yankees something, and Blash was it. If anything, maybe he's another layer of outfield depth should the Yankees trade Clint Frazier for a pitcher? Even then, they still have Jake Cave and Billy McKinney on the 40-man. Jabari's time in pinstripes may be short.
This trade definitely feels like a precursor to another move (or moves). The Yankees now have approximately $35M in payroll space under the $197M luxury tax threshold, though keep in mind they need to set some money aside for midseason call-ups and additions. Starting pitching has been most talked about, though I have to think the Yankees will dip their toe into the infield market now that Headley and Starlin Castro are gone. Would they really go with kids at second and third bases? Maybe! We'll find out soon enough.