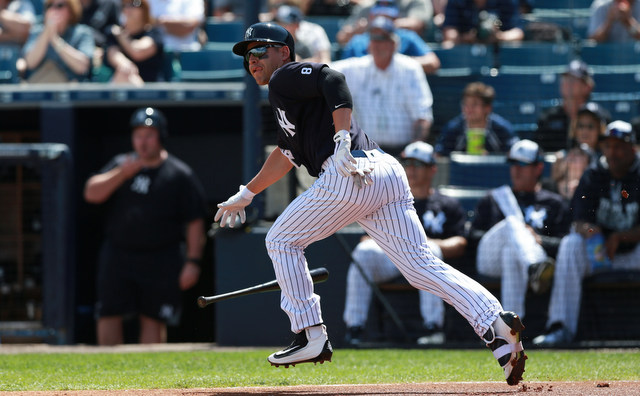 This is an exciting time to be a Yankees fan. The big league team might not be any good this season, and frankly they haven't been all that good over the last four years anyway, but at least now the farm system is loaded and there are a ton of quality young players in the organization. Soon young guys like Gleyber Torres and Clint Frazier will join Gary Sanchez and Greg Bird in the Bronx.
At some point in the near future, perhaps sooner than anyone realizes, the Yankees will have to figure out their center field situation. The two best center fielders on the roster, Brett Gardner and Jacoby Ellsbury, will both turn 34 later this year. Over the last ten years there has been one full-time center fielder age 34 or older: Mike Cameron, who continued to play center full-time from ages 34-36 in 2007-09. No one else has done it.
Center field is a young man's position because it involves lots and lots of running, day after day after day. The Yankees had Johnny Damon begin the process of moving to left field at age 33 because Melky Cabrera was the superior defensive option, remember. By center fielder standards, Gardner and Ellsbury are pretty darn old, and it stands to reason they won't be viable options at the position much longer. Speed usually doesn't age all that well.
This creates two questions for the Yankees. One, who plays center field long-term? And two, what do the Yankees do with Gardner and/or Ellsbury? I'll answer the second one first: they're probably going to trade Gardner at some point. Would they prefer to trade Ellsbury? Yeah, I'm sure of it. But that's not happening, so Gardner it is. They've been listening on him for over a year, and it feels like only a matter of time until a trade goes down.
I get the feeling the eventual outcome here is Gardner gets traded away, then Ellsbury slides over to left field for the tail end of his contract, similar to Damon back in the day. (Or worse, to designated hitter full-time.) That creates an opening in center field, and as good as the farm system is these days, the Yankees don't have an elite center field prospect. Torres is a shortstop, Frazier and Aaron Judge are corner outfielders, and so on.
That doesn't mean the Yankees lack potential center field options, however. Not at all. They actually have quite a few, both short-term and long-term. That's good. Multiple options are good. As much as we all love the prospects, the reality is they won't all work out, and you'd hate to pin your hopes on that one guy to take over a position long-term. Here, in no particular order, are the club's various long-term center field options.
The Almost Ready Option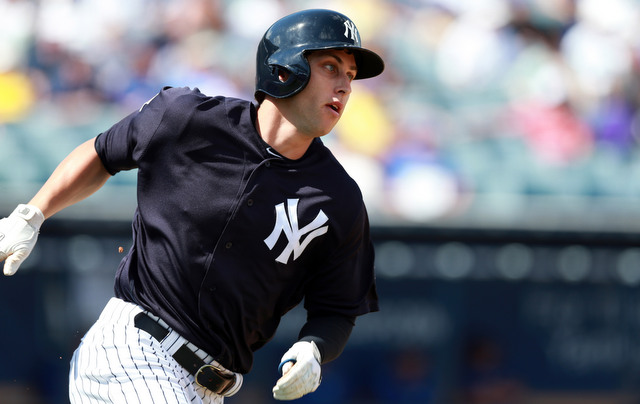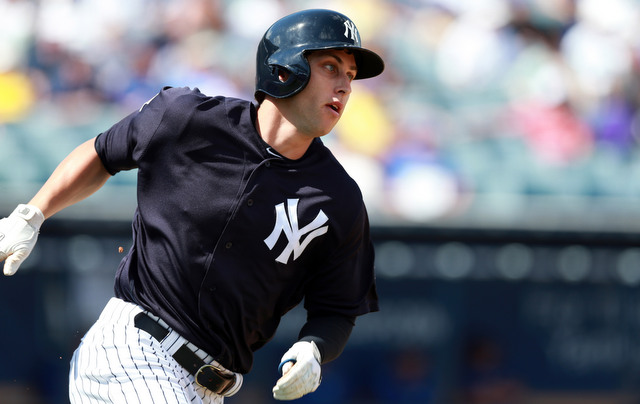 When the 2017 regular season begins, Dustin Fowler figures to roam center field for Triple-A Scranton. Fowler is New York's best pure center field prospect — I ranked him as the 12th best prospect in the system overall — and last year he hit .281/.311/.458 (109 wRC+) with 30 doubles, 15 triples, 12 homers, and 25 steals in Double-A. He really fills up the box score. Fowler is also a very good defender with plenty of range.
There are two glaring weaknesses to Fowler's game. One, he doesn't have much of a throwing arm. And two, he's pretty undisciplined at the plate. Minor league walk rates aren't everything, though his career 4.4% walk rate in over 1,500 minor league plate appearances is emblematic of his approach. Those are negatives, clearly, but Fowler also offers enough positives to be an everyday player. He makes contact, has some pop, steals bases, and defends well. Similar skill set to peak Ellsbury now that I think about it.
For all intents and purposes, Fowler is a call-up candidate right now. He's going to start the season in Triple-A and will be added to the 40-man roster no later than next winter (when he's Rule 5 Draft eligible), and any time those combination of things exist, there's a chance for the player to wind up in the show. Fowler is, by far, the Yankees' best close to MLB ready center field prospect. He is easily the favorite to take over the position in the short-term.
The Square Peg, Round Hole Option
Although his tools point to a long-term future in left field, Frazier has enough speed and athleticism to handle center field right now, if necessary. He has plenty of experience at the position — he's played more minor league games in center (260) than he has in left and right combined (117) — and still possesses enough speed to cover the gaps. Would Frazier be a perfect fit in center? No, but it's doable. The question is whether mid-30s Ellsbury in left and Frazier in center is a better defensive alignment than mid-30s Ellsbury in center and Frazier in left. It's not so cut and dried.
The Conversion Candidates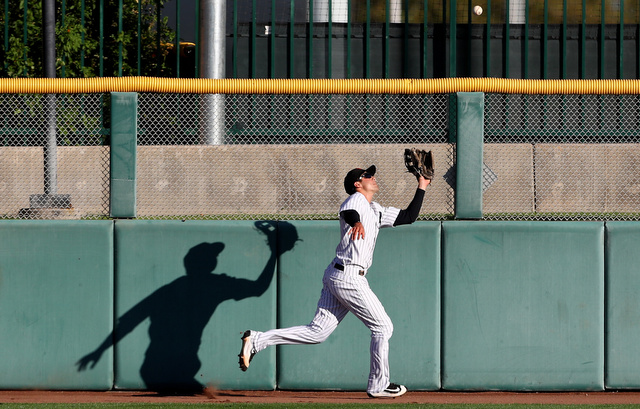 The Yankees are loaded with shortstop prospects at the moment, so much so that they've had Tyler Wade and Jorge Mateo get acquainted with the outfield. Wade played all three outfield spots in the Arizona Fall League last year and he's been out there this spring as well. Mateo worked out in center field in Instructional League and is doing the same this spring. He's yet to play an actual game out there, however.
Wade, like Fowler, will open this season in Triple-A, though he's not an immediate center field option given his inexperience at the position. He's not someone the Yankees could call up and stick in center for two weeks in May to cover for injuries, you know? That's a little too soon. Besides, it seems the Yankees are looking to make Wade a super utility player, not a full-time outfielder. He's too good defensively on the infield to throw that away entirely.
As for Mateo, I am pretty intrigued with the idea of putting him in center field full-time. He's a good defender at shortstop, that's not much of a problem, but his truly elite speed may be put to better use in center. Mateo is a good defender at short. He might be a great defender in center. Either way, Mateo is not close to the big leagues like Fowler, Frazier, and Wade. He's yet to play above High-A and has to answer some questions about his bat before we can start to think about him as a realistic center field option. (And, you know, he has to actually play some games in center too.)
The Reclamation Candidate(s)
Earlier I mentioned Gardner and Ellsbury are the two best center fielders on the roster, which is true when taking all things into account. The best defensive center fielder on the roster is Aaron Hicks (despite a few funky routes last season). He's got top notch closing speed and a rocket arm. Right now, in the year 2017, Hicks is a better gloveman than either Gardner or Ellsbury in center.
The best defensive outfielder in the entire organization is another reclamation project: Mason Williams. He's a premium runner who gets great reads, and while his arm isn't Hicks caliber, it is comfortably above average. Even after shoulder surgery two years ago. It's unclear whether Williams will ever hit enough to play regularly, but his glove is unquestioned. The Yankees could play him everyday in center and he could handle it defensively.
That "will he ever hit?" question is a big one though, and it applies to Hicks as well. Hicks and Williams are so talented that you can never rule out things coming together, especially at their ages, but for them to have any shot at replacing Ellsbury in center field full-time, they're going to have to do more at the plate. No doubt. (To be fair to Williams, he's been hurt more than ineffective the last two seasons.)
The Far Away Options
Fowler and Frazier (and Wade) are knocking on the door. Mateo is a little further away. Ever further away are Blake Rutherford and Estevan Florial, two high-upside center field prospects. Both figure to start the season at Low-A Charleston. They were teammates with Rookie Pulaski last year, where Rutherford played center field and Florial manned left. (First rounder gets priority.)
It goes without saying there is a lot of risk involved with players this far away from the big leagues. There's so much that can go wrong these next few years. The obstacles facing Rutherford and Florial are very different too. The expectation is Rutherford will shift to a corner spot at some point as he fills out and adds some bulk. Florial is a graceful defender who happens to be a total hacker at the plate. He might not make enough contact to reach MLB.
Give the Yankees a truth serum and I'm sure they'd tell you they want Rutherford to be their long-term center fielder. Frazier, Rutherford, and Judge from left to right would be the perfect world long-term outfield picture. The odds are against that actually happening though, mostly because prospects have a way of breaking hearts. Rutherford and Florial are definitely long-term center field candidates. They're just far away and carry a lot of risk relative to the other guys in this post.
The External Options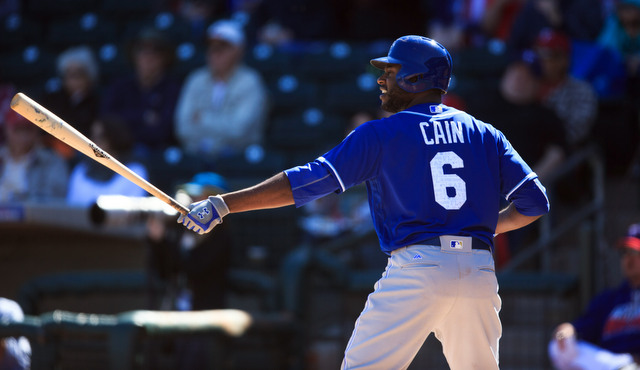 These are the Yankees, and even though they're trying to scale back spending to get under the luxury tax threshold, you can never really rule them out going outside the organization for help. I, personally, am hoping for a Rob Refsnyder for Mike Trout trade. Fingers crossed. If that doesn't happen, here are some potential free agent center fielders:
After 2017: Lorenzo Cain, Jarrod Dyson, Carlos Gomez, Andrew McCutchen (if option is declined)
After 2018: Charlie Blackmon, Adam Jones, A.J. Pollock, McCutchen (if option is exercised)
A few of those guys would look pretty good in pinstripes, no? Cain is pretty damn awesome. He's a fun player and I am pro-fun. Blackmon hit .324/.381/.552 (130 wRC+) with 29 homers and 17 steals last season, you know. Pollock missed a bunch of time with an elbow injury last year, but he's quietly been one of the best players in baseball the last three or four years.
There's also Bryce Harper, who will become a free agent following the 2018 season, when he'll still be only 26 years old. He's a really good athlete and has played center field for the Nationals at times. Could the Yankees view him as a potential center fielder? That'd be interesting. It's not like he'd be over the hill or anything. Perhaps Harper in center could work for a few years. Frazier in left, Harper in center, Judge in right? Sign me up.
Anyway, the problem with the non-Harper free agents is the same problem that currently exists with Ellsbury. The Yankees would be paying big money to someone over 30 and in their decline years. Before you know it, we'd be talking about moving Cain or Blackmon or Pollock or whoever to left in favor of a better defensive center fielder. Signing a free agent center fielder is definitely possible. It just seems unlikely given the team's direction at this point.
The Worst Case Scenario
This is going to sound mean, but the worst case scenario would be keeping Ellsbury in center field through the end of his contract. Maybe he can make it work defensively in his mid-30s like Cameron did once upon a time. He'd be an outlier in that case, but hey, stranger things have happened. I'm sure the Yankees would prefer to keep Ellsbury in center as long as possible too. That's where he's most valuable. History suggests his days in center are numbered, however. There simply aren't many players age 34 and over roaming center nowadays.
* * *
The center field situation is not a pressing matter, fortunately. The Yankees don't need to figure this out right now. They can let the season play out, see how Ellsbury handles it defensively and how the kids progress in the minors, then figure out what's next. And maybe nothing is next. Maybe keeping Ellsbury in center through the end of his contract is plausible. The Yankees do have some center field options, both short and long-term, just in case things don't work out. Sooner or later the team will have to go in a new direction in center field, and odds are it'll be before the end of Ellsbury's contract.