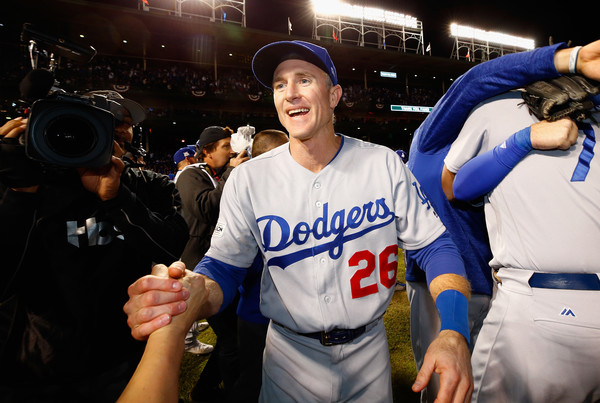 There was a time when writing and reading this post would have been far more exciting; depending upon your point of view, that time was somewhere between four and seven years ago. Nevertheless, the Yankees are still in some need of a veteran presence at the keystone and/or the hot corner, and Chase Utley still has something to offer.
Offensive Performance
Utley was the best second baseman in baseball from 2005 through 2010, slashing .298/.388/.523 (136 wRC+) and averaging 27 HR and 15 SB (against just 2 CS). Injuries and age began to take their toll in 2011, though, and he has only shown flashes of that peak since. The last few years have been particularly rough, as Utley has hit just .240/.317/.395 (94 wRC+) since being dealt to the Dodgers in 2015.
That being said, Utley has still been a solid contributor when utilized as the strong side of a platoon over the last two years:

Utley is essentially useless against lefties at this point in his career, and the Dodgers deployed him as such. However, he has hit .261/.336/.418 (105 wRC+) against righties over the last two years, which is perfectly adequate. For comparison's sake, Starlin Castro had a 105 wRC+ against RHP last year, and Todd Frazier posted a 101 wRC+. None of that is to say that Utley has been good against right-handed pitching – but the baseline isn't terribly high, either.
Another consideration is Utley's batted ball profile. He was a pull hitter when he made his big league debut nearly fifteen years ago, and that's still the case now: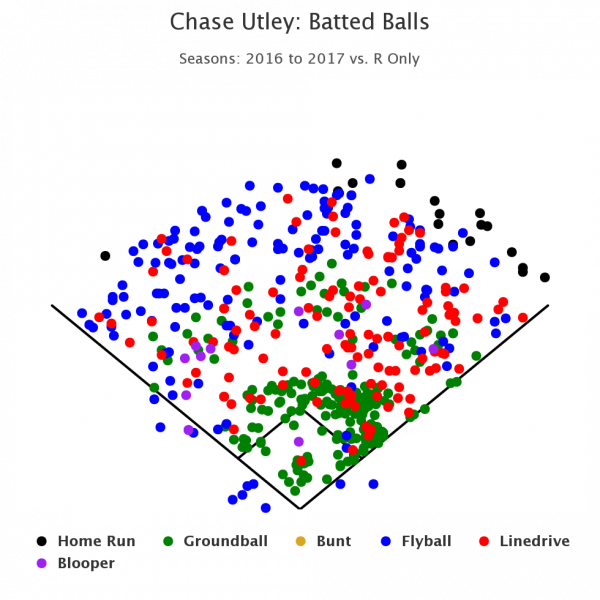 When taken in conjunction with his league-average exit velocity over that same time (87.0 MPH) and launch angle (10.9 degrees), Utley could benefit quite a bit from playing in Yankee Stadium. And while neither of those numbers stands out, it doesn't appear as though Utley's bat has slowed significantly.
Defensive Performance
The days of Utley playing Gold Glove caliber defense are comfortably in the rear-view mirror, but he's still a capable defender at second. He posted +1 DRS and 1.4 UZR/150 in 2017, both of which are a tick up from his -3 and 0.6 marks the previous year. It's possible that his defense could crater at any moment, given that he'll spend all of 2018 at 39-years-old, but he has fought declining athleticism to a draw thus far.
And, if you squint, you might be able to see Utley as a player that can fill-in at a couple of positions. He has played 318.1 innings at first in his career (including 88.0 last season), and another 27 at third. The sample sizes are perilously small, especially at the hot corner, but the metrics see him as a fine defender at both corners. It does seem likely that he could be fine at first for an extended period of time; I'm not certain that I would want to run him out at third, though. It's far more demanding, and his arm has never been a strength.
Injury History
Utley has a long injury history, including issues with both knees, both ankles, and his right hip. Interestingly enough, he has been healthier over the last two years than he had been in years, with his last DL stint coming in the Summer of 2015. Perhaps it is a product of more regular rest, as he was a platoon player for the Dodgers, or maybe he has toned down his own play; either way, it's worth considering.
Contract Estimates
Your guess is as good as mine – or anybody else's, for that matter. Utley made $2 MM last year, on a one-year, incentive-laden contract. Given that he had similar seasons in 2016 and 2017 and is a year older, that seems like a more than fair expectation for 2018 (especially with how many free agents are still standing).
And this is the part where we can wonder aloud what kind of contract he'll sign. Utley has stated a few times that he is interested in playing again next year, and that he still has something to offer to teams. At the same time, however, there have been rumors that the Phillies are considering him for their bench coach role. Utley has long been a player that people have suggested would end up coaching one day, and former players have been sliding into coaching slots quicker these days. I don't know if that means he wants to coach now, but his decision may well be made by a lack of offers from contending teams.
Does He Make Sense for the Yankees?
Utley may not be the player that he used to be, but he can hold-up the long side of a platoon at second base – and the Yankees might not need much more than that. The fact that he has been demonstrably comfortable in that role, and was more than willing to move to the bench when the Dodgers rode the hot hand, is a check in his favor, as well. Unlike Neil Walker, Howie Kendrick, and Eduardo Nunez, he is unlikely to demand a large commitment in dollars or playing time.
And this isn't just important for Gleyber Torres, either. Utley could be shifted to make room for an improved Tyler Wade, given how little the team would need to invest in him. He's basically the ideal placeholder in that way.