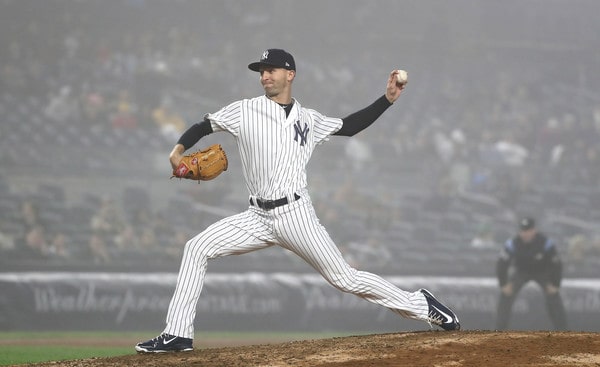 Although there were a few hiccups along the way, the bullpen was an overwhelming strength for the Yankees in 2018. Dellin Betances was dominant in the eighth inning and David Robertson, Chad Green, and Jonathan Holder were very effective in the sixth and seventh innings. Aroldis Chapman was as good as he's ever been, at least when his knee wasn't acting up.
The high-leverage relievers get all the glory. Many games are won and lost in the middle innings though, especially nowadays with starters throwing fewer innings than ever. Those fifth and sixth inning situations are every bit as important as the eighth and ninth innings. And, for much of this year, lefty Chasen Shreve and righty Adam Warren handled those middle innings for the Yankees.
Warren and Shreve started the 2018 season as, at best, the fifth and sixth best relievers in the bullpen. They finished the 2018 season in other uniforms. Warren and Shreve were traded roughly 43 hours apart in the days leading up to the July 31st non-waiver trade deadline and they were traded for very different reasons. Let's review their half-seasons in pinstripes.
Chasen Shreve
Shreve joined the Yankees almost four years ago in a January 2015 trade with the Braves. Former top prospect Manny Banuelos went to Atlanta for Shreve and David Carpenter. Feels like a lifetime ago, doesn't it? Shreve went up-and-down (mostly up) from 2015-17 before running out of minor league options and having to stick for good in 2018.
2018 Performance: Much like 2015-17, the 2018 season featured stretches of dominance and stretches where Shreve was simply unplayable. He carried a 0.00 ERA into early May and held opponents to a .156/.240/.289 batting line with 16 strikeouts in his first 12 innings. That was one of those "hey maybe he's back to where he was in the first half of 2015" stretches. It didn't last. It never did with Shreve.
On May 4th, Shreve faced four Indians batters, allowed all four to reach base, and was charged with four earned runs. That 0.00 ERA became a 3.75 ERA in the span of 16 pitches. Shreve was okay for a few weeks after that before the wheels came off in late May. Two runs on May 23rd. Two more runs on May 26th. Six runs in 7.1 innings spanning eight appearances from June 13th to June 30th.
Shreve took a 4.97 ERA (5.51 FIP) into July. He'd thrown 29 innings. Aaron Boone limited to Shreve to low leverage work in July — only twice in nine July outings did Shreve enter with the score separated by fewer than three runs — and he finished the Yankees portion of his season with a 4.26 ERA (4.98 FIP) with 27.1% strikeouts and 10.6% walks in 38 innings. The strikeouts were nice. The overall body of work was as close to replacement level as it gets.
Signature Moment™: This is easy. It was July 21st against the Mets. Chapman needed work after a long layoff during the All-Star break, so he entered the ninth inning with a four-run lead. His inning went walk, single, walk, walk, hit-by-pitch. Five batters, 19 pitches, three strikes. Two runs were in and the Mets had the bases loaded with no outs. Betances, Robertson, and Holder all pitched earlier in the game and Green had a long outing the previous day, so he was unavailable.
Boone had two options. He could stick with Chapman or go to Shreve. Sticking with Chapman did not seem wise given the way he was throwing. Shreve it was. Chasen inherited the bases loaded with no outs situation, and nailed down the save with a 4-3 double play and a tapper back in front of the plate. Ex-frickin-hale.
That was career save No. 2 for Shreve. (He saved an extra innings game in Kansas City in 2016.) It was also his third-to-last appearance as a Yankee. He faced five batters and allowed three hits on July 26th and faced five batters and allowed one run on July 28th. That July 28th appearance came in the first game of a doubleheader. Shreve was traded after the second game of the day.
Why Was He Traded? The Yankees acquired J.A. Happ from the Blue Jays on July 26th and, at the time, they Yankees were carrying four starters and nine relievers. A reliever had to go to make room for Happ and it was either Shreve or A.J. Cole. Cole was pitching pretty well at the time, remember. The writing had been on the wall for weeks. The only question was either Shreve would be traded or designated for assignment.
Following that July 28th doubleheader the Yankees traded Shreve (and Gio Gallegos) to the Cardinals for Luke Voit (and international bonus money). Happ had his roster spot and the Yankees had a right-handed hitting first baseman to replace Tyler Austin, who would soon to be traded to the Twins. Shreve was very emotional after the deal was announced.
Rough. Players love being Yankees. They rarely want to leave. Shreve had been with the team for three and a half years and had grown close with many teammates. It's a business though, and if you don't perform, teams will find guys who do. The fact Shreve's a lefty who can miss bats meant he had some trade value and wasn't simply cast aside on waivers.
What'd He Do After The Trade? Typical Chasen Shreve stuff. He threw 14.2 innings with a 3.07 ERA for St. Louis but man, the peripherals were ugly: 24.6% strikeouts, 13.9% walks, 20.5% ground balls, and a 1.84 HR/9 for a 5.48 FIP. Shreve finished the 2018 season with a 3.93 ERA (5.12 FIP) in 52.2 innings total. He is arbitration-eligible for the second time as a Super Two this offseason and MLBTR projects a $1.2M salary in 2019. I could see him being non-tendered at that salary.
Yankee Legacy: Shreve was legitimately excellent for the first four months of 2015. Remember that? He had a 1.89 ERA (3.86 FIP) in 52.1 innings before things fell apart in September. Shreve and the Yankees then spent 2016-18 chasing that 2015 success. He finished his Yankees career with a 3.92 ERA (4.99 FIP) in 174.2 innings. That's good for +1.8 WAR. There were some moments of greatness, but, by and large, we spent the last few years wondering how many more chances Shreve would get.
Adam Warren
Unlike Shreve, Warren was an original Yankees draft pick. They took him in the fourth round in the 2009 draft. He'd been teammates with future big leaguers Matt Harvey, Dustin Ackley, and Kyle Seager at UNC. The Yankees traded Warren to the Cubs for Starlin Castro in December 2015, realized they couldn't live without him, then reacquired him in the Chapman trade at the 2016 deadline.
2018 Performance: In his very first appearance of the 2018 season, Warren took a comebacker to the right ankle and was put on the shelf for a few days. Then, in late April, he went down with a back problem that sidelined him a little more than six weeks. It was during that six-week absence that Cole seemingly emerged as a reliable multi-inning middle reliever. That jack of all trades reliever.
Around the ankle and back injuries Warren had a typical Adam Warren season. He threw 30 innings with the Yankees and posted a 2.70 ERA (3.29 FIP) with strikeout (28.9%) and walk (9.4%) rates that ranked among the highest of his career. The Yankees got Warren to buy into the anti-fastball philosophy — he threw more sliders (45.4%) than fastballs (38.9%) before the trade — and the strikeouts ticked up.
Warren was the Swiss Army Knife reliever under Boone the same way he was under Joe Girardi. He entered games in the third, fourth, fifth, sixth, seventh, eighth, and ninth (and 12th) innings and in just about every situation. High leverage, low leverage, you name it. The back injury cost him six weeks. Otherwise Warren was very effective and used pretty much whenever needed. Can't beat that kind of versatility.
Signature Moment™: Eh, Warren didn't really have a signature moment this season. Certainly nothing like Shreve bailing out Chapman. How often do middle relievers have signature moments anyway? I guess Warren's signature moment came on July 8th. With the score tied 1-1 and the bullpen a little short due to recent workloads, Warren threw scoreless seventh and eighth innings in Toronto to set the Yankees up for a tenth inning win.
At +0.193 WPA, it was Warren's most impactful game of the season. Not the greatest highlight, I know, but two scoreless and thankless innings in a win is about as Adam Warren as it gets.
Why Was He Traded? We all knew Shreve was a goner. The Warren trade was a surprise and it was part of a series of moves. First, the Yankees traded Shreve for Voit, which gave them right-handed hitting first base depth. That allowed them to trade Austin for Lance Lynn. And, with Lynn on-board as a multi-inning relief option, the Yankees traded Warren straight up for international bonus money. Specifically $1.25M from the Mariners.
There were a few layers to this. For starters, it was a salary offset. The Twins paid half Lynn's remaining salary and dumping Warren made the Lynn pickup salary neutral. That was not a small thing given the luxury tax plan. And two, the Yankees wanted someone better able to move into the rotation, if necessary, and it turned out to be necessary thanks to Sonny Gray. Lynn was stretched out to 100 pitches. Warren was not.
"Adam Warren was probably going to give us no more than 20 innings the rest of the way before free agency. It gave us a chance if we could make this all work — the price tag of what it would cost to import Lynn and then cash in and capitalize on value left on Warren — we would try to do it all," said Brian Cashman after the trade (video link). "… We were able to trade Warren to the Mariners for slot money. That whole combination allowed us to (max out our international bonus pool)."
The Yankees immediately turned around and used the Warren bonus money to sign Cuban shortstop Alexander Vargas to a $2.5M bonus. Vargas was one of the top international prospects on the market and Cashman said Vargas was likely going to sign with a "big market team out west" had the Yankees not brought in more bonus money through the Warren trade. (The Dodgers were the only West Coast team not limited to the $300,000 maximum bonus as a result of past international spending, so I assume that's where Vargas would've gone.)
So, to wrap that all up, the Yankees traded Warren for three reasons. One, they wanted a pitcher better able to step into the rotation in Lynn. Two, they wanted to offset Lynn's salary. And three, they wanted the international bonus money to sign Vargas. Trading a quality multi-inning reliever to a fellow AL contender (the Mariners were in wildcard position the day of the Warren trade) seemed awfully weird, especially since the Yankees had a more disposable reliever in Cole and appeared to have the payroll room to keep Warren and add Lynn, but whatever.
What'd He Do After The Trade? Meh. Warren threw 21.2 innings with a 3.74 ERA (4.82 FIP) with the Mariners as they crashed out of the postseason race. He was fine. Not great, not terrible. He was fine. Warren with the Yankees: 3.18 ERA (3.61 FIP) and +7.6 WAR in 407 innings. Warren with the Cubs and Mariners: 5.08 ERA (5.42 FIP) and -0.4 WAR in 56.2 innings. He can't can only handle New York!
Yankee Legacy: Warren is the closest thing the Yankees have had to Ramiro Mendoza since Ramiro Mendoza. He was the rubber-armed do-it-all reliever. Warren was never the team's best reliever. Heck, he never their second or third best reliever, but he was as steady and reliable as middle relievers come. I'll always remember Warren's three-inning appearance the night the Yankees clinched a postseason spot in 2015. The bullpen had been worked hard in previous days and Warren stepped in to throw scoreless sixth, seventh, and eighth innings with a small lead.
That was Adam Warren the last few years. He did whatever the Yankees needed for however many innings the Yankees needed. From 2013-18, his +7.2 WAR made him a top 25 reliever in baseball, and remember, he was at +7.6 WAR with the Yankees. Warren was rock solid and seemingly perpetually underappreciated. He's a free agent this winter and I guess a reunion is possible, but it seems unlikely. The Yankees got the best years of his career and they'll likely let someone else pay for his decline.