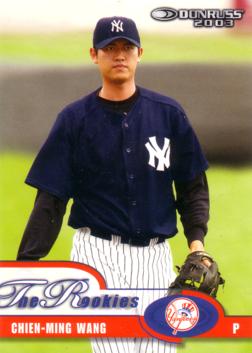 That was some performance tonight from Wang, eh? He mixed in change-ups, sliders, fastballs to keep the Mets hitters off balance. And nothing showed this more than Jose Reyes' wild swing at a change-up in the 8th in which the speedy lead-off hitter screwed himself into the ground. Wang was, in other words, nothing short of brilliant.
For Wang, it's been a long time coming. Now, that isn't to say that he hasn't been brilliant in his three years with the Yanks. But as Mike pointed out in the comments to an early post tonight, Wang's minor league numbers showed a higher strike out rate. Yet, in the Majors, Wang has relied on his very effective sinker to become one of the game's premiere groundball pitcher; his career 2.93 GB/FB ratio certainly puts Kei Igawa to shame.
But his Major League strike out numbers have been abysmal. His career K/9 IP is 3.58. Because of this, Chien-Ming's critics have routinely predicted the ever-popular regression to the means for Wang. While some of the more astute analysts recognize that Wang's stuff — and his mid-90s sinker — will lead to success even without strike out rates, others feel that it was just a matter of time before the league managed to touch up Wang.
While the detractors looked right after the righties first few starts this year, the Wanger has really turned things around since April, and he capped off a stellar few weeks tonight against the Mets. Wang recorded 26 outs tonight: 13 by ground, 0 by sea, 3 by air and 10 by strike out. That is, of course, a career high. Wang used his sinker, a great slider and an effective change-up to keep the Mets guessing and flailing all night.
We've seen signs of this rise in strike out rates all season. He fanned 5 Red Sox and 6 Angels a few weeks ago. It'll be interesting to see how the season progresses with Wang. He's 6-1 over his last 7 starts with a K/9 IP of 5.4. That is a recipe for success.
Meanwhile, the Yanks head west with a 13-3 start to June. They're 3.5 games out of a playoff spot and are playing like the juggernaut everyone thought they would. These are good times for Yankee fans.