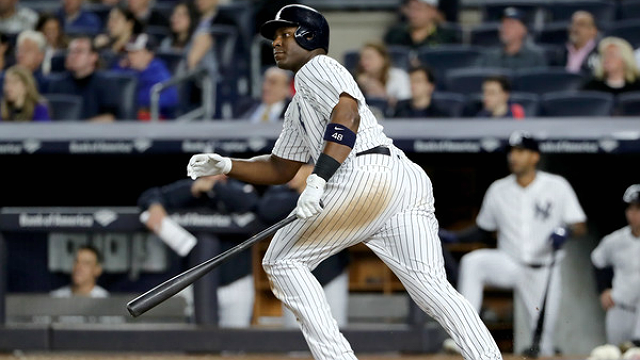 The Yankees had a lot of first basemen this year. Too many? Too many.
In total, 11 different people manned first this year with Greg Bird probably the finest after he overcame his ankle issues. Chase Headley is the runner-up there, filling in admirably there once Todd Frazier took third base from him.
But there were many others at first. And so let's dive in, beginning with the person who could have claimed the job for himself if he hadn't hit so poorly.
Chris Carter
Carter signed in mid-February with the Yankees. At the time, the plan was simple: Bird would be the starting first baseman while Carter was the backup who'd get some tough lefties as well as some time at DH. Not much glamour for a guy who'd just led the National League with 41 home runs in 2016, but it was $3.5 million he wasn't getting elsewhere.
So when Bird went 6-for-60 in April and landed on the disabled list, the job was Carter's to lose. And boy did he lose it!
In 62 games for the Bombers, the slugger didn't live up to his reputation, hitting for 14 extra-base hits in 208 plate appearances, including just eight home runs. Meanwhile, he found a way to strike out even more than he did in Milwaukee while drawing fewer walks. His .201/.284/.370 (73 wRC+) line doesn't do it justice. He was hovering below or at the Mendoza line for the entire first half.
Of course, this wouldn't be nearly as much of an issue if he was a good defensive player. However, that's never been Carter's calling card. He had a -2.3 UZR at first.
Carter did come up with some clutch hits in pinstripes. He came up with a much-needed seeing-eye single to give the Yankees a run in a 3-2 win over the Cardinals on Apr. 15. A week later, he hit a go-ahead pinch-hit three-run shot to put the Yankees up for good against the Pirates.
And on May 3, he had a bloop single to tie a game against the Blue Jays.
Finally, on June 15, just a week before he was designated for assignment, he tied a game against the Athletics with a solo homer in the eighth inning. After an 0-for-4 with three strikeouts game, he was DFA'd on June 23. However, he was brought back a week later when Tyler Austin strained his hamstring. This stint would be short-lived as he was again DFA'd after going 0-for-2 with a walk against the Blue Jays on July 4. From there on out, it was a mix of first basemen in the Bronx.
Rob Refsnyder
While Carter was struggling in late May, the Yankees decided to give Rob Refsnyder a go at first. However, he was somehow less adequate with the bat than Carter. In four starts from May 30 through June 4, he went just 2 for 13 with a walk. That's a .154/.214/.231 line. Yikes.
While he'd play a little too much in the outfield for the rest of the month, he wouldn't get any more time at first base, a place where he actually wasn't too bad in 2016, at least relative to the rest of his performance. His last game in New York was July 2 before he too was sent packing like Carter. The Yankees traded Refsnyder to the Blue Jays for minor league first basemen Ryan McBroom.
Ji-Man Choi
Ah, the Ji-Man Choi era. This was perhaps the best part of the season. He started at first the day after Carter was DFA'd, literally taking his spot on the roster. His first at-bat was an unremarkable groundball to first, but he struck gold with a homer into the bleachers in his second at-bat.
He'd hit a homer in his second game against the Brewers — a much less impressive ball that cleared the short porch in right — and that was about it for him in New York. After the second homer, he went hitless for seven straight at-bats until pick up a pair of hits — and a sacrifice fly — in his final game, a 3-0 win over the Red Sox on July 16.
Choi was sent down after that and would be removed from the 40-man roster later on. In his six games, he went 4-for-15 with two homers, a double, two walks and a sac fly, good for a .267/.333/.733 line. That's a 162 wRC+, second on the team behind Aaron Judge for players with at least 10 plate appearances.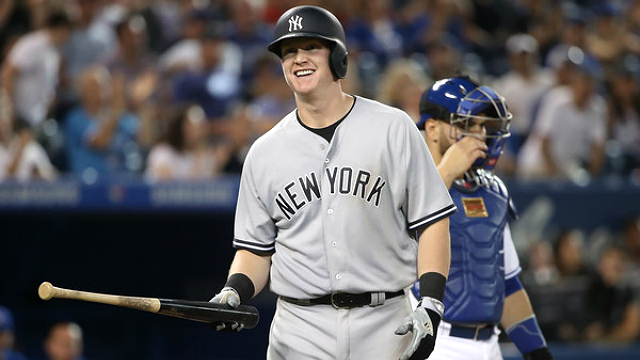 Garrett Cooper
After Carter was let go, Brian Cashman looked for cheap first base help and found it with Garrett Cooper, who was in Triple-A with the Milwaukee Brewers. A 26-year-old tearing up the Pacific Coast League isn't a huge shocker, but it was something the Yankees didn't have, so they traded left-handed reliever Tyler Webb to get him.
Cooper started at first in the Yankees' first two games after the All-Star break and struck out in five of his first seven plate appearances. He didn't get a hit until his third game.
While he didn't hit for any home runs with the Yankees, he did launch a lot of doubles. Five of his 14 hits were two-baggers while he also added a triple. He just didn't walk much (once in 45 PAs) and he struck out 26.7 percent of the time.
Still, he posted a .326/.333/.488 (113 wRC+) line and likely would have held the job until Greg Bird's return. However, he didn't play after Aug. 16 due to hamstring tendonitis.
He was traded this offseason to the Marlins to free up 40-man space. We'll always have his eight hits in three days against the Blue Jays this August.
Tyler Austin
Austin could have been the Yankees' starting first baseman for multiple months this season. All he needed to do was stay healthy.
However, he broke a bone in his left foot during Spring Training and was out until June. He was called up to replace Carter and hit a home run in his third game back, just to strain his right hamstring a day later. Oh well.
Austin got another week of starts at first base and DH in August when Cooper went down and picked up two hits in his first game back. However, once Bird was healthy, it was back to the bench for the 26-year-old Austin. Unlike everyone listed above, he'll be back in 2017 as of now, although he'll likely be in Triple-A to start the year if he makes it through the offseason.
Other adventures with first base
I'll be brief, but here are the other highlights at first base outside of Bird and Headley.
– Gary Sanchez played three innings over two games at first base. He made seven putouts in seven chances. No errors!
– Matt Holliday started seven games at first and made two errors. He was not smooth in the field and it would have been fitting if the Yankees had put together a Carlos Beltran-esque ceremony to retire his glove.
– Despite having 82 starts at first in his career, Todd Frazier didn't play a single inning at first for the Yankees.
– Austin Romine started four games at first base. He actually didn't look too bad at first and as crazy as it is to say now, it was a relief to see him there compared to their other options at the time.
– And finally, the best moment at first base non-Bird/Headley edition all year: Bryan Mitchell's unfortunate inning. Perhaps my favorite Yankees loss of the year.