The Yankees opened the season with three players capable of serving as a long reliever. Adam Warren held the job just last year, David Phelps did it the year before that, and Vidal Nuno has always been more of a multi-inning guy than a lefty specialist. Warren quickly settled into a short relief role and both Phelps and Nuno were in the rotation due to injuries before long, so the Yankees went from having three potential long men to zero by time May rolled around. They cycled threw some collection of arms this summer. Time to review the long relievers.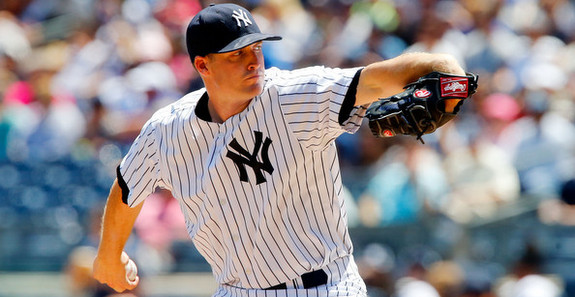 Chase Whitley
Last winter, every other team in baseball passed over Whitley in the Rule 5 Draft. By mid-May, the career reliever was starting games for the Yankees because their rotation was so devastated by injuries. The team moved Whitley into the rotation full-time this year after a nice run of Triple-A spot starts late last year, and he earned the call-up by pitching to a 2.39 ERA (1.72 FIP) in 26.1 innings across six starts.
Whitley held the Mets to two hits and two walks in 4.2 innings in his MLB debut, and six days later he limited the Cubs to just one run in 4.1 innings. Joe Girardi understandably had a very quick hook, pulling the right-hander after 74 and 71 pitches, respectively. It wasn't until his third start that he topped 90 pitches (he threw 91, to be exact). He allowed three runs five innings against the Cardinals.
Next time out, Ace Whitely was born. Whitely struck out six Twins and allowed just one run in five innings on June 1st, then he held the Royals and Mariners to two runs in seven innings and 7.2 innings in his next two starts, respectively. A five-inning, two-run outing against the Blue Jays followed that. After his first seven MLB starts, Whitely had a 2.56 ERA (2.74 FIP) in 38.2 innings. It was exactly what the Yankees needed given their rotation situation.
The wheels came crashing off the bus in Whitley's eighth start, which was also the first time he faced a team for the second time. The Blue Jays clobbered him for eight runs on eleven hits and three walks in only 3.1 innings of work. The Red Sox punished Whitely for five runs in four innings next time out, then the Twins got to him for four runs in three innings. After allowing eleven runs in his first seven starts, he allowed 17 runs in his next three starts.
The Yankees pulled Whitley from the rotation after that — the Brandon McCarthy trade and Shane Greene call-up made that possible — and he settled into a long relief role. Whitely threw 26.2 innings in his final 14 appearances after being yanked from the rotation while also spending some time back in Triple-A. He had a 5.40 ERA (4.44 FIP) in those 14 outings. Here is a quick breakdown of Whitley's season split into two parts:
| | IP | ERA | FIP | K% | BB% | GB% | HR/FB% | Opp. OPS |
| --- | --- | --- | --- | --- | --- | --- | --- | --- |
| First 7 Starts | 38.2 | 2.56 | 2.74 | 16.6% | 2.6% | 43.8% | 2.1% | .615 |
| After That | 37.0 | 8.03 | 5.59 | 19.7% | 8.1% | 46.8% | 25.0% | 1.030 |
| Total | 75.2 | 5.23 | 4.14 | 18.2% | 5.5% | 45.6% | 12.0% | .831 |
Even when Whitley was at his best during those first seven starts, I think we were all waiting for the other shoe to drop. His stuff was good but not great — he'd break off a few nice sliders or nasty changeup every once in a while, but every pitcher does that — and it just seemed like it was only a matter of time before the league got a book on him and made adjustments. It happened fairly quickly and Whitley became unusable in non-mop-up situations. Those first seven starts though, they were excellent and a big help to the team at the time.
Alfredo Aceves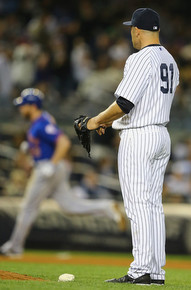 When the Yankees took all three of Phelps, Warren, and Nuno north out of Spring Training, they grabbed Aceves off the scrap heap to replace the depth in Triple-A. Someone needed to soak up all those extra innings and teams routinely sign veterans they can abuse so the actual prospects don't get overworked. Fans (myself included) were pretty happy Aceves was back simply because of what he did in 2009. He built up a lot good will that season.
Aceves started the year in Triple-A and made three starts with the RailRiders before being called up to the Yankees in early-May. He made his triumphant return to the pinstripes on May 4th, when CC Sabathia got knocked around by the Rays and failed to complete the fourth inning. Aceves picked him up with 5.1 scoreless innings of relief, striking out five and allowing only three hits. It was vintage Aceves, the kind of stuff we saw back in 2009. Suddenly it looked like the Yankees had someone who could fill that revolving door in the back of the bullpen.
That didn't happen though. Aceves was legitimately terrible after that first appearance. He pitched in nine more games with the Yankees and allowed runs in seven of them. In 14 total innings he managed to put 24 men on base, allow 14 runs, and serve up six (!) homers. After giving up two homers in his June 2nd appearance, Aceves, who is eccentric at best and downright crazy at worst, threw inside at several Mariners players, so much so that pitching coach Larry Rothschild had to go out to the mound to tell him to stop.
Aceves' second stint in pinstripes ended after that appearance. The team designated him for assignment, he returned to Triple-A to make a handful of relief appearances, then was suspended 50 games for a failed drug test. Not performance-enhancing drugs, a drug of abuse. Reportedly cocaine. The Yankees released him after the suspension was over. Aceves had a 6.52 ERA (6.29 FIP) in 19.1 innings across ten games with the team. Let us never speak of this again.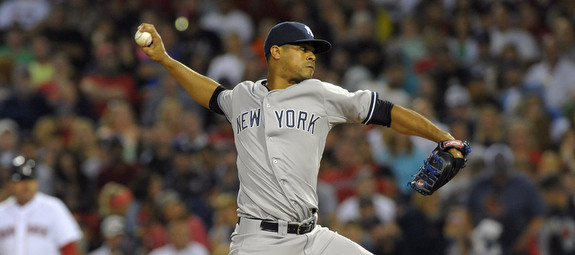 Esmil Rogers
The Blue Jays have made some shockingly bad trades involving catchers the last few years. First they shipped Mike Napoli to the Rangers for Frank Francisco (Frank Francisco!), then they sent Yan Gomes to the Indians for Rogers. Gomes has broken out and is now one of the better catchers in the game. Rogers wore out his welcome in Toronto in less than two years (5.06 ERA and 4.81 FIP in 158.1 innings), but the Yankees were intrigued enough to claim him off waivers at the end of July.
Because he had been working as a starter in Triple-A before the Blue Jays cut him loose, Rogers was nice and stretched out, which allowed Girardi to use him for three innings in his first appearance with the team. He held the Red Sox hitless in the three innings in his Yankees debut. Five days later, Rogers made a spot start filling in for the injured Phelps, and allowed just one run in five innings against the Indians. His first three appearances — there was a one-inning relief outing sandwiched between the three-inning debut and spot start — were enough to earn him some more responsibility.
After the spot start, Girardi used Rogers as a sixth and seventh inning type reliever, occasionally in the eighth inning as well if the rest of the bullpen was taxed. He made 15 appearances after the spot start and two were disasters — three runs and one out on September 16th, four runs and one out on September 28th — uglifying his stat line. Rogers had a 4.68 ERA (4.17 FIP) in 25 total innings with New York, but I thought he generally pitched better than that. He wasn't great, but he wasn't truly awful either. Most of the time, anyway.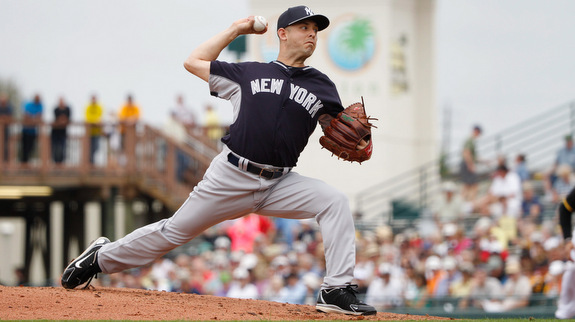 Bruce Billings
Billings was another one of those veteran arms for Triple-A — there were a lot of them this year, the Yankees didn't have many actually pitching prospects in Scranton — though he did get called up to make one appearance with the big league team. He soaked up four innings against the Angels on April 25th, allowed four runs on four hits and a walk. Two of the four hits left the yard. Billings did strike out seven of 17 batters faced though. That's cool. He was called up again at midseason before the team dropped him from the 40-man roster. Billings elected free agency and signed with the Dodgers, then spent the rest of the season in their Triple-A bullpen. Those for the four innings, Bruce.
Chris Leroux
Leroux was a starter with Triple-A Scranton at the start of the season, though he was unable to give the Yankees any length in his two appearances with New York. He allowed two unearned runs in one inning in his first game on April 29th, then he got clobbered for five runs in an one inning on May 2nd. That was in the 14th inning of this game, which you might remember because the Yankees made a spirited comeback to tie the game in the eighth and then again in the ninth to force extrainnings. Leroux was dropped from the roster soon thereafter and spent the rest of the summer either hurt or pitching for the RailRiders. What a summer of long men.