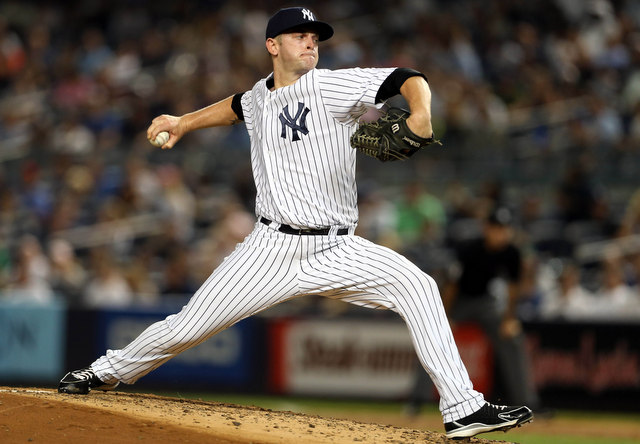 Over the last few years the Yankees have gotten pretty good at finding useful arms in the mid-to-late rounds of the draft. Some become bonafide studs (17th rounder David Robertson), some become solid contributors (14th rounder David Phelps), some become trade chips (15th rounder Shane Greene), and some provide short-term help (17th rounder Preston Claiborne).
Coming into the 2015 season, the Yankees had a bunch of these mid-to-late round arms either at the Triple-A level or ready for it. They had no shortage of interesting relievers in the upper levels of the minors. That's for sure. So, to take advantage of those arms, the Yankees employed a bullpen shuttle this year, calling up and sending down fresh arms as necessary. The transactions were almost daily. Here are the five relievers who rode that shuttle more than anyone.
Caleb Cotham
A variety of injuries have hampered Cotham throughout his career, limiting him to 315.2 innings from 2010-14 even though he worked as a starter. The team's fifth round pick in the 2009 draft started the season with Double-A Trenton because there was simply was no room for him at Triple-A. Cotham's old for a prospect — he turned 28 earlier this month — so other guys were the priority.
After bouncing between Double-A and Triple-A for much of the summer, Cotham finally earned his first MLB call-up on July 29th, taking the place of Chris Capuano after Capuano allowed five runs in two-thirds of an inning against the Rangers. Cotham made his big league debut that night and struck out four of seven batters faced in 1.2 innings.
Cotham spent August going back and forth between Triple-A and MLB as part of the shuttle before getting called up for good once rosters expanded in September. He pitched well enough in the final month of the season, allowing three runs in six innings across ten appearances. At one point it appeared Joe Girardi was using Cotham as his No. 4 reliever behind Andrew Miller, Dellin Betances, and Justin Wilson.
Cotham flashed some good stuff during his brief MLB stint — PitchFX says he featured a low-to-mid-90 heater and upper-80s slider — and finished with a 6.52 ERA (6.55 FIP) in 9.2 MLB innings. Blame a four-run, two-homer, two-inning dud against the Twins on August 17th for most of that. Cotham struck out eleven and walked one in his 9.2 innings in pinstripes.
Because he has a lengthy injury history and is the oldest of the shuttle relievers, I think Cotham is in danger of losing his 40-man roster at some point this offseason. But, if he manages to stick around into the 2016 season, he'll again be an up-and-down arm, helping chew up innings whenever necessary.
Nick Goody
The 24-year-old Goody was New York's sixth round pick in the 2012 draft. He was expected to be a quick-moving reliever, but his career was put on hold due to Tommy John surgery. He threw three innings in 2013, got hurt, then threw 31.1 innings after returning in 2014.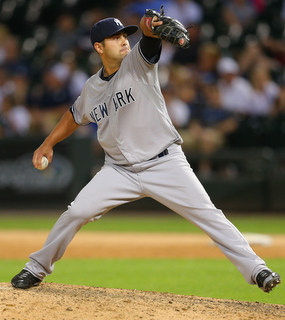 The Yankees had Goody start the season with Double-A Trenton this year because that was the appropriate level for him given his experience and rehab and whatnot. And he dominated. Goody had a 1.73 ERA (2.21 FIP) with 59 strikeouts and 14 walks in 41.2 innings for the Thunder before getting bumped up to Triple-A Scranton in early-July.
On July 30th, Goody was called up to the big leagues for the first time, replacing Cotham on the roster. (Like I said, these transactions were almost daily.) He made his MLB debut that night, getting one out, then he pitched again the next day, allowing a run in an inning against the White Sox. One day later, Goody was back in the minors. So it goes.
Goody was called up on two other occasions in August — he threw one inning each time then was sent back down — before coming up when rosters expanded in September. He didn't pitch a whole lot in the season's final month. Only 2.1 innings across three appearances. Goody allowed three runs in 5.2 big league innings total in 2015.
After throwing 62.1 innings in the minors (1.59 ERA and 2.06 FIP), it seemed like the Yankees wanted to take it easy on Goody in his first full year back from Tommy John surgery, so he was a just-in-case arm in September. He's a low-90s fastball/low-80s slider guy with a history of missing bats (career 35.0 K% in the minors) who figures to get a greater opportunity to help the Yankees in 2016.
Chris Martin
Unlike the other guys in the post, the Yankees did not draft Martin. They acquired him from the Rockies in a cash deal last offseason. He replaced Gonzalez Germen on the roster, who replaced Claiborne. Simply put, the Yankees felt Germen was better than Claiborne, and Martin was better than Germen, so the moves were made. Incremental upgrades are still upgrades.
Martin, 29, is unlike the other guys in this post in another way as well: he was on the Opening Day roster. It became obvious pretty early on the Yankees liked Martin more than we realized. He struggled a bit in Spring Training but still made the team, then was literally the first reliever Girardi used this season. Martin struck out the side in order on Opening Day: Jose Bautista, Edwin Encarnacion, and Josh Donaldson.
Girardi continued to use Martin regularly the rest of April, even asking him to pick up a save on a night the main relievers were unavailable. He pitched well for the first few weeks as that first reliever outside the Circle of Trust™. Martin wasn't in the Circle yet, but you can tell he wasn't far outside either. Opponents hit .167/.222/.214 with 13 strikeouts and two walks in eleven innings against Martin in April.
The first few days of May were rough and Martin eventually landed on the DL with an elbow issue. He returned three weeks later and was immediately optioned to Triple-A Scranton. After four appearances there, he returned to New York, allowed five runs in 3.1 innings across three appearances, then was sent back to Triple-A. He was officially on the bullpen shuttle.
Another elbow injury caused Martin to miss four weeks in July and August — he developed a staph infection from a big bite on his hand and it spread to his elbow — but he got healthy in time to return to the Yankees in September. He allowed three runs on eight hits and three walks in 4.2 innings and six appearances down the stretch. Martin never was the same after that first elbow injury.
All told, Martin had a 5.66 ERA (3.67 FIP) in 24 appearances and 20.2 innings with the Yankees this past season. (He had a 3.18 ERA and 3.02 FIP in 28.1 Triple-A innings as well.) He worked out an agreement with the Nippon Ham Fighters in Japan a few weeks ago and asked the Yankees for his release. The (Ham) Fighters sent the Yankees $750,000 for their trouble and Martin signed a two-year, $1.7M contract. Good for him.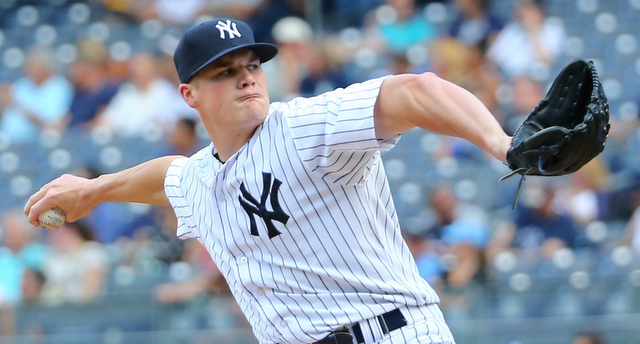 Branden Pinder
No shuttle reliever threw more big league innings or was called up more times than Pinder this season. Pinder, 26, was added to the 40-man roster last offseason thanks to Rule 5 Draft eligibility, and he was called up six (!) different times in 2015. He was called up once in April, once in May, once in June, once in July, then twice in August, the second time for good through the end of the season. Gosh.
Pinder was the team's 16th round pick in 2011 and he made his MLB debut on April 15th, throwing a scoreless inning against the Orioles. He pitched mostly low-leverage mop-up innings — this extra innings loss to the Blue Jays is the notable exception — so, weirdly, his signature moment of the season was a double. Pinder batted for himself in a blowout game against the Braves and doubled into the left-center field gap. Check it out:
Hey, the guy's a 1.000/1.000/2.000 career hitter. That works out to a 747 wRC+. Not too shabby. Pitchers love to brag about their hitting and I'm sure Pinder wore out the other guys in the bullpen after that double. I know I would.
Anyway, Pinder made 25 appearances and threw 27.2 innings during those six call-ups this summer. He had a 2.93 ERA (4.72 FIP) with 25 strikeouts and 14 walks. PitchFX measured his fastball in the mid-90s and his slider in the mid-80s. The swing-and-miss rate on his slider was a healthy 17.4%.
It's tough to evaluate Pinder's performance because he went up and down so many times, but, based on how often he got the call, he appears to be at the front of the shuttle line. He's still on the 40-man roster, and he is older than most others on the shuttle, though I think his spot is safe this offseason. I wouldn't be surprised if we saw a lot more of Pinder next year.
Nick Rumbelow
Rumbelow's climb up the minor league ladder was much quicker than the other guys in this post. The 24-year-old was the team's seventh round pick in the 2013 draft, he dominated four levels of the minors in 2014, then started the 2015 season with Triple-A Scranton before getting called up to the show in late-June. Rumbelow allowed a run in two-thirds of an inning against the Phillies in his MLB debut on June 23rd.
Even with that relatively late first promotion, the Yankees managed to call Rumbelow up four different times this past season. Once in June, twice in August, then once again when rosters expanded in September. His most notable inning of the season came on September 15th, when he inherited runners on the corners with one out in a one-run game, then struck out Steven Souza and Evan Longoria to escape the jam.
Unfortunately, Rumbelow served up a two-run home run to Nick Franklin to blow the lead and eventually take his first career loss in the next inning. The Yankees and Girardi were hoping one of the shuttle relievers would emerge as a reliable option in September but it never did happen. Rumbelow got chances — he threw six innings across seven appearances in the final month — but didn't force the issue.
Rumbelow pitched to a 4.02 ERA (3.84 FIP) in 15.2 big league innings and 17 appearances with the Yankees this summer, striking out 15 and walking five. He also had a 4.27 ERA (2.72 FIP) in 52.2 Triple-A innings. Rumbelow uses a mid-90s fastball to set up his low-80s slurvy breaking ball and surprisingly effective mid-80s changeup. Opponents swung and missed at the change 19.5% of the time. That's really good.
Like Goody, Rumbelow is quite young and he has a history of missing bats (career 28.9 K% in the minors), so his place on the 40-man roster is pretty safe. I think he has the best chance among the guys in this post to develop into a late-inning reliever who works high-leverage innings. That doesn't mean he'll be that guy in 2016, but I'm sure we're going to see a lot more of Rumbelow next year.