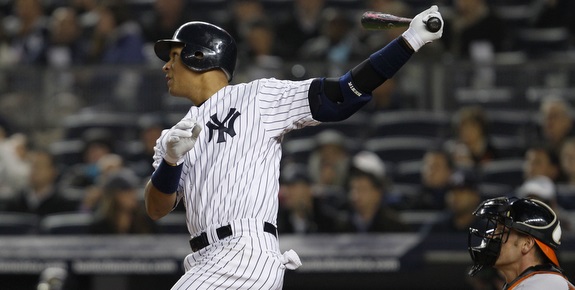 Last Friday, Buster Olney (Insider req'd) put together a post listing eight things that must go right for the Yankees in 2013. Most of them are obvious, like CC Sabathia having a strong season and Mariano Rivera returning to form, but I figured this was a good chance to piggyback on his idea and list some things I believe must go right for the club this year. I'm talking about big picture stuff, not just things that will help them contend in 2013.
Olney listed eight items, but I'm only going six deep. These aren't listed in order of importance or anything like that, just in the order they came to me. They're all important, but some are obviously more important than others.
1. Either Ivan Nova or David Phelps must emerge as a legitimate MLB starter.
The Yankees have three starting pitchers scheduled to become free agents after the season — Hiroki Kuroda, Andy Pettitte, and Phil Hughes — and the plan to get under the $189M luxury tax threshold in 2014 means they won't be able to go crazy on the free agent market next winter. Getting something out of Michael Pineda in the second half would obviously be helpful, but it'll be just as important for either Nova or Phelps to step forward and solidify themselves as long-term starters. Finding a cheap starter in the organization is a necessity to remain competitive once payroll is slashed.
2. Austin Romine must stay healthy.
Romine is likely to open the season in Triple-A while Chris Stewart and Frankie Cervelli make us want to claw our eyes out at the big league level, which is the best thing for his development. The 24-year-old has caught just 103 total games over the last two years due to persistent back problems, so he's lost a lot of development time at a crucial age. Gary Sanchez is still several years away, so Romine is the organization's best hope for a productive catcher in the near future. He needs to actually stay healthy for that to happen, so a full season in 2013 is imperative for his long-term future.
3. Either Joba Chamberlain or David Aardsma must return to pre-surgery form.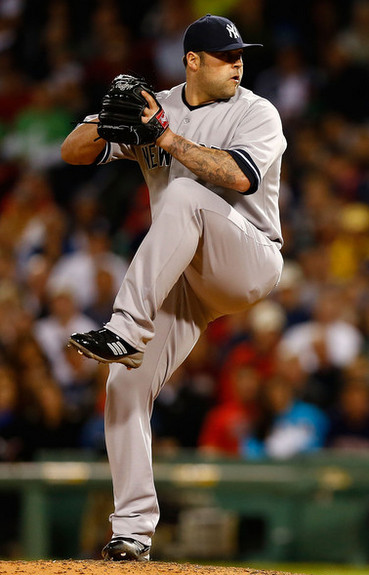 Rivera is a baseball playing robot and I expect him to have little trouble being productive following knee surgery. David Robertson is as good a setup man as you'll find in the game, and the left-handed duo of Boone Logan and Clay Rapada is one of the better LOOGY tandems in baseball. The middle innings — fifth, sixth, and seventh, basically — fall on the shoulders of two pitchers who have combined to throw 50.1 innings over the last two seasons.
Joba, 27, struggled when he came off the DL at the trade deadline but finished the season very well, allowing just one earned run and one walk against 17 strikeouts in his final 13 innings of the season. It's not a guarantee he'll pitch well in 2013 of course, but it is encouraging. Aardsma made one late-season appearance and will be coming off two lost years due to elbow and hip surgery. The Yankees can get by if one of these two flames out and is unable to find his form from a few years ago, but getting nothing from both would create some major bullpen headaches.
4. Ichiro Suzuki must produce on an extreme, either good or bad.
The Yankees handed out just one multi-year contract this offseason, deciding the 39-year-old Ichiro was worthy of that kind of commitment. It's my belief the deal was motivated by off-field factors — merchandise and ticket sales, advertising opportunities, increased popularity in Japan, etc. — and not so much his expected on-field performance. The late-season hot streak was nice and all, but Ichiro has managed just a .277/.308/.361 batting line in his last 1,384 plate appearances. Consider me skeptical.
So, what the club needs most from Suzuki next year is an extreme performance. He either needs to hit the cover off the ball like he did down the stretch and make me look like an idiot, or he needs to play so poorly the club will have no choice but to replace him. Splitting the middle and treading water won't help, it just means he'll remain in the lineup and be a question mark heading into 2014. Ichiro needs to erase doubt this summer, either by hitting so well they have to keep him or by hitting so poorly they have to dump him.
5. Mason Williams, Slade Heathcott, and Jose Campos must stay healthy.
Every team needs their top prospects to stay healthy for obvious reasons, and the Yankees have three of their best minor leaguers coming off major injuries. Williams (shoulder) missed the second half following surgery while Campos (elbow) barely pitched in 2012. Heathcott (shoulder) missed the first half following his second surgery in as many offseasons and has yet to play more than 76 games in a single season. All three are among the team's very best prospects and if the Yankees are serious about sticking to a budget, they're going to need cheap production. That isn't limited to plugging these guys into the roster down the line either, they need to stay healthy to boost potential trade value as well.
6. Alex Rodriguez must hit at least 13 homers.
Despite all the recent PED stuff, I'm working under the assumption A-Rod will rejoin the team around the All-Star break because that's what the doctors (and the Yankees!) said following his latest hip surgery. If they're able to void or otherwise shed his contract, great. But I'll believe it when I see it.
Anyway, A-Rod is currently sitting on 647 career homers and is 13 away from triggering the first of five $6M homerun milestones in his contract. Triggering that bonus in 2013 — the next homer bonus would then be 54 homers away, a total even in-his-prime Alex would have trouble reaching in one year — gives the team another $6M to spend under the luxury tax threshold in 2014. It doesn't sound like much, but $6M does go a long way. It's enough to add an $18M player at the trade deadline. I don't care anything about this latest PED stuff, I care about A-Rod reaching this first homer bonus this summer to give the team more flexibility next year.