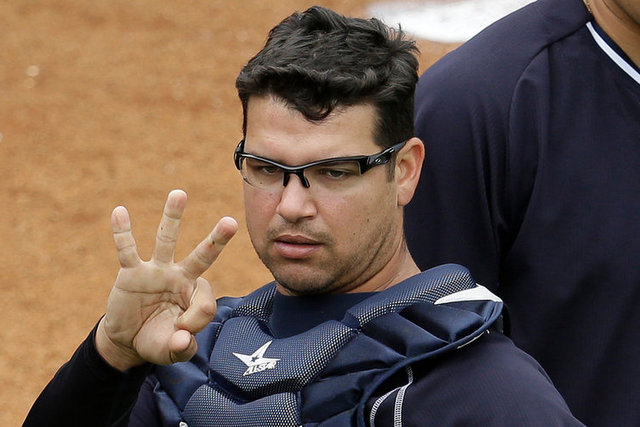 According to Matt Eddy, the Yankees have re-signed minor league catcher Eddy Rodriguez. This is notable because the Yankees figure to lose Austin Romine this offseason, putting Rodriguez fourth on the catching depth chart behind Brian McCann, John Ryan Murphy, and Gary Sanchez.
Rodriguez, 29, signed a minor league contract with the Yankees last offseason and it was the same situation: he was effectively Romine insurance. Romine slipped through waivers at the end of Spring Training and remained in the organization, so he was third on the catching depth chart and Rodriguez was fourth, with Sanchez still up and coming.
This past season Rodriguez started as Romine's backup at Triple-A Scranton, then, once Sanchez was promoted at midseason, Romine was relegated to backup and Rodriguez was bumped down to Double-A Trenton. He's not much of a hitter at all — Rodriguez hit .170/.202/.261 (28 wRC+) in 57 games and 188 plate appearances this summer.
As you'd expect, Rodriguez is still kicking around because he's a strong defensive backstop. The Yankees value catcher defense very highly and that extends down into the minor leagues as well. Rodriguez has a little big league time under his belt, playing two games with the 2012 Padres. He actually went deep in his first at-bat.
The Yankees got pretty lucky last year. Both McCann and Murphy stayed healthy all season, which is uncommon. Catcher is a brutal position and injuries come with the territory. Sanchez really impressed last season but he is still not much of a defender. Rodriguez gives the Yankees a true gloveman for Triple-A.
Romine is out of minor league options and figures to be a 40-man roster casualty at some point this offseason. He can elect free agency since he has been outrighted once before, back in April. Romine would have been a minor league free agent this offseason had the Yankees not added him to the 40-man roster in September. He came up because Sanchez was nursing a hamstring problem and the team wanted a third catcher after rosters expanded.