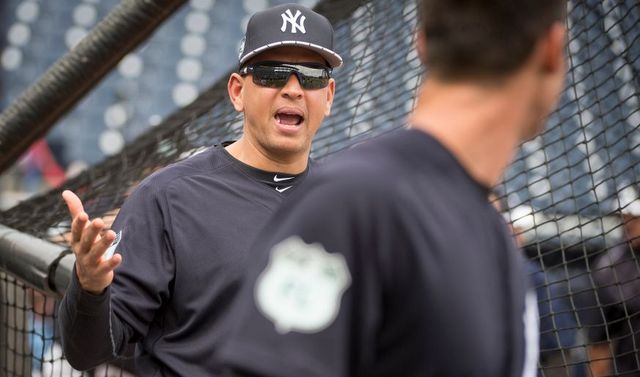 The Yankees are, at this very moment, playing their first Grapefruit League game of the season. Turn on YES or MLB.tv to watch. Here's our game thread. Don't miss it. Here are some bits of news and notes to check out in the meantime.
A-Rod to meet with YES
At some point this spring Alex Rodriguez will meet with executives from the YES Network, report George King and Bryan Hoch. The exact reason for the meeting is unclear. It could be something, it could be nothing. Maybe just a meet-and-great or some promo work. Or maybe the two sides will discuss a broadcasting role. YES has a small army of ex-Yankees on their rotating panel of analysts.
Rodriguez has done analyst work with FOX the last two postseasons and he's been really good. Critics have praised him and diehard fans seem to like him too. A-Rod certainly knows the game and he seems comfortable talking about it in depth on camera. Again, I have no idea why exactly Alex and YES are meeting. It really could be nothing. I selfishly hope it's about potential broadcasting work though. That would be awesome.
Judge among Law's top impact prospects for 2017
Keith Law (subs. req'd) recently ranked his top 19 prospects based on potential 2017 impact. Not surprisingly, Red Sox outfielder Andrew Benintendi and Braves shortstop Dansby Swanson sit in the top two spots. They're the two best prospects in baseball in my opinion, and both are locked into big league starting jobs this year. Aaron Judge is seventh on Law's list and Clint Frazier is among the honorable mentions.
I expect (Judge) to take some time to bring (his strikeouts) down this year, but that's been his history with each promotion in pro ball. Judge is a giant, at 6-foot-7, 275 pounds, so his strike zone is just as big, but he has enormous raw power and is an above-average right fielder. As long as the contact he makes continues to be hard contact, he'll have value even if he's among the league leaders in Ks.
I don't think the Yankees will hesitate to send Judge to Triple-A to start the season if they feel it's best for him. I also think they understand he's going to come with growing pains. We saw them late last year and they're not necessarily over. At some point they're just going to have to stick it out with Judge and let him work through the problems, and perhaps that means a .205 average with 185 strikeouts in 2017. Perhaps moreso than any other young player in the system, Judge is going to require a lot of patience, both from the Yankees and fans.
Gagne considering comeback attempt
Eric Gagne, who turned 41 last month, is considering a comeback attempt, according to Ken Gurnick. Gagne hasn't pitched in the big leagues since 2008 — he was one-and-done on the 2014 Hall of Fame ballot — but he has thrown in various independent leagues the last few years, and he'll pitch for Canada in the World Baseball Classic. Gagne's agent told Gurnick he sat 93-95 mph in indy ball last year (eh) while Jon Heyman hears he's throwing 92-93 mph in bullpen sessions right now.
Gagne at his peak was one of the most dominant forces in baseball history. From 2002-04 he had a 1.79 ERA (1.57 FIP) with 38.6% strikeouts and 6.1% walks in 247 innings. During his 2003 Cy Young season he struck out 137 and walked 18 unintentionally in 82.1 innings. Insane. This is the time of year for comeback attempt stories, and hey, if Gagne looks good during the WBC, I'm sure some team will offer him a minor league deal. Maybe even the Yankees.
Littell among top "control" prospects
A few weeks ago Matt Eddy put together a list of the best "control" prospects in the minors. In this case control is not referring to the ability to throw strikes. FIP is based on three things the pitcher controls: strikeouts, walks, and home runs. Eddy removed strikeouts and examined the best prospects at limiting walks and homers, and he also threw in the ability to hold runners for good measure. Zack Littell ranked third on his list.
Of the dozen prospects traded by the Mariners this offseason, Littell looks like one of the more promising. The Yankees acquired the 21-year-old North Carolina prep in a straight-up trade for lefty reliever James Pazos. Littell brings a cerebral approach to the mound, which helps his high-spin fastball and above-average breaking ball play up.
I'm still amazed the Yankees were able to get a solid starting pitcher prospect for Pazos, who throws hard and doesn't do much else. Littell did not make my top 30 prospects list but Baseball America ranked him 24th in the system in their 2017 Prospect Handbook. The Yankees managed to use the industry's obsession with lefties and velocity to turn Pazos and Justin Wilson into three pretty nice young arms at a time when reliable starters are hard to find and not cheap to acquire. Neat.