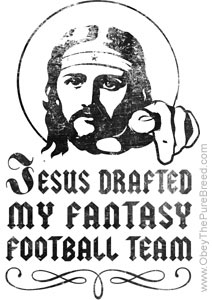 The second annual RAB Fantasy Football League drafted yesterday afternoon, although this year we pared down from 20 teams to 16. That's still pretty deep, but just not as ridiculous. I'm sure you all remember who won the title last year, and trust me, all of us in the league are gunning to bring him down this time around.
Looking back at my team last year, I'd like to think my roster building skills have improved with experience. I mean, Joe Jurevicius? Really? I held the third overall pick yesterday, which sucked because I had to wait a freaking eternity between picks every other round. Here's the team I drafted:
QB: Chad Pennington (9th round, 131 overall)
RB: Maurice Jones-Drew (1/3)
RB: Willie Parker (4/62)
WR: Anquan Boldin (2/30)
WR: Terrell Owens (3/35)
RB/WR: Knowshon Moreno (5/67)
TE: Zach Miller (6/94)
K: John Carney (14/222)
DEF: Carolina (8/126)
BEN: Admad Bradshaw, RB (7/99)
BEN: Mark Clayton, WR (10/158)
BEN: Devery Henderson, WR (11/163)
BEN: Jerome Harrison, RB (12/190)
BEN: Mark Sanchez, QB (13/195)
BEN: Todd Heap, TE (15/227)
Here's how the top three rounds played out, if you're interested. I was torn between MJD and Matt Forte for my top pick, but I felt comfortable with either. I figure maybe Da Bears might get a little cute and not run as much with their flashy new QB. I was planning to use my second pick on a guy like Ronnie Brown or Ryan Grant, but both came off the board right before my pick, so I went with Boldin. I said during the draft that I immediately regretted the Owens pick, but I can live with it. He's still good for double digit touchdowns.
After last year's debacle that left me with just two decent RB essentially all season, I made sure to gobble up plenty this time around. I liked my Bradshaw pick in the 7th round, especially since he's the clear #2 behind Jacobs. If 30-yr old Jamal Lewis slows down, Harrison figures to pick up the extra carries. Not a bad gamble in the 12th round, but I would have preferred Jamaal Charles of the Chiefs. He came off the board between my 11th and 12th rounders.
Yeah, my QB situation is weak, but there's some okay guys available in free agency that are just an injury away from a starting job. In the 13th round, I'd rather gamble on the kid almost guaranteed to start in Mark Sanchez then some retread. Pennington saved me after Vince Young's meltdown last year, so hopefully he holds his own again. I like my team, unusual for me following any kind of fantasy draft. What do you guys think?
* * *
With the Yanks celebrating another win over Boston enjoying an off-day, use this as your open thread for the evening. The Mets already lost, so there's no baseball on regular cable in the Tri-State Area as far as I know. Rex Ryan and the Jets take on his old team in Baltimore on Monday Night Football, so I'll get a chance to see my 13th round pick in action. Anything goes here, just be nice.
Oh, one more thing. If you're looking for a fantasy hockey league, Dave at BlueSeat Blogs is hosting one this season. I've never played in my life, but I joined figuring it would be fun. I'm not sure how many spots are left, but if you want in just email Dave via that link I provided. He says the winner will get a (small) prize, which is more than those cheapskates at RAB offer.